Selling real estate: Apartments, Houses, New Construction Projects – Construction Company & Developer (Borchure)
Selling condominiums as a developer, houses in new developments or even large new construction projects in the heart of metropolises such as Berlin, Hamburg, Munich, Cologne, Düsseldorf, Frankfurt and other German cities. Where can you advertise and sell real estate today? For individuals, construction companies, property developers, GmbHs and AGs – we find buyers for you. We now reach over 255,000 people a year, with a current increase of 7.61% a month. A good investment. Lukinski.de is meanwhile one of the contact points, for high-quality real estates. A serious and well-founded valuation for offer prices, the later, to be obtained selling prices, documents and documents in the apron must be procured, marketing active or off market, consultation in the building law and sales contracts, good real estate agents support you, with the sales of dwellings, houses and large-area units – errors with the real estate sales are fast made, in particular errors, with the sales of larger real estates.
Real estate agent: Real estate marketing today
In this short guide to our work, you will get to know the different areas of work and property types in which our Family Office is active for you.
You want to sell? Here you will find our purchase profile.
Advantages: Reach and reputation – For developers
Reach and network – The big advantage, we not only have regional partners for individual cities, but are also internationally networked. Two birds, one stone: regional and international contacts. A must, especially in major cities such as Munich, Hamburg and Berlin, because here people and investors are interested in properties worldwide, not just in their own district.
In this way, we also reach an international audience for you, as you will see in a moment in terms of reach, people (investors and buyers) from the USA, but also from Asia. This increases the sales opportunities in metropolitan areas and of course the sales price.
Calculation: Interested parties and development
Visitors and interested parties – We also give you an insight into our media data, as a real estate portal. Already knew? Annually, we have a lot of visitors to our pages and thus potential buyers, on our website. Essen not 1,000, not 10,000, not 100,000, currently would reach over a quarter of a million people a year.
255,372 + people / year, in German-speaking countries alone
Status: 02/2021, Google Analytics (lukinski.de)
Increase of 7.61 % / month
Developers with larger properties, estates and facilities also have another unbeatable advantage: our in-house property magazine with over 1 million readers a year. So we can present real estate, in the year over 1.25 million people.
Reach, Luknski.de: ~ 250,000 / year
Reach, Fivmagazine.de: ~ 1 million / year
Reach broker + magazine:
1.25 million people / year, in German-speaking countries alone
More about this in a moment, in the article about selling real estate (apartment, houses, villas and quarters). Here is a small overview of our portfolio.
Sell condominiums
With all the housing styles and types, construction companies and developers can get creative. Have you given an old building a completely new function? For example, a parking garage that you converted into fancy condos. Instead of thousands of square feet of space, you now have 54 chic condos in the planning stages or already under construction. The next step: marketing the units.
Profit maximization for each ETW unit
No matter how creative your work as a developer has been, good ideas can be marketed just as well with the right concepts! Of course, the better the location, the "easier" the sale. For example, with 54 ETW units, +7,000 euros more profit / unit will quickly play a role if you manage to increase the demand side. Classic business economics: more demand, less supply, higher prices. In the calculation example 54 x 7,000 euros extra.
This is exactly why experienced construction companies and developers work with real estate agents. The only question is: with which real estate agent?
How do we reach prospective buyers?
It's not just the work in our free guides, as well as see right here, on the subject of buying a home or even selling a home. These are initial, relatively superficial / simple guides or even explanations for those buying your first property. However, it goes much, much deeper.
We inform our readers on the subject of taxes, finances and much more special. Not only hard facts, so legal and laws, also news and innovations, e.g. the new brokerage law, which came into force at the beginning of 2021 in Germany. At the same time, news from the USA, for example, on taxes in the USA when buying, but also tax relief in the USA. Just as in Germany. Our focus: Germany and USA. This is how we reach solvent people with a real interest in buying.
Strategy: Reputation and quality instead of "advertising
This way we reach future buyers long before they call up a concrete real estate listing! Through this good reputation (brand image) of our real estate portal, we create a very different brand image, than the competition. We have helped again and again, free of charge. Who will our visitors remember, if they then want to buy an apartment or a house?
Instead of placing ads, like many others, we have our own community, in agency speak: "Qualitative, organic traffic".
We get additional reputation through our luxury properties. Everything really has to be right here! When the price per square meter is no longer 1000 euros, but 10,000 or 20,000 euros. Such luxury properties can also be found everywhere in Germany, for example in Berlin-Grunewald but also in Düsseldorf, Munich and Hamburg-Ottensen.
Take a look at an example of how we write free, simple guides for our visitors. You don't just read this one guide, you click through each topic and article step by step, day by day. This is how we build our reputation, brand awareness, so we can find solid, solvent buyers for you.
So we now reach over 255,000 people a year, with a current increase of 7.61% a month. A good investment.
Do you have any questions? Get in touch with our contact persons now:

Old apartment
Apartment
Attic apartment
Granny flat
Apartment
Loft
Maisonette
Penthouse
Basement apartment
Terrace apartment
For sale itself, more later in our realtor brochure: New building!

Sell houses
Construction companies also have a lot of leeway when it comes to the different types of houses.
You want to sell several houses to the man or woman? As you have just seen in the example of condominiums, we do not simply list real estate listings. We give our visitors a comprehensive insight into the topic of buying real estate, renting real estate, selling real estate and real estate as an investment.
Buyer types and target groups
The market for house sales is also, broad as in any other area of real estate. From the simple tenant who is likely to stay for a few years, to the family who will probably spend their whole life here, to the capital investor who wants to rent out one or more houses.
Real estate search begins on Google
Most real estate searchers today start their research on Google. Especially in Germany, the number of users is extremely high.
Google has a market share of over 90% here.
Did you already know that? That is, almost every Internet user begins his search with Google. Only a small part searches content with networks the T-Online, GMX or even alternative search engines like Duck Duck Gogo, Bing or Yahoo. That's why real estate agents today need to be able to do more than just sell properties. Marketing is a big aspect nowadays, a single exposé is not enough anymore.
This is exactly why we have created "Lukinski", a real estate platform for property developers that works on one thing above all:
Reputation with customers and buyers through quality.
In order to reach prospective buyers not only at the moment of the real estate search, but perhaps a few days or even weeks before, we write a lot of guides on the subject of real estate search, real estate research up to the subject of tax structuring for real estate owners.
Why? Trust is everything. Especially when we get into the realm of villas and luxury real estate. Ahead, here's a sneak peek of what our simple, first time real estate beginner guides look like:
House types in a list:
Buy a house
Farm
Bungalow
Semi-detached house
Single-family house
Half-timbered house
Holiday home / weekend house
Prefabricated house
Wooden house
Country house
Massive house
Apartment house
Terraced house
Beach house
Villa
Low-energy house
Zero Energy House & Passive House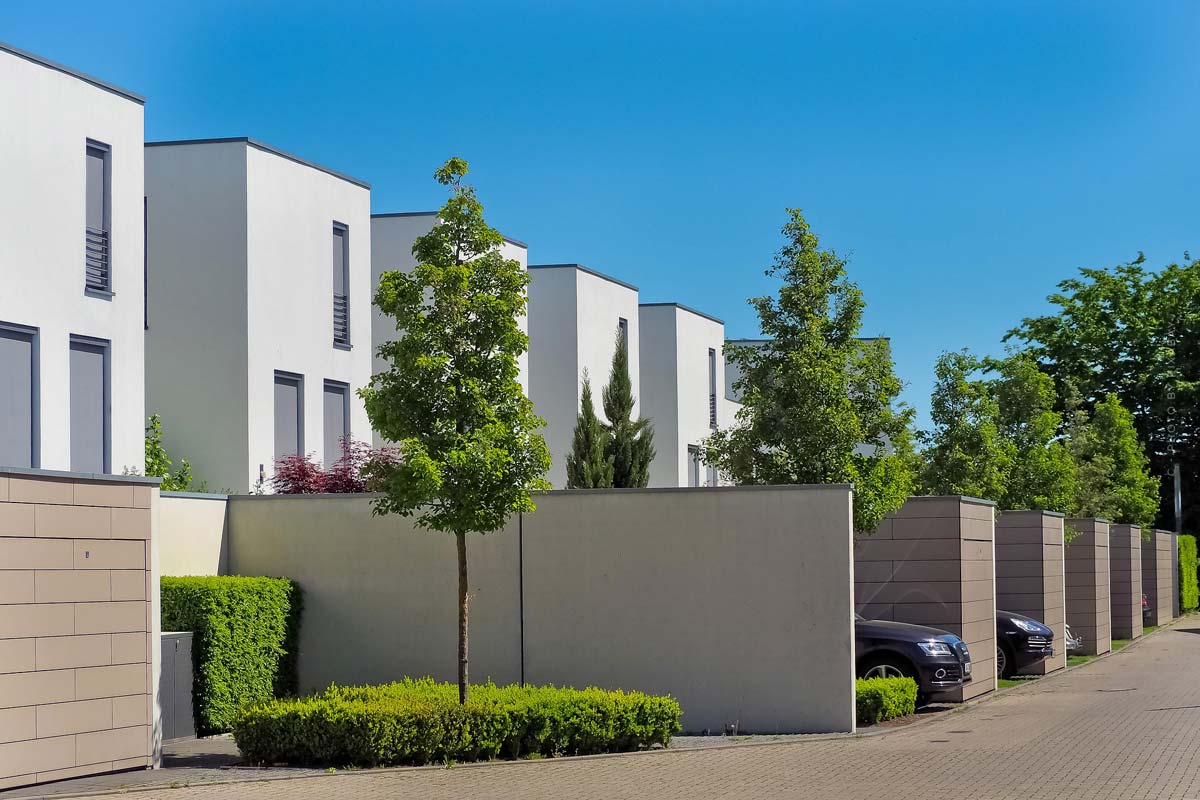 Villas and luxury real estate
Those who invest in luxury real estate no longer pay "only" 2,000 euros per square meter, but easily 10,000, 20,000 euros or even more. This means that the value of the property quickly rises to 10 million, 20 million or even 50 million.
Owners of such exclusive properties are usually very successful people themselves who want to implement their ideas. Some take the opportunity to live in the villa themselves for another year or two and then sell it, others sell directly after construction begins. Large architectural firms, such as Graft in Berlin, realise the ideas of their clients.
Active or Off Market Real Estate
Now comes the big sticking point! Especially with luxury properties and people who may even still be prominent themselves. Such properties need a very special network, so they become, in the special term, off market properties.
A big villa from the star architect is something everyone would love to see, maybe even take a few photos with their phone. But do they want such people for a viewing?
This is where our work as a luxury broker comes into play, because in such special cases, the property is not seen online. The property is only presented to internal investors, so there will never be any data, photos or videos in a public area.
At the same time, the reach still helps us to find buyers for such luxury properties. As described, with our own network, which reaches a quarter of a million people and as an additional reach kicker our real estate magazine, with which we can reach another (x4) million people. So we can also present such, special off market luxury properties indirectly. E.g. by reporting about luxury real estate in Kitzbühel and additionally making reference to our off market real estate offers. Interested parties and buyers can then contact us as real estate agents and we will check their creditworthiness in advance. Only then, only the very first information will be published.
Should I hire a luxury broker real estate service is very important especially for wealthy people. Because time is worth more than money.
Of course we inform our visitors not only in the area of condominium buy and sell, as well as houses buy and sell, also villas and apartment buildings are a big topic with us.
Sell villas
Do you have any questions? Get in touch with our contact persons now:
Real Estate Portal: Apartment, House & Apartment Building
Advantages – this small, very first brochure our new building project customers receive in the very first step. Since you have already dealt with the matter "marketing" in great detail, otherwise you would not be at this point in the article, we would like to present our new construction brochure to you once. Here we summarize our range, the possibilities, in shortest form.
Page 1 with example advertisement (villa)
Facts & Figures: Media data and readers
Buyers seek quality: Real Estate Portal
Domain Rating: Comparison with a market leader
Brochure: Page 1 with example advertisement (villa)
On the very first page you will find directly an example real estate listing. This villa is currently under construction in Los Angeles, Beverly Hills, to be found in Lukinski Home. Our real estate portal is optimized for all kinds of devices. From smartphones, older generations and newer generations, to tablets, notebooks, desktops and of course 4k monitors, which are built into every modern condo.

New construction: project partners and developers

Facts & Figures: Media data and readers
As seen at the beginning:
255.372 visitors per year, +7,61 % increase / month
With our German-language site alone, we reach over 250,000 people a year. That's 250,000 potential buyers and prospects for your real estate. With a monthly increase of over 7%, we are aiming for over one million visitors per year in the next few years. As you will see in the following slides, we already have 33% of organic traffic (number of visitors), from one of the market leaders in Germany.

Buyers seek quality: Real Estate Portal
Most start their search on Google.
90+% search on Google
Why do we put our focus, with the real estate portal Lukinski, on search engines and algorithms like Google? The Internet is the future, the saying actually belongs to the year 2010, but it is still as present today as it was then.
Speaking of which, did you know? To date, only about 40% of humanity has access to the Internet. If we look at the situation very simply, there is still an enormous potential for increase. However, we are not only talking about "poorer" countries, which are increasingly gaining access to the Internet through mobile devices, for example; older target groups are also among these "yet to be tapped" groups.
More and more are switching from the classic newspaper and starting their real estate research on the Internet.

Domain Rating: Comparison with a market leader
A direct comparison with one of the leading real estate portals in Germany shows that we have already achieved 33% of organic traffic. This within two years! In the here accessible version of our "Brochure: New Construction", we can't tell you about this real estate portal, but we can show you the official evaluation and analysis, which was created with one of the leading search engine optimization software (Xovi).
How does the domain (website) comparison work? The software checks all available keywords and their placement in the Google search engine. The more keywords, the better the ranking, the higher the rating of the domain. This creates a uniform value that can be easily compared with other domains.
Advantages of our real estate agency
These values are an extremely strong argument when it comes to the advantages of our real estate agency. Currently, we are the newest real estate portal that exists in Germany. In 2021 we have (now) reached 33% of the organic traffic of one of the market leaders. In a few days, we'll be adding English and Chinese to those, so we can reach additional real estate investors, in the US and in Asia. Why?
Germany is the strongest real estate market in the whole of Europe.
Strong returns can be achieved here, especially in metropolitan areas such as Berlin, Munich and Hamburg. A strong playground, for real estate investors.
Contact & Real Estate Agent
Do you have any questions? Get in touch with our contact persons now:

Exclusive! Own real estate magazine
In addition, over 1 million people a year
No other real estate agent or real estate portal offers him this advantage. With our real estate magazine, we have built a real benchmark. We report on news in the real estate market, give tips for buying apartments, houses and apartment buildings, write about furnishings, interior design styles and brands that real estate owners need to know. And through our real estate magazine, we can draw on an additional reach of more than one million readers in the year, in German-speaking countries alone.
This means that we can also handle extremely large and exclusive real estate projects, from quarters to high-rise buildings, with over 100 residential units.
https://lukinski.com/wp-content/uploads/2021/03/neubau-neubauprojekte-verkaufen-wohnung-haus-makler-immobilienmakler-portal-inserat-expose-einzelne-villa.jpg
844
1500
L_kinski
/wp-content/uploads/2023/09/lukinski-real-estates-immobilien-logo.svg
L_kinski
2021-03-12 11:58:36
2022-03-01 10:18:26
Selling real estate: Apartments, Houses, New Construction Projects – Construction Company & Developer (Borchure)