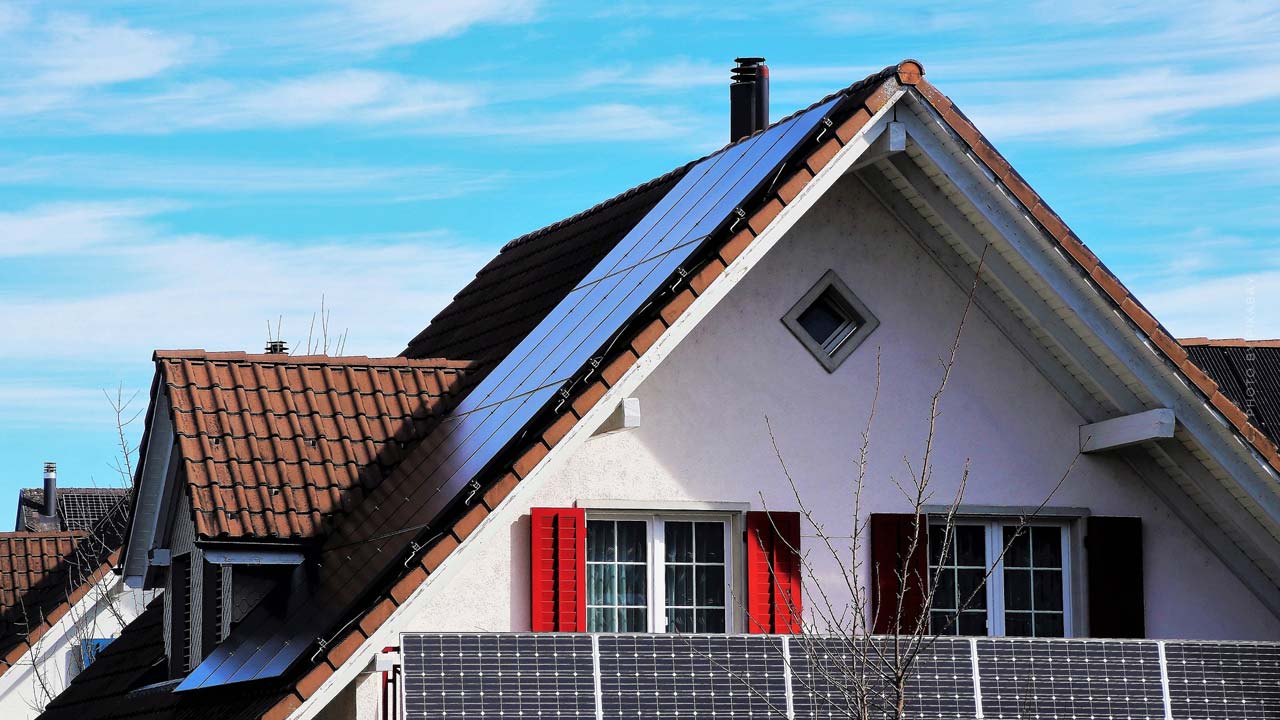 Sell your House: Without a realtor?! Documents, taxes & costs – what to consider?
Selling a house – Single-family houses are characterized by the fact that they are inhabited only by a family, a couple or a person living alone. They have a garden, which is also owned by the owner. Not all single-family houses are inhabited by their owners. There is also the possibility to rent a family house with a garden. In almost all federal states, single-family houses are very popular as a form of living. The demand on the property market is correspondingly high.
How does the sale of a property work?
Family house, row house, villa – location
In all ranges above all the situation counts, not only with the sales of your single family house, terraced house, villa & Co. Land sell, house sell in addition, with the multi-family house sell, the situation is a central evaluation factor for the selling price of your real estate. Selling privately or "for free" and without an agent bears risks and makes the sale as well as the whole transaction (valuation up to notary and contract of sale) prone to errors. Selling real estate needs a good network of buyers, often real estate is not presented publicly, but only internally as off market property.
Foreword – Free tips? Yes!
All my tips in this guide are free of charge for you. As real estate brokers, we broker real estate from 1 million Euro sales value under the category luxury real estate. We give you here gladly Tipps and cheat for your sales, free of charge, in detail and step by step explained. Please also pay attention to our links, here you will find more detailed information on the individual topics. Should you wish to sell your property with us: Do you know what our unbeatable advantage is? We independently reach more than 250,000 readers per month, which means 3 million people per year. We are independent from common real estate portals and reach a solvent, special target group. In addition, we offer internal buyer groups and investors in our Off Market area, to whom you have no access via usual offers. Read more here: Real Estate Agents.
Checklist: Owner questions before the sale
Selling a house in the hectic of everyday life is quite demanding. If you live in the same city and are already in retirement age, there is time to sell. Under all other circumstances, selling a house means a lot of time, planning and thought and discussion, as you will see in the next two checklists to prepare for the house sale.
Because, long before you sell your house, you still have to make arrangements. One of the most important questions is certainly whether you already have a (secure) follow-up property in prospect. The renovation of the house can increase the value of your property before the sale. While we are on the subject of renovation and existing property, you have already gathered all the necessary documents, such as floor plan, extract from the land register, floor plans and energy performance certificate. Here is a quick overview of the most important questions before you start selling your house.
9 questions that you as the owner must ask yourself before the sale:
Do you have a connecting property in prospect ?
Is there a renovation / renovation need for the house ?
Are all documents completely available?
Are early repayment fees to be paid ?
Are partition deed, building insurance, minutes of owners' meeting, housekeeping bills, list of rents, etc. available?
Are there any statements about the maintenance of the condominium (maintenance costs) ?
Do you want to sell inventory as well?
Is there a right of first refusal on the house ?
How high will your house rating be ?
Checklist: Time expenditure, dates, creditworthiness and viewing
Then it goes only really into the matter in the house sale. As a real estate agent, you know that you have a lot of work ahead of you.
Here it concerns in particular experience in the real estate trade, in order to avoid risks and errors with the house sales in the apron.
The company is also actively involved in marketing the property. The right platform must be found or not, keyword off market real estate. In addition there is the time planning for the sales, from preparation over advertisements, photos, portals, answering prospective customer inquiries, date arrangement for inspection, examination of the soil quality of the potenziellen buyers or investors, purchase price negotiations, sales contract, taxes and much more besides.
8 simple steps for selling a house:
How well do you personally know about the sale of houses?
Have you sold a house before?
Can you create a meaningful advertisement (online and print)?
How do you rate your negotiating skills in local pairings?
Would you like to let any unknown person into your property?
Do you want everyone to know about your sales intentions?
Tip: Our Off Market Real Estate
Are you ready to deal with the legal requirements necessary for the sale of the house?
Are you willing to take over the time and work involved in marketing your house yourself?
Marketing, client base, negotiation, brokerage?!!
The longer one deals with the sale of houses and condominiums, the faster one realizes how complex the matter is. From meaningful renovations in the house before the sales, up to modern marketing in the customer master in addition, by digital media. From the simple search for house sales fast more complex searches become to sell house privately expiration and the realization, which costs private house sales much time, possibly smaller purchase prices brings and naturally risk.
With the sales of real estates, privately or over a real estate agency, many questions arise. From simple topics to the selling price up to more complex tax questions, like:
Which documents do I need to buy a house?
What kind of documents do you need to sell an apartment?
What is the time schedule and duration of the house sale?
Who pays the notary public at the sale of the house?
Which documents does the notary need from me?
Where can I find a private sample contract for my house sale?
Selling a house without an estate agent – is that possible?
No time? Read more about selling a house quickly here.

Special Advisor? House, apartment, apartment building
Houses are characterized by the fact that they are inhabited only by a family, a couple or a person living alone. They have a garden, which is also owned by the owner. Not all single-family houses are inhabited by their owners. There is also the possibility to rent a family house with a garden. In almost all federal states, single-family houses are very popular as a form of living. The demand on the property market is correspondingly high.
Here are free guides for all frequent cases of sale:
All tips: Sell a property
Selling an apartment
Selling a house
Selling an apartment house
Selling a plot of land
Sell property: Heir
Selling property: Divorce
Sell real estate: profitable, safe and fast
Once the sales price has been defined and the exposé has been drawn up, we are also happy to receive inquiries from interested parties on your behalf. In addition, we also arrange viewing appointments with the interested parties and carry out the visits. It is important to us that your house is sold according to your ideas and wishes. Once a suitable buyer has been found, we will also be happy to accompany and support you in concluding the purchase contract with the notary and making the entry in the land register.
You have now clearly seen the complexity and scope of a property sale, which is why you should rather avoid a private sale without an estate agent with the necessary knowledge. If you still want to sell without an estate agent, here is our XXL guide to selling a house. For:
Single-family house
Apartment house
Reihenhaus
Double house
City villa
Villa
Designer house
Country house
Half-timbered house
Building house / Cube
Mediterranean house
Valuate house: Calculate purchase price
There are many questions to be answered, the best answer is an expert at your side for real estate valuation. The central criterion is often the location. Real estate prices vary regionally, sometimes considerably. Therefore only objects in the proximity may enter into the real estate comparison.

When evaluating a house, aspects of the micro and macro locations are just as important as the immediate location of the property: soundscape, view and lighting conditions interest potential buyers and influence the value of the property and the achievable price.
Before we get deeper into the matter of evaluation of location, building fabric, market value & Co., we first ask 3 basic questions which reach us in consulting discussions with customers:
How can I value a property?
Who determines the market value of a property?
How does the bank value a property?
Fair value is defined as the price that is calculated at a certain point in time according to various criteria and that is realizable for the property in the ordinary course of business.
House sale: basics and procedure
Sell privately – Selling a property successfully as a beginner is harder than you think. There are many things to consider and many mistakes that can be made. So you should inform yourself about the procedures from the beginning and be sure that you do everything right. You can of course consult an estate agent for support, but this is not always the best choice.
The right advertisement is the be-all and end-all for the self-marketing of a property. But there are also other aspects to consider. If you approach a house sale without help, you should be prepared for a lot of time and self-organization. This process can only be made easier if you have the right expertise on the subject.
Display: Headline, content and attention
There is nothing worse than your ad going under in the crowd. Short, sober descriptions bore potential buyers and are not very inviting. So make sure that the title is already written in a relaxed but serious way. You should use a language that is as rich in images as possible, which arouses emotions and thus attracts attention.
Think about the title that would catch your attention. Particular advantages of your property can be highlighted by formulations such as
'elegant old building with stucco' or 'sunny south terrace'
be highlighted, because you appear enthusiastic and invite the real estate seekers directly. Try to lure the buyer already with the headline on, so that he clicks further on your advertisement.
Once the potential buyer is on your ad, two further factors can convince him or her of the property. The ad text and your pictures. In your text you should explain important key data of the property as well as the criteria of the property.
Among the key data are:
Number of rooms
District
Balcony
Built-in kitchen
Floor
Full bath
Cellar rooms
Etc.
Describe the location of the apartment, its advantages and also name the furnishings as precisely as possible. Particularly high-quality equipment, should be listed with manufacturer. This includes kitchen equipment, heating systems but also other objects that will remain in the property. Name in this connection on the costs for the distance payments for existing equipment and brokerage.
Also important is information such as rental price, additional costs and the size of the apartment in square meters. Ask yourself again: 'What would I want to know about an apartment?' and describe everything in detail.
Cost price
Incidental costs
Size of the base area
Size of the living space
Photos: daylight, open space and diversity
But the most important factor are probably the pictures. A buyer naturally wants to see as much of the property as possible to get an idea of whether the object could be something for him.
In order to take great pictures of your property, there are a few things you need to consider. First of all, the rooms should be tidy and clean. Nobody is attracted to pictures of a messy apartment, because potential buyers want to imagine living in the object when they look at the pictures.
You should definitely take the pictures in daylight, so that the rooms can be seen very well and the buyers can estimate how much daylight falls into the rooms. Your cover picture should be the most meaningful and represent the best of the apartment.
The most beautiful room, the roof terrace, the open kitchen or maybe the bay window with a view. The first picture should impress and make the prospective buyer want to see the apartment. Pictures of all rooms and if available the garden/balcony/terrace, an exterior view and above all a floor plan may not be missing in any case.
The floor plan should never be missing, since potential buyers can get an impression of the size of the individual rooms in relation to each other and can see the layout of the rooms better. A video is also possible, although it does not replace the viewing appointment, but gives the prospective buyer a good overview.
Photo tips at a glance:
Clean and tidy rooms
Daylight (speaks for bright rooms)
First image should be the best photo
Cover all rooms and surfaces
Floor plan
Ground plan
Example: House after renovation (increase in value)

Example: Outdoor area and real estate in full screen

Example: Interior with fireplace

Example: Garden with pond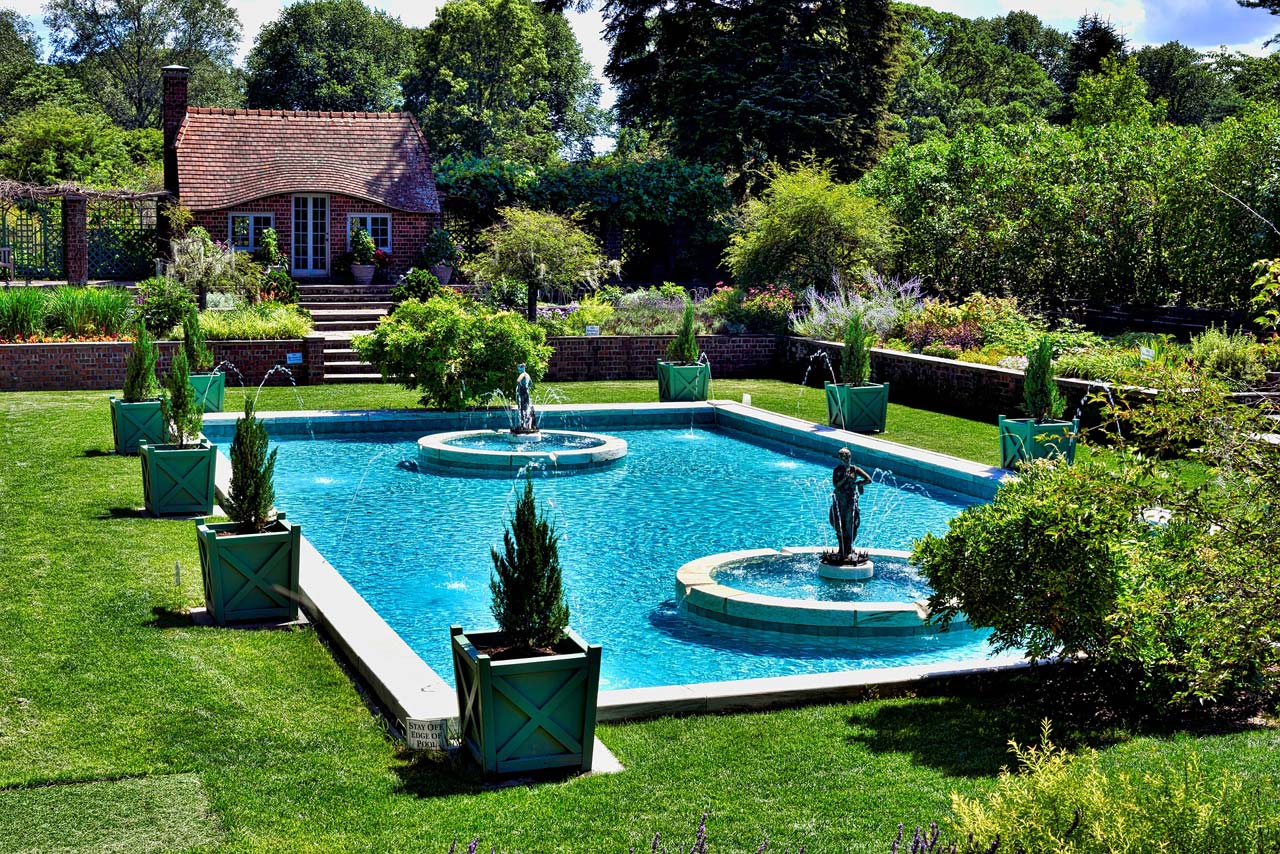 Taxes: 2 years not taxed
Who would like to sell its real estate, must consider also from the fiscal side some. These concerns are divided into an owner-occupied property and a property used by others.
There is a two-year period for owner-occupied real estate. This refers to the notarization date for the purchase and sale of the property at the notary.
Between these two dates, there must be a minimum of two years so that you do not have to pay tax on the profit from the sale.
For real estate used by third parties, a different deadline applies. In this case there must be a whole 10 years between the two dates. But caution is required here, because there are special regulations. Whoever sells more than three pieces of real estate used by third parties within five years is assumed by the tax office to have a commercial intention and the profits from the sales must be taxed and this also applies retroactively if the tax office only recognizes later that the sales are to be attributed to the commercial trade with real estate.
Time and effort: Prepare well
If you simply place an advertisement on the Internet quickly, your chances of a successful sale are rather low. In advance you should prepare yourself well and acquire the necessary expertise. Therefore you should gather information about the regional real estate market in order to be able to estimate in which area your real estate is located. In addition, you should already have all the important documents ready, because prospective buyers want to see them and you are necessary for the further sale of the house. This includes copies of:
Floor plan and site plan
Extract from the land register
Energy Performance Certificate
Calculation of living space and land
Go through these documents again yourself to answer any questions you may have. Prepare your property for photos and viewings, muck out and clean up.
Assign an agent: Yes or no?
What to look for when choosing a broker and selling without a broker: The decision whether to sell your house with or without a broker has many different aspects.
An estate agent can help you with advice and support, apply his or her expertise, and take work off your hands and help you. However, he will receive a commission that could reduce your profit. So if you decide to sell your house without an agent, you should consider the following points so that you do not make unintentional mistakes.
Although you save the broker's commission in a private sale, you have additional costs that should not be underestimated, as they can amount to several thousand euros. These include taxes (speculation tax), renovation work, deletion of the land charge in the land register, advertisements and notices, expert opinions (appraisal, energy certificate) or prepayment penalty in case of a prematurely terminated loan.
If you are selling privately, you will find here my list of recommendations for real estate online portals for private sale.
Checklist: Sales process in 12 steps
Checklist house sale: 12 steps for selling houses and apartments. This is how we market your property.
Realistic time planning and considered strategy for the sales phase
Sale with or without broker?
Do you have all the documents for the sale?
Is your real estate prepared for sale?
Is the sales price you have set realistic?
Planning the marketing strategy of the property and placing targeted advertisements
Establish contact with interested parties and prepare for questions
Prepare for questions and establish contact with interested parties
Arrange and carry out viewing appointments and market the property convincingly
Sales talks with interested parties as well as creditworthiness check
Draw up and prepare the purchase contract for signature
Appointment for notarization at the notary and transfer to the new owner
Documents: energy pass, land register and Co.
If you want to sell a house, you must have many documents at hand. The floor plan and the energy performance certificate are only some of them. The presentation of your property is also important, which is why we need beautiful and meaningful photographs for the exposé. Let us help you with the preparation of the exposé and benefit from our experience. An exposé is basically the first impression a potential buyer gets of the property, which is why it is so important.
We know what is important to potential buyers, we see immediately which special features deserve their attention and should be emphasized and which aspects should not be missing in the exposé. Because only if the house is attractively advertised, a buyer will be found. And only if a buyer is found, you can earn money with the property.
Sale price: Determine offer price
Many people base the price on what they once paid for the property and hope to get the value they invested back. However, this can be far below but also far above the current value of the property.
You can have the value of the property estimated or you can use current prices of similar objects as a guide. Crucial for the price is however the current supply-demand situation. So try to wait for the right moment and sell your property so profitably.
Valuation: Location, equipment and the special charm
But how much does the property actually earn you? Valuation is our greatest strength, but it also depends on where your property is located, what type of property it is, how old it is, what quality it has and what condition the fixtures and fittings are in. Unfortunately, it is not always important what you have already invested in renovation and refurbishment or what price you paid when you bought the property, but rather how the demand and supply currently presents itself.
This is exactly why it is almost indispensable to employ experts when selling your own property, who will carry out the valuation using local knowledge and industry expertise, so that you do not earn too little money, but also do not experience too much disappointment.
You already knew? We evaluate and analyze for you free of charge
Did you know? We evaluate and analyze for you free of charge! First of all, it is important to know which basic criteria have an influence on the evaluation of a house or apartment. For the evaluations all conditions are asked in detail. This includes:
Object data of the apartment
Equipment of the interior
Construction condition and facilities
Modernization measures
Individual object criteria of your apartment
City district and local connection (school, supermarket, etc.)
For comparison you will find here different real estate prices in Germany. Focused on the large conurbations of the individual federal states.
Real estate prices: Germany comparison
Real estate prices:
Marketing of the offer
Putting an online ad online only at a portal reduces your chances of a good sale. You want to reach as large an audience as possible with the ad and should therefore offer it on several platforms.
But not only online portals are a possibility. Newspaper ads can also be effective. However, the classic newspaper market is saying goodbye more and more. If you sell privately, focus especially on real estate online portals for private sale.
Also use your social environment to spread the news of the sale. Maybe the friend of a friend is looking for a property just like yours. Use all possible platforms and thus increase your reach and your chance of a sale.
Observation appointment until contract conclusion
It is always a pleasure to see the exposé that has been prepared arouse interest and the first interested parties move. If the demand is high, this can quickly become stressful for you as a seller, especially if you have a job and private obligations at the same time.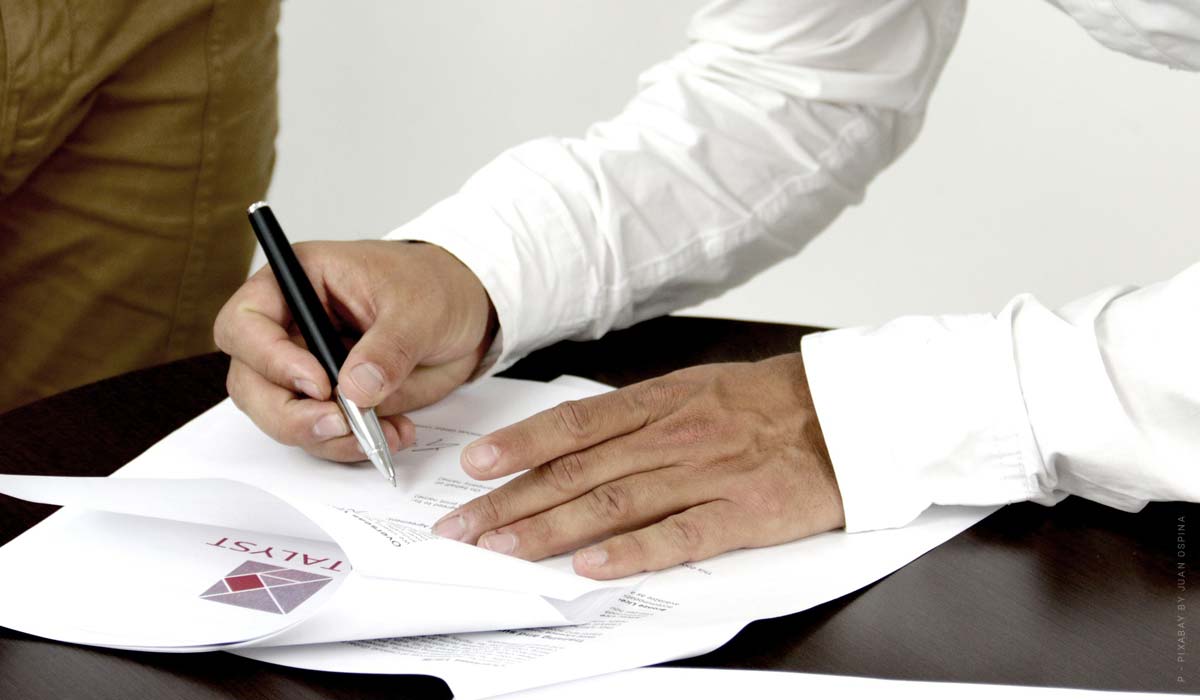 Visit: First impression and simple tips
In addition, we will also carry out the agreed inspections in your interest. Of course we have the same goal as you: to sell your property successfully and quickly.
No matter whether your real estate agent conducts the inspection alone, or whether you will be present at the inspection or whether you will let us conduct it alone: care and preparation are essential.
Your property should be well cared for so that the prospective buyer gets a good impression of it. A prospective buyer will want to make plans for the furnishings before he or she has even seen the property and will dream of sitting at the dining table with his or her family. If the property is then unkempt or dirty, the interest can quickly be lost.
Conclusion: purchase price, sales contract and credit rating
Once the inspection has been carried out and a number of interested parties have been found, the next step is to find out whether these interested parties are also in a position to buy the property at the desired price. In this case, your real estate agency will take all the necessary steps for you to check the purchasing power of the potential customers.
Once this step has been completed and the ideal buyer has been found, the step to the notary public must be taken.
When selling a house, there are a few rules to be observed to ensure that the sale of the house goes off as quickly and smoothly as possible. Sellers of a tenement house have to clarify certain tax law questions.
Only self-users are excluded from this regulation. In addition, incidental costs for the sale must also be taken into account.
Ancillary purchase costs: land transfer tax, notary costs & Co.
The decision to sell a home is associated with costs, but the buyer bears a large part of these costs. The registration in the land register is in many cases borne by both parties, as are the costs for the estate agent. Take these items into account if you are planning to sell your property. Taxes are not actually payable on the purchase price.
However, if you have inherited the house and wish to sell it before ten years have passed, you may be assessed for inheritance tax. The amount of the tax is based on your relationship to the deceased and your individual tax allowance. It is reduced by the amount you have already claimed under the inheritance.
Ancillary purchase costs in federal states differ
Ancillary purchase costs such as land transfer tax or notary fees vary from state to state.
If a loan for the house has not yet been paid off, it is advisable to negotiate a loan assumption with the seller. If you want to pay off the loan yourself after the sale, in most cases you will have to pay an early repayment fee to the bank. In order to obtain a fair market price, an expert opinion should be consulted.
Improve the appearance of the property
An important part of the sales process is also the presentation of the property. If possible, take pictures of your house from different perspectives. Pay attention to the lighting conditions. If you are not sure whether the photos are of sufficient quality, consult a photographer.
Before you sell your house, you should carry out any necessary repair work. Especially important are those works that will visually enhance your property.
Function of pipes and installations
Of course, all lines and installations should also work perfectly. A need for renovation will in any case reduce the value of your property. Also make sure that the entrance area and the front garden appear in a visually perfect condition.
This is very important for the first impression a prospective buyer gets. Clean out your house carefully. Old furniture should be removed. If you no longer live in the property yourself, it is best to hire a company to do the complete clearing out.
Documents and contracts
Make a list of the necessary tasks before the house sale. This will give you an overview of the things that need to be done to ensure a smooth sale. This includes the following points in the first instance:
Floor plans
Site plan
Extract from the land register
Fire insurance certificate
An overview of the service charges
Listing of all renovation work
Photos
The current energy certificate
The specification of the living space
Any existing rental agreements
If there are several owners, the indication of the ownership structure
A detailed description of the object
Floor plan and site plan
The floor plan shows the individual floors as well as a section through the floors of the house. The floor plan indicates how the house fits into its surroundings and which additional buildings are connected to the main house. These include garages or garden sheds and tool sheds. Before the sale, one should obtain an up-to-date extract from the land register and read through the existing entries thoroughly. Fire insurance is a mandatory document for real estate in Germany. For the buyer it can also be helpful for financing. In this case, the incidental costs include the operating costs such as water, electricity or gas.

Heating system
The type of heating is also decisive. Is it an oil-fired system, an electric heating system or a solid fuel firing system?
Different types of heating also cause different running costs. When listing the recent renovations, you should list everything that has recently been renovated or repaired. This includes mainly sanitary facilities or installations. The building description is optional. If it is still available, please add it to the sales documentation.
The living space calculation could already be available at your financing bank. You must obtain the energy pass and the pictures or have them obtained. An appropriately designed exposé belongs to the object description. For all these matters it is advantageous to consult an estate agent.
Down payment
There are two options for the down payment. One is made before the notarization and one after. However, a house sale is only legally effective when the notarial act is completed.
The buyer could ask for a refund of the deposit paid. A down payment after notarization can be considered in certain cases. If you sell your house and need to live in it for a while, a deposit can be paid in this case. This gives you time and money to prepare your own move. Even if the buyer wants to do some renovation work before moving into the new house, he can ask for a down payment. This gives him the right to do the work in the house.
However, moving in is only allowed after the purchase price has been paid in full.
Rental agreements
A house sale is more difficult and complex even if tenants live in it. Of course, the sale also changes the ownership structure. In principle it applies that a sales contract cannot break the existing renting relations.
In some cases, tenants have a right of first refusal, if this is provided for in the lease. When the house is sold, these tenants must therefore first be informed of this intention. However, a termination of the lease should be considered as a last resort. Terminations are justified if a tenant causes problems. This is usually the case when rent arrears accumulate. In addition, there are a number of points to consider when terminating leases. These are:
Cancel the tenant for own needs
Terminate the tenant for economic exploitation
Termination due to renovation or demolition
Termination due to serious misconduct of the tenant
An own use termination is possible if the owner wants to move into the rented apartment himself or if his close relatives need this property. However, this personal use can also be reviewed by the tenant in court. The own need must be justified therefore exactly. An advanced own use justifies claims for damages of the tenant. An economic utilization is also present in the case of a sale.
Delay due to existing rental agreements
An existing lease agreement could delay or even prevent a sale. However, this sale must be effectively justified by the owner. You must therefore prove why you absolutely want to sell the property. A termination due to renovation or demolition work must also be justified. This can be the case if the property has to undergo urgent renovation work due to building regulations. Serious tenant misconduct exists if there are constant rent arrears, noise pollution or disturbance of the peace of the house. Then you can easily give notice to the tenant.
The 8 biggest faults
You should pay attention to this – The decision to sell a house is not easy for many, but once it is made, there are 1000 questions at once.
You are inexperienced and not familiar with selling houses, the paperwork and the effort. Often, careless mistakes are made at this point and the topic of selling a house turns out to be a nightmare.
To prevent this scenario, there are some mistakes that you can directly avoid and thus save yourself a lot of stress. Most house sellers are rather inexperienced in this field and do not know where to start. Often a few pictures are taken and put on a real estate portal. However, the homeowners do not know what to expect, what you have to consider and what all is in store for you.
To avoid this uncertainty, the most important thing before selling a house is to inform and seek help from experts in the field.
Broker is directly excluded
Of course, it is also possible to successfully complete a real estate sale without an estate agent. So before you decide for or against an estate agent, think about what makes the most sense for you in your situation. An estate agent can save you a lot of work and time when selling a property. He also advises you in financial and marketing matters.
So ask yourself the questions:
Do I have the time to organize, accompany and complete the entire house sale on my own?
Is my level of knowledge and my professional competence really sufficient to successfully complete the sale without an agent?
Can I coordinate the sale alone on the fast moving, regional and targeted real estate market?
You should be aware that a property sale requires a lot of time, organization and expertise. An estate agent will receive a commission for a successful sale, but this can be recorded in an estate agent contract. In addition, the real estate agent will take care of all the work for you, such as the correct advertising of the property, arranging and conducting viewing appointments, the preparation of sales contracts and the presence at the notary appointment. So you have permanently someone competent with sufficient expertise at your side who can advise you in all questions.
Wrong time
The timing of the property sale is directly related to the selling price. So to get the best selling price, there are a few things you should consider. First, you should keep an eye on the property prices in your area for some time before the sale. These also fluctuate and show certain trends. Offer your house at the right time in order not to go down in the competition. But you should also keep an eye on the interest rates. This is the only way to ensure that you sell your house at the best price.
The right time is also important to consider the tax, because there is a so-called speculation tax. This means that the tax expires after ten years on the property. So you will not pay taxes from 2018 on a property you bought before 2008. So it makes sense to sell the property after the ten year period in order to make more profit. It is therefore advisable to keep important legislation and cost aspects of the real estate market in mind in order to achieve the best selling price.
Unprepared for viewing appointments
Potential buyers, are faced with the decision to make a large investment or not. So they want to play it safe and be 100% sure in their decision. So that you conclude the house sale successfully, you should give potential buyers as much security as possible.
With an inspection date you should be prepared for many questions of the buyers and have a good answer to all of them. Often it is about the condition of the house – how old are the windows / doors? When was the last time renovated and refurbished? What kind of insulation is available? How high are the additional costs? and and and and – be prepared for all these questions and get detailed information about your house right from the start.
Ignorance can unsettle potential buyers or be an excuse to lower the price. Also be open towards appraisers and understand that their buyers only want to play it safe.
Market value is unknown
Every homeowner still knows how much he paid for his house and how much renovation, refurbishment etc. cost. However, it often happens that the value of the property differs from the original purchase price, as property prices are determined by supply and demand. So before you put your property up for sale, you should know the value of this knowledge.
You can have the property value estimated by an appraiser or an estate agent and thus know better what range you can move in the price.
Small defects in the house can reduce the value of the property and be a reason for potential buyers to lower the purchase price. So before selling, consider whether you can have small defects repaired beforehand and thus demand a higher sales price. However, experts or real estate agents can also help you with this decision and estimate whether such an investment is worthwhile.
You are not willing to negotiate
As a seller, you naturally want to sell your property as profitably as possible. However, you are faced with a buyer who is the happiest at the end of the day to make a profit.
Don't spoil your chances of buying a house by not being willing to negotiate, but meet your buyer. There is only one thing that helps in negotiations and that is good preparation.
You should consider from the outset in which framework you can move and what is the absolute minimum for you. You should also have good arguments to justify your selling price. This includes, for example, a good infrastructure, the location of the house or special advantages of your property. An experienced real estate agent can also help you to prepare for a successful negotiation or even support you on site. Stubbornness can be a major hindrance and can unnecessarily prolong negotiations.
Get together and find a price that both parties are happy with.
Wrong / too few interested parties
Each property is particularly interesting for a certain group of buyers. On the one hand, this is due to the different characteristics of real estate, such as size, location and room layout, but also to the price range in which you move. S
hey must be aware that your property only appeals to a certain group of interested parties. In order to spread your offer as widely as possible and thus reach as many of your interest group as possible, you should publish your expose on many different platforms. These include, for example, real estate portals, newspaper ads, but also social media. Thus you have a larger range and attract more prospective buyers.
Exposé gives wrong impression
The exposé is one of the most important factors in the successful sale of your property. The exposé is the first thing a potential customer sees and should therefore make the perfect first impression.
A bad exposé can ruin even the most beautiful house. What you should definitely pay attention to are good pictures. It helps to have them taken by a photographer, but also self-made pictures can look great. Note that the pictures are taken in daylight and the room is easy to see. In addition, it should be tidy and clean so that the potential buyer immediately feels comfortable and can imagine living there. Take pictures of all rooms and preferably also the floor plan, so that the buyer can get a clear picture of the property. Also pictures of the garden or special features of the house are good.
In the text of your exposé, be honest in any case. Do not give the customer false hopes or exaggerate, because this will only lead to disappointment at the viewing appointment.
Purchase contract not properly checked
The sales contract and the appointment with the notary are the last steps on the way to a successful house sale.
At the notary's appointment the purchase contract is read out again by the notary and both parties sign it. After this appointment the contract is legally binding and the sale is completed.
If you are unsure, consult a real estate agent in advance who will go through the contract and advise you. You can always make inquiries on the notary appointment itself, but the notary will not advise you. He is only responsible for ensuring that the contract is legally correct.
So to be absolutely sure that there are no hidden uncertainties, it is better to have the contract checked in advance.
Help! 10 broker tips for the sale
All you need to keep in mind – the kids are out of the house and it has become too big and too much work for you?
Maybe you can no longer afford to keep the house financially or you just want to move to another place. All these are reasons to sell your property, but such a sale is not an easy matter and should be well planned and organized. So that you don't forget anything and are prepared for all eventualities, we have summarized the top 10 tips for selling your property.
Calculate the sales value realistically
The prices for real estate are very different in Germany. This depends above all on the location and size of the property. In rural areas, for example, prices are much lower than directly in a large city. So the best thing to do is to find out about the square meter prices in your area and compare them with prices for similar properties. In case of doubt, consult a consultant who will examine your house and estimate the value for you.
With a broker you have even the least effort. He takes care of the sale of the house from front to back, makes appointments for viewing and arranges the formalities. The real estate agent can, for example, make viewing appointments even when you don't have time, because this saves you time and your property has a higher chance of being sold quickly. In addition, an estate agent has more expert knowledge than you and can also answer potential buyers' questions about building fabric, location or technology.
Look at the costs very closely
As a real estate owner you have to consider many things. These include, above all, tax and cost issues. A tenement owner, for example, must pay tax on the profit from the sale of the property if he has owned it for less than ten years. In addition, the ancillary costs of purchase are waiting for him. For owner-occupiers the sale is tax-free, but here too guidelines must be observed and the credit checked. It is best to contact the bank and get direct advice from them.
Be positive towards appraisers
They must be able to understand the thoughts of potential buyers, because they are making a big investment and of course want to make sure that everything is right. Therefore prospective customers often consult experts, who are to take the house under the magnifying glass. Do not be intimidated or threatened by this, although the appraiser comes to your house, he only wants to determine neutrally whether everything is in order. So be open towards appraisers and do not close yourself off, because they would certainly want to do the same as buyers.
Clean out your house
A house in good condition has more chances of being sold quickly than one with many faults. It helps to put in already once a thorough cleaning day, before prospective customers come to the inspection, and naturally the house to clean up. In addition, a small more deeply going Aufhübschprogramm cannot damage, in addition belong small things, like for example the squeaking door to oils or the weeds in the driveway times again most thoroughly to dispose. Nowadays there are even experts who prepare a house specifically for sale.
Show your property in the best light
One of the most important tips to get your property well sold is to take great pictures of it. Good and many photos show the potential buyers your house in the best light and they can make the first impression, because it counts most. Take the pictures in daylight and make sure that all details and the advantages of the house are clearly visible. You can get a professional photographer to help you or try it on your own. It is also often a good idea to take pictures of the property furnished to give buyers a direct insight into what your new home could look like.
This can be more difficult if you are still living in the property, but you should place a container in front of the house in time and get rid of unnecessary ballast. Clean out the cellar, attic, garage and storage rooms and throw away everything that wastes space. But also make sure that there is enough space in the living rooms by storing decorations – like pictures – in boxes. The bedrooms in particular should be nice and airy and have as few private things as possible. The potential buyer should not feel like visiting you, but should be able to directly imagine the new furnishings.
Look at your house from the outside
The first impression is most important and that is what interested parties get from the outside. Before an inspection appointment is due, you should look at your house again from the outside and evaluate it as neutrally as possible. Try to arrange the front garden and the front door as beautiful as possible to leave a cultivated impression. This includes, for example, clearing the children's toys out of the driveway, sweeping leaves or simply attaching a beautiful wreath to the front door.
Check the solvency of your buyer
You should definitely check the solvency of a potential buyer, because you don't want to experience unpleasant surprises after the sale of the house. For this purpose, you can ask the buyer to provide a self-disclosure. But a credit check can also give you an insight into whether the buyer could be risky for you. It is best if your buyer can show you the bank's financing commitment that he has obtained a bank loan to purchase the house. This way you can be very sure that the buyer will not give you any unpleasant surprises.
Keep important documents ready
If you are going to sell your property yourself, you should have all the important documents ready. This is important for a quick and uncomplicated sale. One of the most important documents:
Official field map
Extract from the land register
Floor plans / building plan
Calculation of living space
Calculation of the converted space
Energy Performance Certificate
Building contract
Proofs about monument protection regulations
Leasehold contracts
… for rented properties:
Copies of rental agreements and proof of rental income
Settlements of operating costs for the past 3 years
List of modernizations / renovations
Handicraft invoices for all major repairs and conversions
Guarantee certificates
Invoices and operating instructions for installations such as heating, fireplace or kitchen and of course the maintenance certificates
Individual living: Sales factor own home (negotiation)
The term single-family home is initially used to describe a property inhabited by people with family ties. Unlike a rented or owner-occupied apartment, there are no areas in a single-family house that are shared with other people. An exception are single-family houses with granny apartments. This is a self-contained apartment within the single-family house, which has its own entrance, kitchen and bathroom. However, these apartments are often occupied by family members such as the owner's parents or children.
This is especially true for detached single-family homes. This form of living is very individual. It offers much space and a large garden. However, the detached single-family home is also the most expensive form of living. The prices for the properties are higher than if you decide to buy an apartment.
Double and row houses
As an alternative to the detached single-family house, there are semi-detached and terraced houses. These forms of living are very popular, especially on the outskirts of large cities and in structurally strong regions. The plots of land are somewhat smaller because they are divided among several parties. The living space is also somewhat smaller. Nevertheless, semi-detached and terraced houses have the advantage over apartments that the building is inhabited alone. Corridors, cellars and entrance areas do not have to be shared with other people.
Individual living: Sales factor
Single-family homes are also considered a very individual form of living. This is especially true if the single-family home is designed by an architect based on the ideas of the future owner. The possibilities of the organization can be realized just as individually with the single family house as the size and the use of the building materials. In addition to the classic variants made of stone and concrete, wood or large-area glazing is used.
Completed real estate: Move in immediately
Very popular are detached houses, which are sold as a completed property. Since the construction of a house requires lengthy planning and costs a lot of time and energy, many customers who would like to live in a single-family house decide to buy one.
The value of the property depends on many different factors and is determined before the sale sometimes quite elaborately. Ultimately, however, the law of supply and demand regulates the determination of the purchase price. This means that in practice you can get more money for a single-family home in need of renovation, which is in a very good location, than for a new property without the need for renovation.
In addition to the detached single-family home, there are semi-detached houses and terraced houses which are cheaper to build or buy, but still enjoy great popularity.
Free-standing single-family house
The free-standing single-family house is characterized by four exterior walls. It is located at some distance from the neighbor and is therefore the form of living with the greatest freedom and individuality. This is especially true if the single-family home is located on a large plot of land and there is no neighbor within sight or hearing distance.
Free-standing single-family homes achieve very high prices when selling real estate compared to other forms of living. This is not only due to the individuality of the form of living. The detached single-family home offers many possibilities to realize your own wishes and ideas of living. This is especially true when the house is owned by the resident.
The detached single-family houses can be divided according to their construction. If you want to sell a detached single-family house, the type of construction has an influence on the pricing. As a rule, you can charge a higher purchase price for an architect's house than for a prefabricated house.

Architectural house
When building an architect's house you can best realize your individual ideas. Put your ideas on paper and then commission an architect with a design. You can determine almost all components of the house yourself. Choose the living space, number of rooms, roof design and building materials. The house will be built according to your specifications. The cost of an architect's house can be twice as high as for a prefabricated house that you choose from the catalog. However, for this you have implemented your individual ideas exactly.
Solid house from the catalog
There are a large number of companies on the market that specialize in the development and marketing of single-family homes. You can choose a model and in many cases make individual adjustments. However, the size of the living space and the load-bearing walls are fixed and cannot be changed.
The solid construction can be realized in different variants. A high quality is achieved with the traditional stone-on-stone construction method. Alternatively, finished concrete elements are used. These can reduce the construction time to a few weeks.
Lightweight single-family houses
Lightweight construction is considered the cheapest and fastest way to build a single-family home. The houses are available in many different variants, and the prices are very reasonable in comparison with the other types of houses. The builder-owner celebrates the topping-out ceremony after only a few days. Lightweight houses have a service life of up to 100 years and their floor plan cannot be changed afterwards.
Free standing houses with granny flat
Detached family homes can be equipped with a granny apartment. These houses have a larger floor space. The granny annexe is already planned during the construction phase. A subsequent integration of the granny annexe is possible if the house has sufficient floor space.
Granny apartments can be planned in the attic, in the basement or on a gable side. It is important that they are self-contained. Both parties live alone and are not dependent on the premises of the other party.
Many granny apartments have their own entrance. This is a necessary feature especially if the granny apartment is to be rented out. Alternatively, the granny apartment can be reached via a separate entrance and stairs or another door.
The living space of a detached single-family home can vary considerably. Small single-storey single-family homes in bungalow construction start with living spaces of 80 to 100 square meters. The average living space is between 120 and 160 square meters. Architectural houses commissioned by wealthy customers can have living spaces of several hundred square meters. House companies offer their models with living spaces of up to 250 square meters.
Double houses
A semi-detached house will be built on a plot of land. The owner acquires a co-ownership share in the property. Alternatively, the property is divided.
The two halves of a semi-detached house are identical in construction. Often the living spaces are arranged mirror-inverted. The average living space is between 100 and 160 square meters.
Semi-detached houses are often equipped with a cellar and have a roof shape under which the attic can be developed. In this way it is possible to extend the living space.
The advantage over the terraced house is that there is a gable side and the garden cannot be reached only through the living room, as is the case with mid-terraced houses. There is also a larger garden, and a garage or carport can be built more easily.
The construction costs and the cost of the plot are significantly lower. However, it must be taken into account that the neighbors live next to each other within hearing distance in a semi-detached house. This is especially true for balconies and terraces, which in a semi-detached house are usually directly next to each other.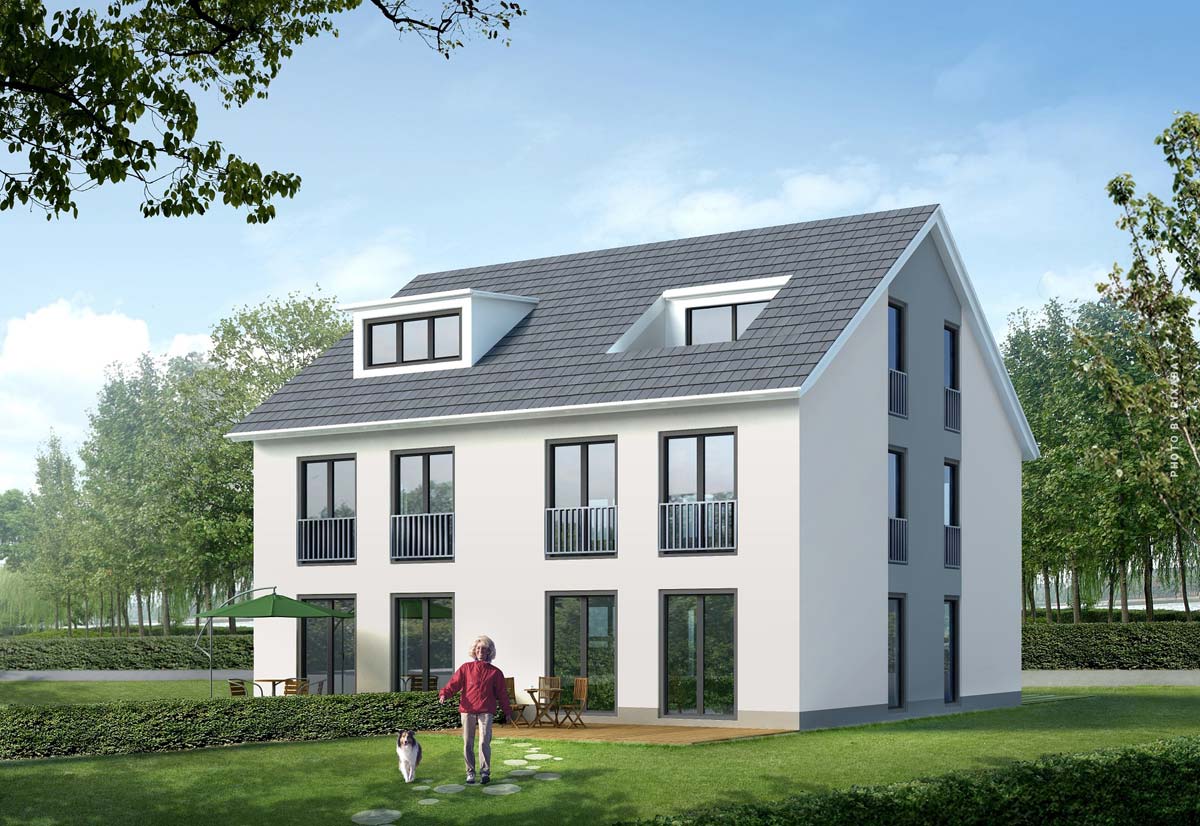 Terraced houses
Terraced houses are identical to semi-detached houses in terms of their construction. The property is divided among the co-owners or newly surveyed. This reduces the construction costs for house and plot. The architecture of the terraced houses, which are built together, do not differ from each other. Here, too, the outbuildings are often mirror-inverted because this gives a more attractive appearance.
In addition to the problem of proximity to the neighbors, the row house is also affected by the poor accessibility of the garden in the middle houses. The path leads through the living room or, if possible, around the entire row of houses. In addition, the middle houses have two neighbors within hearing distance.
Basement or utility room
The heating system, the boiler for the hot water preparation and all connections necessary for the supply of the house can be installed in the cellar or in the utility room. The cellar has several advantages. It increases the available living space and offers many possibilities for individual use. These include the extension of the living space or the creation of a room for the practice of hobbies. The cellar can be equipped with its own access and offer storage space for bicycles or garden tools. It is also possible to furnish an office.
A room in the basement is regularly reserved for housekeeping. Thus the cellar offers many advantages. The disadvantage is the high cost of building a cellar. Very large houses can also have a partial basement. Nevertheless, the additional costs compared to a basement slab are usually in the five-digit range.
If a cellar is not built, a room on the first floor must be set up for all connections and the installation of the heating system. This is a disadvantage, since less living space is available. On the other hand, the costs for building the house are not as high.
When reselling, the cellar always increases the value of a house. If you, as a builder-owner, decide to build a cellar, this is definitely considered a worthwhile financial investment.
Garage, carport and outbuilding
Single-family houses are often extended by a carport or a garage for parking the vehicles. The outbuildings can be extended with rooms for garden tools or bicycles. Older single-family houses are often connected to outbuildings that were used as utility rooms in earlier times. These buildings often have a very good solid structure and can be used in many different ways. They increase the value of the property when sold, especially if they are in a good or very good refurbished condition.
Garden: Nature and recreation in your own home
Each family home has a garden attached to it, which can be very different in size. Older houses often have very large gardens. The reason for this is that the owners were self-catering and grew their own fruit and vegetables in the garden. With newer properties, the gardens are smaller and easier to maintain. This is due to a change in living structures.
Many owners of owner-occupied homes are involved in their work and have to accept further distances than before. A garden, which is very labor-intensive, is no longer desired. Small and low-maintenance gardens serve for recreation and relaxation. They are laid out with lawns or evergreen plants. The areas where fruit and vegetables are grown are much smaller than in earlier times.
In the context of real estate sales, a garden has a value-enhancing effect above all when it is very well maintained and at the same time easy to maintain. The size of the garden should be between 600 and 1,500 square meters if a value-enhancing component is to be achieved.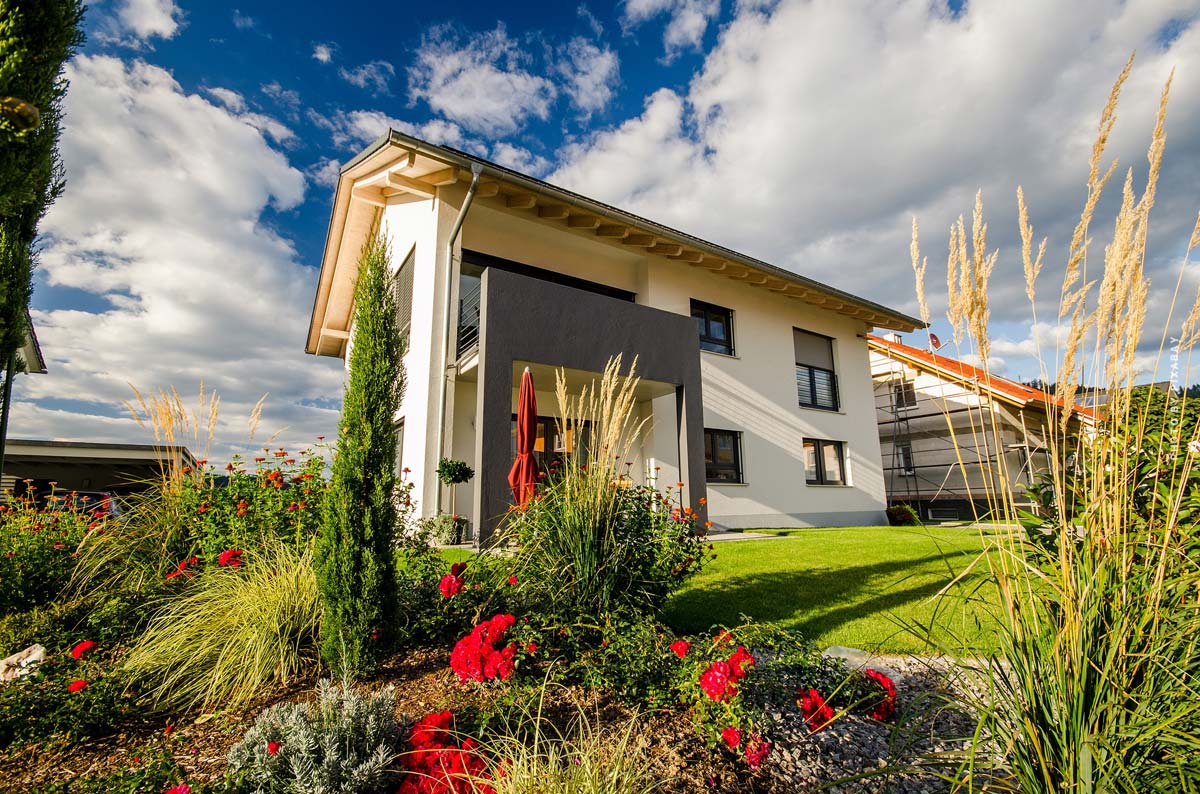 Sell inherited house
In most cases, the heirs decide on the inheritance. Even if the property is located far from the heir's place of residence. But in exactly this situation the question arises what to do with the property. If neither inhabiting nor renting the house is an option, the most common consideration is to sell the inherited house.
After a house is inherited, the first step for the heir is to go to the local court. There the certificate of inheritance can be requested. This measure should also be taken if the heir is only claiming the compulsory portion. The certificate of inheritance identifies the heir as the rightful owner of the property.
The certificate of inheritance is issued by the probate court. The competent probate court is always the district court of the last residence under which the deceased was registered.
At the appointment at the probate court, the heir must prove his claim to the inheritance. This can be done through the public will, the inheritance contract or by proving the relationship with the accompanying legal succession.
Read on: Inherited house for sale

Sell house after divorce
Those who choose to marry and be married, in most cases, have the intention to spend their life with their spouse forever and share everything that belongs to them. Nobody thinks during a marriage about the fact that there might be a divorce one day and that there might even be arguments about belongings. But in 2017 the divorce rate in Germany was over 36 percent, which shows that unfortunately not all marriages last forever. Often fraud, daily life including routine or even financial problems are the reasons for divorce.
Selling property in case of divorce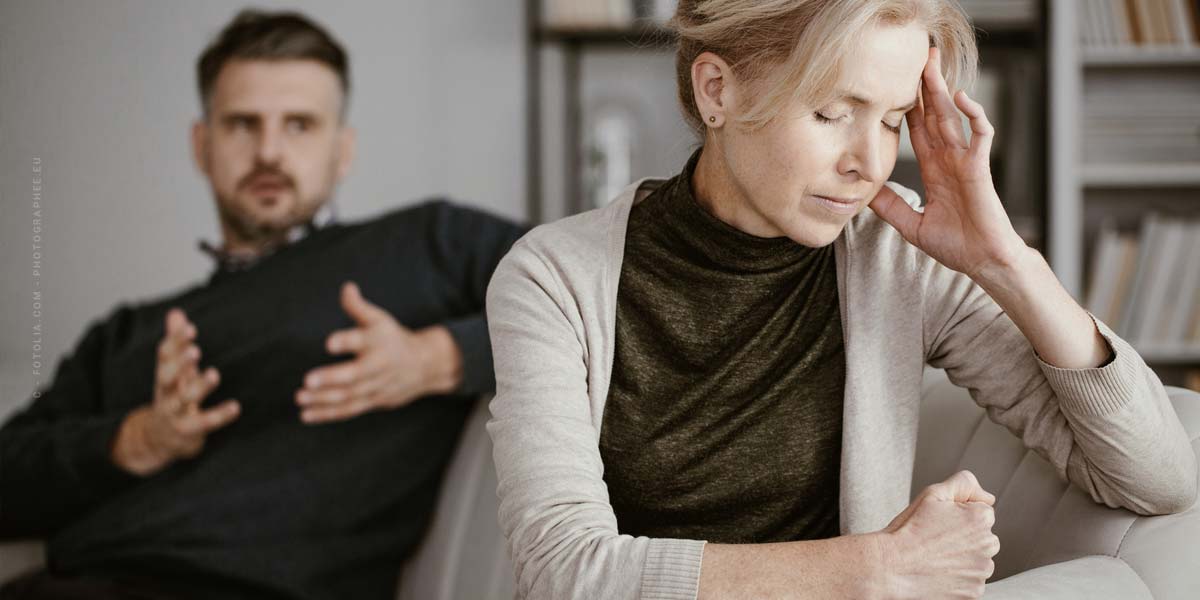 Increase in value through conversion ?
An old property can be put to new use by a house conversion. Small rooms can be merged. Alternatively new rooms can be created. By extending the attic or the basement even new square meters can be gained. This opens up many possibilities for the current residents of the house, but can sometimes also be useful if you want to sell your house. Especially for old buildings with small rooms, a conversion can work wonders and attract more buyers. However, conversions involve a lot of effort and a high financial outlay. You should therefore only use it to increase the value of your property if your chances on the real estate market improve noticeably as a result.
Selling a house and increasing its value
https://lukinski.com/wp-content/uploads/2018/11/solaranlage-photovoltaik-ratgeber-immobilie-haus-dach-bayern-haus-schnell-kosten-preis-beispiel-familie-privat-aufbau.jpg
720
1280
L_kinski
https://lukinski.one/wp-content/uploads/2023/01/lukinski-logo-real-estate-investment-financing-1.svg
L_kinski
2020-09-05 18:45:39
2022-04-03 08:13:26
Sell your House: Without a realtor?! Documents, taxes & costs – what to consider?