Selling real estate in Mitte (Stuttgart): city villas, condominiums and co. in the city centre
Selling property in Mitte – selling an apartment, apartment building or your own property. Together with Stuttgart-Nord, Mitte and Degerloch, Stuttgart-Mitte is on the list of Stuttgart's most attractive residential areas. Are you planning to sell your property here? With our free guides on selling property in the popular city centre, you'll be well prepared! Plus: everything you need to know about property valuation, what documents you need and whether you prefer to sell privately or with an estate agent – welcome to Mitte! Back to overview: Real Estate Stuttgart.
Mitte: Modern district in the centre of Stuttgart
Stuttgart is one of the most attractive places to live in Germany. The economy is booming, boutiques, restaurants and bars enrich the cityscape and the many nature parks and monuments of the capital of Baden-Württemberg invite you to marvel. So it's no wonder that Stuttgart now has over 600,000 inhabitants, making it one of the largest cities in Germany. And every year thousands of newcomers to the city are drawn here. Whether you are a family with a child, an ambitious student, an entrepreneur with big plans or an investor – Stuttgart with its 152 districts offers something for everyone.
Mitte: map and location
The city centre with the main railway station is located in the city centre. No other city district has such a good infrastructure as here. The popular districts of Stuttgart-Nord, Degerloch and Birkach are easily accessible by car and public transport.
Sell real estate: Apartment, house, apartment building
Whether it's a spacious bungalow, a luxurious maisonette or an elegant villa – selling real estate is nerve-wracking, time-consuming and requires a lot of planning. You need to be familiar with the current market situation, organise all the important documents and also keep an eye on tax aspects during your property sale. A competent real estate agent at your side can support you in the best possible way. Real estate agents are not only familiar with the sales process and the most important documents, but also with the different types of apartments and houses.
More on the subject of selling property in Stuttgart-Mitte in a moment. Here is an overview in advance:
At the very beginning of the sales process is the property valuation:
Real estate valuation: Valuation for the sale of real estate
You want to buy a property and are now in a hurry with your current property sale? Or you would like to buy an apartment building in order to rent it out lucratively? Even if time is of the essence, be sure to take your time with the property valuation! Here, too, it is worthwhile to call on the expertise of an experienced estate agent.
Here you can find out more about property valuation, the procedure and the most important documents:
Sell real estate in Stuttgart-Mitte
There are many different reasons for selling a house in Stuttgart-Mitte. Divorce, the children moving out or professional changes. But sellers in Stuttgart-Mitte quickly find a buyer, because the district brings many advantages with it. A large number of shops, leisure and educational facilities make this district attractive.
Hiring a real estate agent: advantages
Well prepared, you avoid mistakes in the real estate sale and exclude that the process is not to your satisfaction. Selling a house or apartment is a very complex and time-consuming task that requires a lot of know-how and core expertise. When you want to sell your private property, there are various emotions involved. These have an effect on the realistic valuation and thus on the competence in determining the selling price. Because one thing is certain:
Professionally presented properties sell best.
That is why estate agents also achieve the highest sales prices. On average, 72% of all properties are sold through estate agents.
Here is a summary of the benefits of using a real estate agent:
Large network of customers & prospects
Experience with the real estate market
Support during the entire sales process
Saves the seller time, costs and stress
Valuation of the property: Determine & set the purchase price
The city of Stuttgart consists of a total of 23 districts. Therefore, there are different prices per square metre, which are calculated based on the location of your property. It is essential to note that a competent valuation ensures seriousness and forms the basis of an authentic offer price. You will achieve the highest possible price by knowing the real value of the property, the land and the factors from infrastructural embedding and other important aspects.
Competent valuation is important for an authentic purchase price
Mistake in private sale: wrong purchase price
Whether Mitte, Degerloch or Nord – When it comes to the asking price of your property, emotions and your gut feeling should have no influence. Put yourself in the position of the prospective buyer, who would like to buy a property according to his claim quite soberly. There are two major sources of error in private property sales.
The two biggest mistakes: too high & too low purchase price
Either the sales price is set too high, because you set the ideal value and not the factual situation. This means that your property will be difficult to sell and potential buyers will automatically start negotiating the price. The second possible faux pas is based on undervaluing the property, which causes you to lose cash and sell the property below its real value.
Here again is a summary of the two biggest mistakes:
Purchase price is set too high: Scares off prospective buyers
Purchase price is set too low: Property is sold below value
Professional valuation by real estate agent
With a professional value appraisal, you eliminate both sources of error and have the security of knowing that the offer is made at a cost that reflects reality, taking into account all relevant factors. As part of our professional house sale services, we offer you the determination of the offer price based on a high-quality valuation.
Real estate agents determine the purchase price based on several criteria
We recommend that you consider the valuation as part of our overall package and decide to have your property, apartment or land marketed by an expert. Because even often 'forgotten' factors, such as a freshly renovated kitchen, are already worth a purchase price increase.

Sell property privately or with a broker?
Apartment in anold building, villa or apartment building – the thorough planning and professional realisation should at best be carried out by an estate agent and be tailored to your requirements, as well as the special features of the property in Stuttgart-Mitte. Smallest mistakes in the sales planning can achieve high financial losses or lead to the fact that the sale of the house or the free-hold flat becomes difficult and brings unnecessary waiting period with itself. This circumstance is especially counterproductive if you have to sell promptly or otherwise end up in a forced auction.
Tasks of the broker: Valuation, purchase contract & Co.
A responsible real estate agent proceeds with the utmost precision and offers a comprehensive service that saves you a lot of time, money and nerves. He conducts viewings, advises prospective buyers, is the direct contact in all questions and prepares the conclusion of the contract. This includes the solvency check (also called credit check) of the prospective buyer and recommendations to you. He takes over the entire contract drafting and works on your behalf – from your first consultation to the notarization of the purchase contract and the handover of keys to the new owner in Stuttgart-Mitte.
Reading Tip! Off Market: Selling real estate anonymously and discreetly
Here is an overview of the duties of a real estate agent:
Valuation
Real estate marketing
Preparation of an exposé
Carrying out and planning the viewing appointments
Purchase negotiations
Processing and drawing up of the purchase contract
Handover of keys
Advantages of the broker: Expertise, know-how & experience
Take note: Your house sale or the sale of a condominium in Stuttgart-Mitte costs time. While we take care of finding a new owner for your property and take over all tasks from preparation to advertisements to negotiations and the conclusion of the contract, you have time for your core business and the things that are currently also close to your heart.
Here are some of the benefits of using a real estate agent:
Large network of customers & prospects
Experience with the real estate market
Support during the entire sales process
Saves the seller time, costs and stress
Important documents for exposé and processing
As a private individual, obtaining this information alone can present an insurmountable task. In addition, there is the energy certificate, which must be shown in the exposé and presented to prospective buyers. As you can see, selling a house or apartment is much more work than it might seem at first glance.
Important for the exposé: documents & meaningful pictures
Prospective buyers want to know the realistic refurbishment and modernisation standard, get their own first impression from pictures and know what subsequent costs the property could put on the agenda. If you have your property in Stuttgart-Mitte sold by a real estate agency, you exclude mistakes and rely on core competence from experience.
So here's what you need:
Energy certificate
Floor plan
Land register excerpt
Site plan
Invoices from renovations & maintenance
Also meaningful photos belong in the Expose: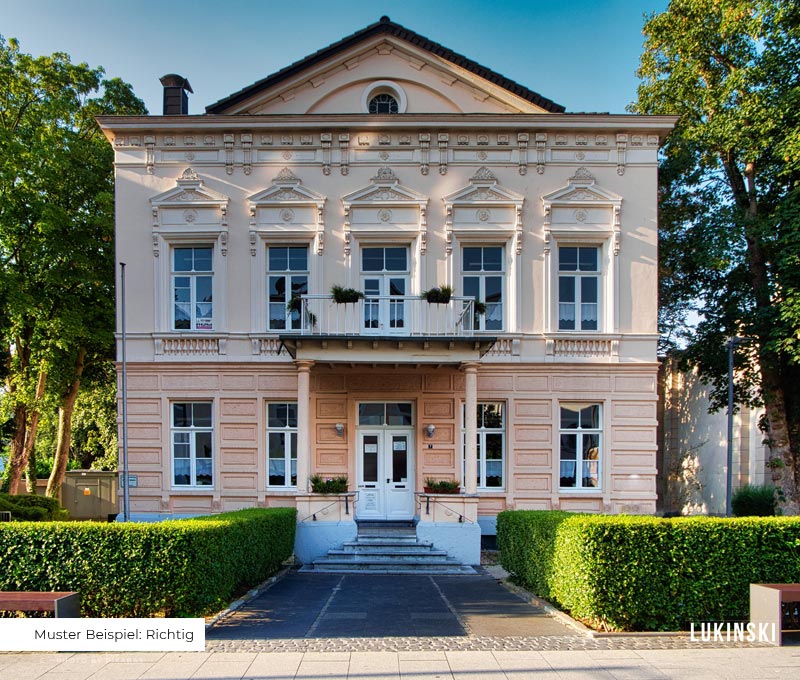 Owner-occupiers or capital investors: Different challenges when selling real estate
An extremely important question when selling real estate in Stuttgart-Mitte concerns the target group. Single-family homes are usually sold to owner-occupiers, which means that the exposé with a personal nuance is definitely rated positively. If you are selling a condominium or a multi-family house, capital investors are addressed for the most part.
Real estate as an investment: emphasize financial aspects
Investors are a demanding target group who want to know their return on investment before they buy and have plausible facts to back it up. Conversely, this means that you should already disclose any modernisation work carried out and the annual rental income achieved in the exposé. For the investor who does not want to move in and use your house or apartment himself, the focus is on the financial advantage. Therefore, this should already be considered in the planning and presented in such a way that it is comprehensible and provable, but also appealing and convincing to the investor.
For the capital investor who does not want to move in and use your house or apartment himself, the focus is on the financial advantage.
Real estate for own use: Fast & uncomplicated sale
If you focus on owner-occupiers, a flat or house can often be sold more quickly. It is important here that you deal honestly with existing tenancies or a permanent right of residence. Even if these circumstances reduce the attractiveness for owner-occupiers, such information belongs in the exposé.
Conclusion: Unused property or rented property?
It is best to make the decision for owner-occupiers or capital investors according to whether the property is rented or unused. Owner-occupiers are interested in their own four walls as their new home, while for capital investors properties without fixed rental income, i.e. apartment buildings with vacancies, are of little interest.
Investors are interested in properties with rental income, for private users an unused property is also interesting.
Tip: Freshly renovated houses are popular
A real estate agent helps you to find the right form of offer and to analyse the target group for your real estate sale according to the object and target. For the investment property to be an interesting investment, the annual rental income must be significantly higher than the maintenance and management costs. In concrete terms, this means that you will sell a recently refurbished house faster and at a higher price than a property where the new owner can modernise it himself and only then raise the rent according to his ideas.
Annual rental income should exceed maintenance and management costs.
Rented property: apartment & apartment building
The subject of "rented property" presents some particular pitfalls and challenges. Even though an apartment building or a rented condominium are quite attractive on the investment market, potential investors have high expectations. Only if the rental income and the standard of the property are right will a contract be concluded and thus the deal you are aiming for.
Rental properties in Stuttgart-Mitte in high demand
If you have already dealt with the rent index in Stuttgart-Mitte before the sale and have rental income that exceeds the local comparative rent, the chances for a quick change of ownership in the area of capital investments are good.
Reading Tip! Whether selling, buying or renting – find our tax tipshere: Real Estate
Single-family house: support from broker team
A very complex area is single-family homes that you want to sell including tenants. If you are looking for a home of your own, you usually want to move into the property yourself and are not interested in earning a return on the purchase. Now your tenancy agreements are binding and an amicable settlement with the current tenants is not possible? A competent team of real estate agents will find a solution and look for an option to sell your house in a timely manner despite the fact that it is rented out.
https://lukinski.com/wp-content/uploads/2018/12/bingen-rhein-haus-verkaufen-makler-wert-bauflaeche-bausparen-investieren-familie-beste-lage.jpg
550
1200
Laura
/wp-content/uploads/2023/09/lukinski-real-estates-immobilien-logo.svg
Laura
2018-11-19 18:44:42
2022-03-01 09:28:34
Selling real estate in Mitte (Stuttgart): city villas, condominiums and co. in the city centre