Real estate for sale in Birkach (Stuttgart): Property, apartment & house
Selling property in Birkach- selling an apartment, selling an apartment building or selling your own property. The affluent district of Birkach is on the list of Stuttgart's most attractive residential areas, along with Stuttgart-Nord, Mitte and Degerloch. Are you planning to sell your property here? With our free guides on selling real estate in Birkach, you'll be well prepared! Plus: Everything you need to know about property valuation, which documents you need and whether you prefer to sell privately or with an estate agent – Welcome to Birkach! Back to overview: Real Estate Stuttgart.
Birkach: Rich district with suburban flair
Strong economy, breathtaking architecture and cultural diversity make Stuttgart stand out. With over 600,000 inhabitants, Stuttgart is one of the largest cities in Germany. The economy is flourishing, exclusive boutiques and romantic restaurants invite you to spend a relaxing afternoon and the multitude of parks and green spaces inspire young and old. Families, couples, students, entrepreneurs and investors – everyone feels at home in Stuttgart.
Birkach: map and location
Located in the south of Stuttgart, Birkach is considered the richest district of Stuttgart. On the outskirts of the city, this residential area benefits from its idyllic and village-like location. Quiet and surrounded by greenery, there are many recreational opportunities nearby and the popular Degerloch district is also not far away.
Sell real estate: Apartment, house, apartment building
A property sale must always be well thought out. After all, selling your property is not only time-consuming, but also requires a lot of planning and patience. From the valuation of your property to viewing appointments to the purchase contract at the notary – here it is definitely advisable to seek the expertise of an expert. An estate agent is not only fiscally knowledgeable about selling property, as well as the different types of houses and apartments, but will also look after you throughout the entire process.
More on the subject of selling property in Birack in a moment. Here is an overview in advance:
At the very beginning of the sales process is the property valuation:
Real estate valuation: Valuation for the sale of real estate
During the real estate appraisal, the value of your property is determined. Here, too, a real estate agent will be happy to assist you. After all, a real estate agent is familiar with the different purchase price factors and knows which purchase price is most realistic. In addition: The price for the valuation of your property is included in the agent's commission and is thus largely paid by the buyer.
Here you can find out more about property valuation, the procedure and the most important documents:
Selling a property in Birkach: Valuation & Documents
Selling real estate always involves a lot of planning, time and patience. Especially if this is your first sale or you are very attached to your property and the shared memories, it can sometimes be difficult to make the property sale quick and efficient. Find out here what documents you need for the sale and what factors influence the purchase price.
Popular properties in Birkach: from plots of land to apartment buildings
Very gladly bought are building plots and single-family houses with garden. Houses and plots of land in all sizes and price ranges are for sale here. However, apartment blocks and condominiums are also popular purchases in Birkach. Because a property in the richest district of Stuttgart is also interesting for capital investors in the residential market.
These types of properties are particularly popular in Birkach:
Building plot
Single-family house
Apartment house
Condo
Valuing real estate: criteria for a realistic purchase price
When was your property built? What is the building fabric? And how safe is the surrounding area? These questions play an important role in property valuation. Whether Mitte, Nord or Birkach – one thing is always important:
Location, location, location
And this includes not only how safe the place of residence is, but also the infrastructure and the connection to schools and hospitals. In the case of apartment buildings, the condition of the common rooms, stairwells and lifts is also important. You should also pay attention to the green areas before determining the purchase price.
Here are some of the most important criteria that affect the value and therefore the selling price of your property:
Location
Infrastructure / Surroundings
Size
Equipment
State of development
Refurbishments / Refurbishment requirements
Important documents: floor plan, energy certificate & Co.
There are some documents that you need not only for the exposé, but also for the handling of the sale. Also potential buyers and interested parties often want to have an insight into the documents to assure themselves of the value of the property. It is therefore safe to take care of the procurement and organisation of the energy certificate, land register extract, site plan & Co. right at the beginning. Especially if you first have to request these from the authorities, this can sometimes take a while. So plan enough time for this!
Always make sure that all important documents are there!
In any case, you should always have the following documents ready:
Energy certificate
Floor plan
Land register excerpt
Site plan
Invoices from renovations & maintenance
Once all documents are available, they can be included in the exposé together with expressive pictures: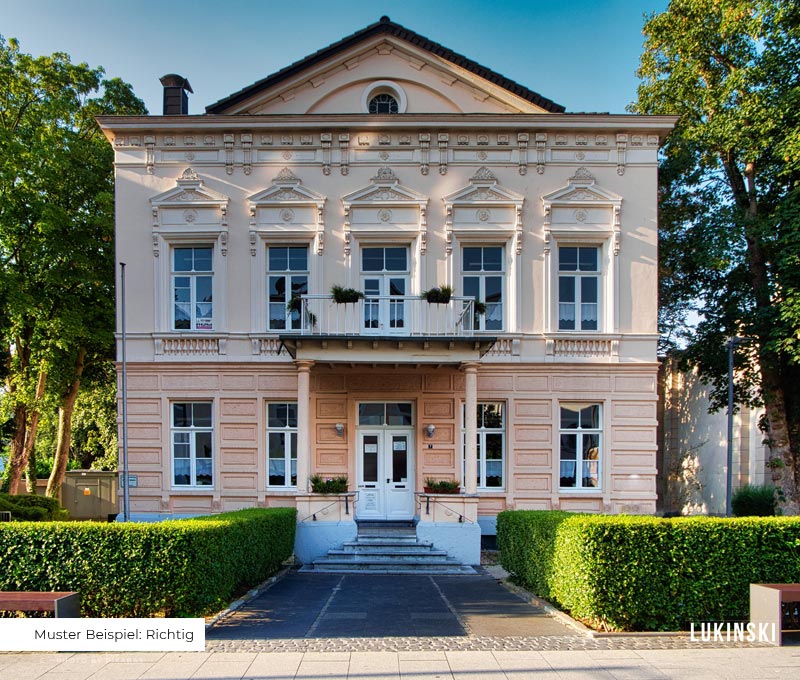 Hire a real estate agent or sell property privately?
Should you hire a real estate agent? Or would you rather sell your property privately? This is one of the first and, above all, one of the most important questions. Because one thing is certain: Professionally presented properties sell best. That is why estate agents achieve the highest sales prices. On average, 72% of all properties are sold through estate agents. But what exactly are the tasks of your estate agent? And why is it worth investing in an estate agent in the first place? We answer these questions here.
72% of all real estate is sold through real estate agents!
Tasks of the broker: Exposé, viewing appointments & Co.
An estate agent therefore not only advises you on the topics of property valuation, taxes and finances, but also accompanies you through the entire sales process. This includes not only the creation of the exposé, but also the execution of viewing appointments and the handling of the sales process. Furthermore: If you prefer an anonymous sale, this is also possible. Many estate agents specialise in off market and can thus discreetly refer prospective buyers.
Reading Tip! Off Market: Selling real estate anonymously and discreetly
Here is an overview of the duties of a real estate agent:
Valuation
Real estate marketing
Preparation of an exposé
Carrying out and planning the viewing appointments
Purchase negotiations
Processing and drawing up of the purchase contract
Handover of keys
Private real estate sale: common mistakes
Most sellers lack important know-how and expert knowledge. Negotiating skills and sales talent are also required when selling a property! Whether it's a maisonette, bungalow or semi-detached house – always make sure that all the important documents are there! Most sellers underestimate the effort and the time that is important for the preparation of the real estate sale. Costs are also often incorrectly estimated and the purchase price negotiated incorrectly.
So, should you decide to sell real estate privately, be sure to avoid these mistakes:
Poor or insufficient preparation
The selling price of the property is incorrect (such as "purchase price at that time + x%")
Indiscriminately "plaster" marketing portals and advertising pages
Only be available to the interested party at selected times
Conceal defects
Overestimate additional costs (such as for an appraisal, renovations, etc.)
Having to sell the property in the short term
Expertise of the real estate agent convinces!
Experienced real estate agents have numerous reputable contacts in the Stuttgart real estate market. The task of a professional real estate agency is to observe the market and to know which properties are particularly in demand among potential buyers. Here, too, the following applies: It doesn't cost anything to ask! Send your meaningful description of your property to a reputable real estate team. This will save you a lot of time, effort and money.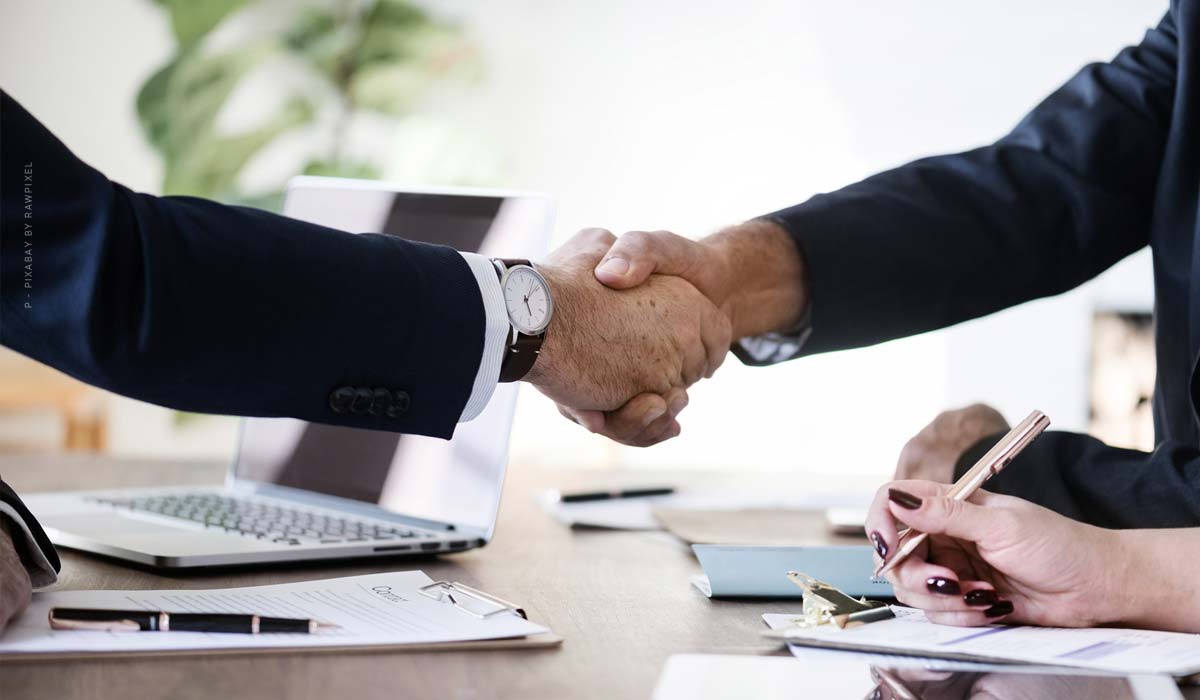 Frequently asked questions for sellers
You want to buy a property and are now in a hurry with your current property sale? Or you want to buy an apartment building in order to rent it out lucratively? Whether Degerloch, Mitte or Birkach – as a real estate seller there are certain questions you need to ask yourself. Where do you move to after a successful sale? Is there a declaration of partition and a pre-sale right? And are all maintenance costs documented?
Here are the most common questions you need to ask yourself as a seller:
Do you have a follow-on property in mind?
Is there a need for renovation / refurbishment of the apartment?
Are all records and documents available?
Are early repayment penalties payable?
Are the declaration of partition, building insurance, minutes of the owners' meeting, utility bills, list of rents, etc. available?
Are there lists of the maintenance of the condominium (maintenance costs)?
Should inventory be sold?
Is there a right of first refusal?
Conclusion: Stuttgart-Birkach sells well
Among the other districts in Stuttgart, Stuttgart-Birkach offers many positive features that have a positive effect on the sale of residential properties (detached houses and apartment buildings) and building plots. These special features need to be combined with the advantages of your property in a meaningful and appealing way. For these and all other activities around the successful sale of real estate, it is advisable to engage a reputable real estate agent.
/wp-content/uploads/2023/09/lukinski-real-estates-immobilien-logo.svg
0
0
Laura
/wp-content/uploads/2023/09/lukinski-real-estates-immobilien-logo.svg
Laura
2019-01-07 14:04:22
2022-03-01 09:06:12
Real estate for sale in Birkach (Stuttgart): Property, apartment & house