Real estate for sale in Nordend (Frankfurt): Apartment, multi-family house, prices – Tips
Selling property in Frankfurt-Nordend – selling an apartment, apartment building or your own property. Frankfurt Nordend in particular is a popular residential area. It not only inspires as an attractive place to live for young families and entrepreneurs, but also by its proximity to the economically strong Westend, the lively Ostend and also the district Gallus, as well as the neighboring city of Offenbach are not far away by car. You want to sell your property in the Nordend? We show you here how to achieve the highest price quickly and efficiently! In addition: How the sales process works, which documents you need and all information about property valuation and inherited property – Welcome to the Nordend! Back to overview: Selling a property in Frankfurt.
Frankfurt-Nordend: Modern district full of art nouveau buildings
With a population of around 750,000 and an area of just under 750 square kilometres, Frankfurt am Main is one of Germany's major metropolises. The thriving financial market offers exciting career opportunities, while the many green spaces, art halls and the banks of the Main invite you to spend a relaxing afternoon away from work. The metropolises of Cologne and Düsseldorf are also not too far away, making Frankfurt one of the most attractive places to live in Germany. Whether it's an exclusive loft in the Westend, a spacious semi-detached house in Offenbach or a luxurious villa in one of the most expensive streets in Frankfurt – everyone is at home here.
District: map and location
The streetscape of Frankfurt's Nordend is not at all characterised by the typical Frankfurt skyscrapers. Apartment buildings and townhouses offer space for families, retirees and singles alike. Directly adjoining the Nordend is the well-known Westend, where banks such as UBS, KfW and more, as well as large consulting firms such as the Boston Consulting Group have their offices. Without question, one of the largest economic centers of the Rhine-Main area is located here and this is also reflected in the real estate prices. For around Glauburgstrasse, which is located in the Nordend, real estate prices are comparable to those in the Westend and the Innenstadt district. The former working-class district of Gallus is also not far away, as is the popular residential area of Frankfurt-Ostend.
Sell real estate: Apartment, house, apartment building
You are divorcing your spouse and now you have to sell the house? You have inherited a house, but you want to sell it? You want to move back to your home and want to put your property on the market? There are numerous reasons for wanting to sell your property. However, you should never underestimate how time-consuming and complex the sale of a property can be. This makes it all the more important to get professional support, who will advise you, accompany you and give you a helping hand right from the start. An experienced estate agent will not only guide you through the selling process, but will also advise you on taxation and finance. An experienced real estate agent is also familiar with the different types of houses and apartments.
More on the subject of selling in the North End in a moment. Here is an overview in advance, with further information and tips:
One of the most important steps in selling real estate is the appraisal of the property.
Real estate valuation: Valuation for the sale of real estate
The district in which the property is located plays a central role in the selling price of a property in Frankfurt a. M.. Not only the security of the place of residence, but also the infrastructure, the standard of living and the current demand, play an important role in the valuation. For an initial, non-binding valuation of your property in Frankfurt am Main, talk to a real estate agent you can trust. Many years of expertise in the real estate market enable the real estate agent to realistically estimate the purchase price – ideally, of course, with the necessary discretion.
You can find our free guides on property valuation here:
Selling property in Nordend: Procedure, documents & valuation
Do you own a property in Frankfurt Nordend? Then you have a property in the Hessian Rhine Main area along the beautiful Main. The old town with its medieval flair impresses residents and visitors alike and offers a unique ambience due to the history that can be felt everywhere. Real diamonds can also be found here, as the residential area close to the city centre is quiet and pleasant despite the fast pace of Frankfurt. You now want to buy a property somewhere else? Or do you now want to invest in real estate as a capital investment, buy an apartment building and then rent it out lucratively? Whatever the reasons for your sale, you want to sell your property not only efficiently, but also quickly. To help you achieve this, you will find all the information you need here about the process, the most important documents and the property valuation.
Real estate sale procedure: apartment, land & apartment building
Selling your house is best done with an expert on your side. Do you know all the points to consider here? How does the process of selling a house work? Modern Nordend, upscale Gallus or exclusive Westend: The process of selling a property remains the same in all districts.
Here is an overview of the most important steps:
Realistic time planning and considered strategy for the sales phase
Sale with or without a broker?
Do you have all the documents for the sale?
Is your property ready for sale?
Is the sales price you have set realistic?
… now it goes into the sales phase
Plan marketing strategy for the property and place targeted advertisements
Establish contact with interested parties and prepare for questions
Prepare for questions and establish contact with interested parties
Arrange and carry outviewing appointments and market the property convincingly
Sales talks with interested parties and checking of creditworthiness
… now comes the sales processing
Draw uppurchase contract and prepare for signature
Appointment for notarization at the notary and handover to the new owner
Create Exposé: Important real estate data
Describe your property! This is not only important for the creation of the exposé, but also for the property valuation. Enter the relevant data of your property in our online form. The more information you provide, the more accurate your result will be.
Real estate type
Size of the plot (m²)
Layout of the plot
Living space (m²)
Number of floors (without kitchen, bathroom)
Age of the property
Planned sale (date)
Location (postcode, street, house number)
… or simply rate online
Our tip: In order to increase the value of your property, a renovation or refurbishment with the help of a craftsman, architect & Co. can be well worthwhile. An experienced real estate agent can advise you on this.
Analysis: Fast evaluation & reliable results
We analyze your real estate with and without land. Our expert determines the value of your property based on experience, regional characteristics and through our extensive database. If you have any questions, we will contact you by phone. Start your property valuation on Lukinski now.
Quick evaluation
Simple overview
Flexible via mail or telephone
Reliable results
High quality market analysis
Real estate agents in Frankfurt: Background knowledge and experience
So if you own a property in Herborn, you should definitely have the value of the property assessed by a professional and not set the price without precise local and industry knowledge. If you sell your property without the support of experts, it can quickly happen that you ask for a much too low sales price and end up dissatisfied. Real estate agents know the current market situation in Herborn and have enough experience to be able to estimate how the market will still change in perspective. All these aspects are enormously important to set a price, which is why a realtor is indispensable. The one-time investment in professional assistance can net you significantly more money when selling your property. Don't take unnecessary risks by trying to conduct a private sale, which also adds a lot of stress and time.
Inheritance of a property: costs, deadlines & Co. in the event of sale
Whether in Nordend, Ostend, Gallus or neighbouring Offenbach – a death is always a stroke of fate that, in addition to grief, leads to excessive demands and stress for many people. Anyone who then also has to look after an inherited property can quickly run into difficulties. Regardless of whether you want to live in the property yourself, sell it or rent it out – you should get good advice beforehand. Below you can find out all about what is important when you inherit a property.
Inherited real estate: change in the land register
Once a property is inherited, the first question that arises is: what happens to it? So if you don't want to move into the property yourself after inheriting it, you can sell it or rent it out.
Important after the inheritance: Change in the land register!
You are not the sole heir? Then you should first talk to the other heirs. Often the sale of the property is also worthwhile here, as the proceeds from the sale of the property are divided equally between the heirs. It is also important for you to know that a change in the land register is necessary after the inheritance. This change in the land register allows the transfer of ownership of the property and can be applied for at the local court. The certificate of inheritance should suffice as proof. After verification of the certificate of inheritance, the property will then be registered in the land register as your property. This process should be done within two years, as the change in the land register will be made during this period at no cost. Again, get help from experts such as estate agents. They know their stuff and can offer you the right advice.
Here is an overview of the steps for changing the name in the land register:
Submission of the certificate of inheritance on the part of the heirs
Application to the local court
Verification of heirship
Change in the land register
Real estate valuation: house, apartment & land
If you have inherited a property, you should also inspect it quickly, because whoever owns a property is also responsible for it – seen or unseen. So take a good look at the property and the land and let the estate agents accompany you: four eyes always see more than two and you can benefit from their experience and expertise. We can also help you to obtain the necessary energy certificate, which analyses the heating and building fabric. In addition, it indicates how you can optimise the efficiency in terms of energy in order to save energy and protect the environment.
Always enlist the expertise of a real estate agent for your property appraisal!
Brokers will help you to find out whether these optimisations can be worthwhile and prepare the certificate for you together with an exposé for the sale. Should you decide to carry out an energy refurbishment, you may even be able to receive government subsidies.
Property in disrepair: accept or reject inheritance?
Now, it can also happen that you find out that the property to be inherited is in a very bad condition or that you get into debt by accepting the inheritance. Then it can be helpful to disclaim the inheritance, because you do not have to accept it. Within six weeks of becoming aware of the inheritance, you can disclaim it, but then you must not accept only a share. A notary or real estate agent can give you more detailed advice on this.
In case of indebtedness due to inheritance, it is advisable to renounce the inheritance
Real estate inheritance as an investment: Selling & Letting
In summary, anyone who inherits a house should think carefully about what they want to do with the inheritance, because it can have a major financial impact on you. It can also be advantageous for you to rent out the property if, for example, the income from the rent would exceed the expenses, the property is well maintained or is also in a good location. However, renting out is a permanent process that can take a lot of effort over many years. Therefore, there is a lot to be said for selling a property.
It makes sense to sell the inherited property if, for example, you do not want to take out a loan for a large sum of money, you are not in a position to bear the loan for the property, you inherit together with other heirs who want to sell, the demand for a property in the area is high, property and rental prices are low and could fall even more or you yourself live very far from the property.
Selling real estate makes sense in the following cases:
Joint inheritance
High demand of a property
Low property and rental prices
Too great a distance between personal residence & property

Inherit property: Deadlines and costs
To ensure that no deadlines are missed, you should also rely on specialist knowledge in this area. In the event of an inheritance, a number of deadlines should be observed. These deadlines often begin with the opening of the will. In addition to the time limit for making a will, there is also a time limit for rejecting an inheritance, which is of course just as much your right. If the testator did not live in the same country as you, other deadlines apply. Once the inheritance has been accepted, it can no longer be rejected, unless there is a well-explained exceptional case. A careless acceptance of the inheritance or a rash and hasty decision can cause high costs, which can be avoided with us.
Tip: Have your inheritance analysed in detail by experts so that you can accept it with a good feeling!
Have your inheritance analysed in detail by experts so that you can accept it with a good feeling. They will also talk to you in detail about a possible refurbishment or renovation if they consider it worthwhile. Private individuals who don't use an estate agent to do this can find the inheritance costly if they don't take all these points into account or don't factor in important influences. Experts can also help you to reach agreements with the other heirs and to extract benefits for all concerned.
Avoid costs with real estate agent
Unfortunately, by now almost everyone knows that an inheritance not only brings profit, but can also cause costs. If the inheritance is a property, inheritance tax may be payable. Whether and how much this will be depends on whether the value, which is determined by the tax office, is above the tax allowance, which varies depending on the relationship. In addition to inheritance tax, property tax can also incur costs, which is why it is important to find out which insurances and also other costs are due in the case of inheritance. As you can see, inheritance tax law is very complex and not so easy to understand.
Learn more here: Taxes in Germany
There are in fact different inheritance tax classes according to which the amount of tax payable depends. Basically, it can be said that the tax rate and the allowances depend on the degree of relationship. There are also cases in which inheritance tax does not apply at all. Here, too, you can rely on our expert knowledge!
Frankfurt am Main: Real estate in the financial metropolis
Frankfurt is definitely the most impressive German city. If you stand in the Frankfurt city center, you drive in here, the skyscrapers are something very impressive. This makes the city seem twice as big as Berlin, three times as big as Munich and four times as big as Cologne. The attractive location directly on the Main and in the centre of Central Europe continues to attract people from all over Germany and the world to the city. Frankfurt a.M. is known for its unique skyline, skyscrapers and a thriving financial market. But the city offers so much more. Museums, green spaces, the opera, art halls. Culture as far as the eye can see.
Real estate in Frankfurt
With its opera, theatres and museum mile, Frankfurt has everything that high culture needs. In addition, a decent gastronomy scene, which in terms of internationality has no comparison in the world. There are beautiful parks in the city, as well as the zoo and the Palmengarten, so that you don't have to leave the city for a short rest. The banks of the Main River invite you to stroll along, in addition to the chic shopping galleries. The skyscrapers are also an attraction in themselves. And if you visit one of the numerous festivals in the summer, it's hard to get away from the view of the skyline.

Living in Frankfurt am Main: Popular districts & residential areas
With a population of less than one million, the metropolis in the Rhine-Main region is known worldwide and is home to Germany's second largest airport. No wonder, after all, Frankfurt is considered an attractive place to live. While the up-and-coming Gallus convinces with its hip flair and excellent location, the Westend and Nordend inspire with their elegant charm paired with historical flair. Find out everything about Frankfurt's most popular districts, their locations and prices per square metre here. To the overview: Living in Frankfurt am Main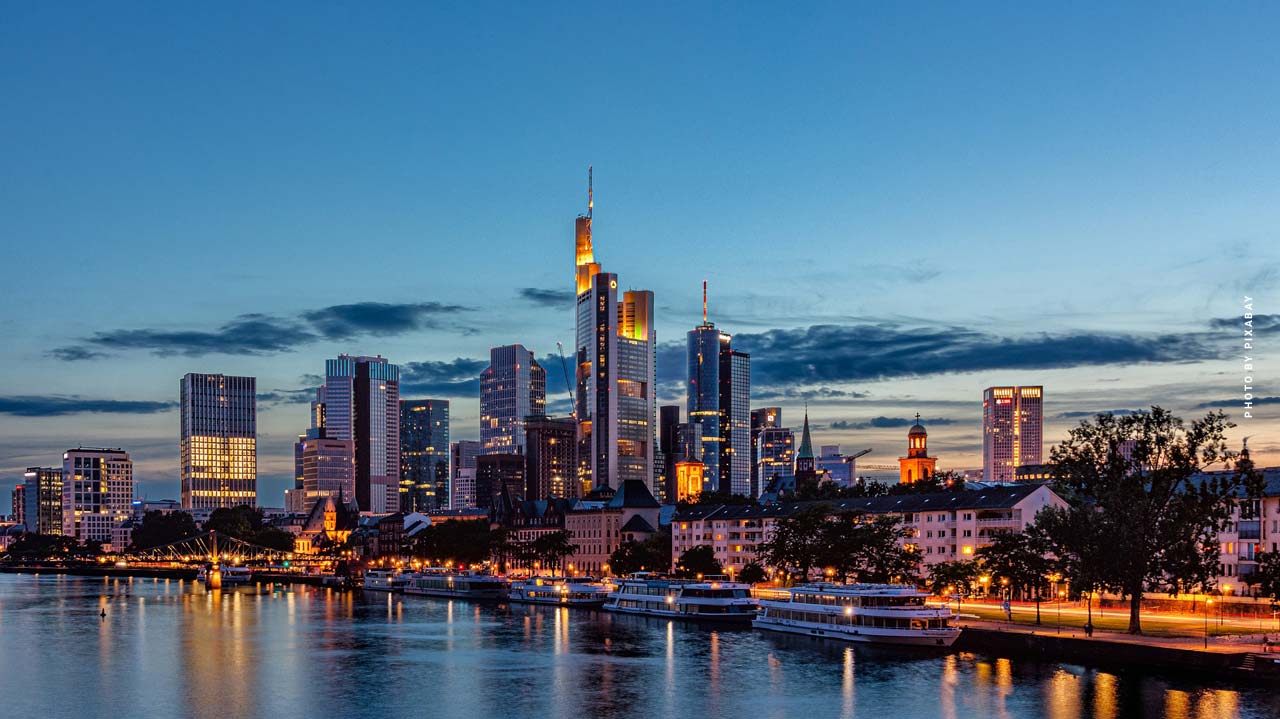 Sell, buy and live in Frankfurt am Main
Whether modern Nordend, up-and-coming Gallus, international Westend or the popular neighbouring town of Offenbach, with the current price trend it is worth selling your property in Frankfurt! You want to sell your apartment, your apartment building or your land in Frankfurt? Find out here what you need to bear in mind when selling your property in Frankfurt. In addition: Our free guides and tips on the topics of property valuation, off market and all prices per square metre in Frankfurt – Welcome to Frankfurt! To the overview: Selling real estate in Frankfurt.

https://lukinski.com/wp-content/uploads/2018/09/stadthaus-innenstadt-frei-nachmieter-hilfe-tipps-vermieter-mieter-scout-24-hausverkauf.jpg
853
1280
Laura
/wp-content/uploads/2023/09/lukinski-real-estates-immobilien-logo.svg
Laura
2019-02-14 11:02:19
2022-03-01 08:59:59
Real estate for sale in Nordend (Frankfurt): Apartment, multi-family house, prices – Tips