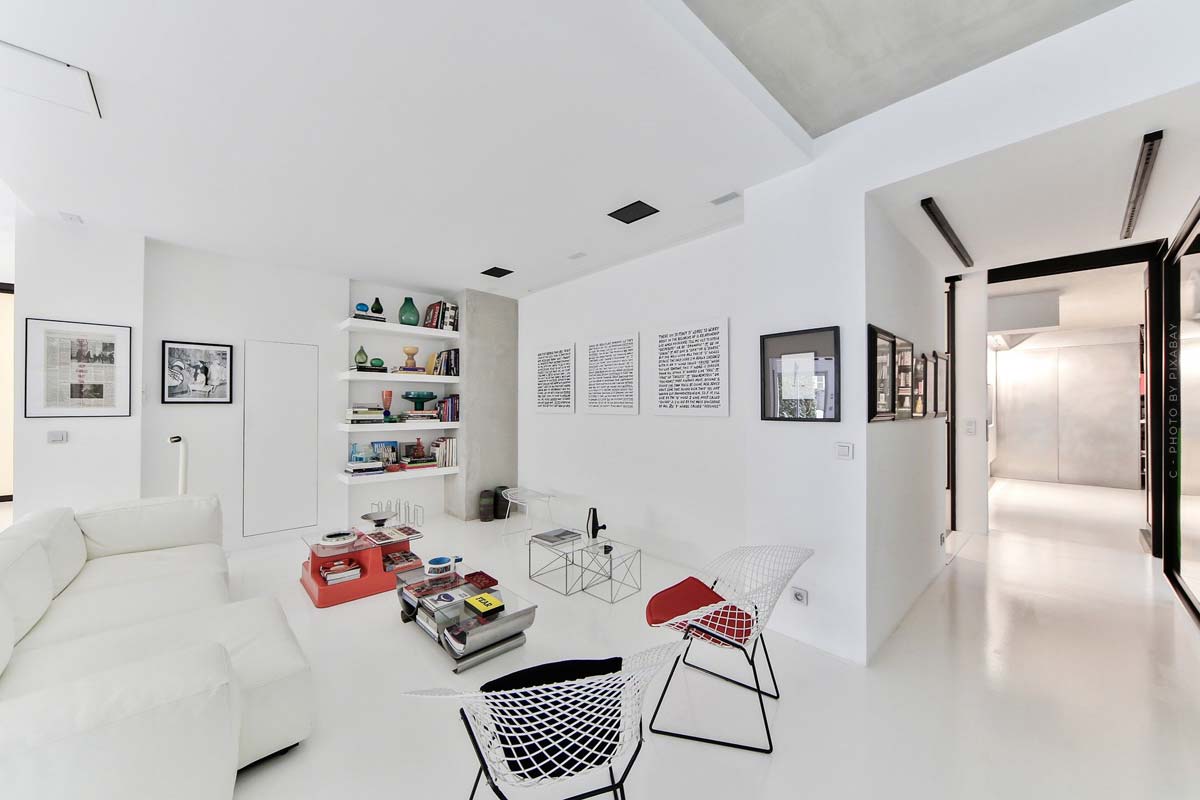 Loft apartment: Exclusive living in an industrial look? Advantages & disadvantages, costs and tips
Buy a loft apartment – You want to buy an apartment or sell an apartment? Then you should know about the respective apartment type! No matter whether old building, penthouse or maisonette. Here you can find out everything about lofts. Especially in big cities like New York or London lofts were built for the first time during the 40s. Old factories and warehouses were converted into living space. These special properties are very popular, exclusive and, above all, expensive, partly because of their size. The floor plan of the old industrial wastelands is lavishly modernized and adapted to the luxury standard of the buyers, who are mostly young, successful adults. Do you want to invest your money in a property and thus generate additional income for years to come? Then you can find out all about the advantages and disadvantages of lofts, and what you should consider when buying/renting an apartment. Click here to go back to the overview of the different types of apartments.
Loft: What does it mean? Features & Definition
The historical background of this type of property is very special. Old industrial buildings are converted into a luxurious living space. This is unique. Especially if you want to buy such a property, the purchase price is usually not very high, if the loft has not yet been renovated. You have the option of refurbishing the place, preparing it and then renting it out at a high price. Many would pay a large sum to live in a loft because the number is limited. This makes the whole thing exclusive.
Features of a loft apartment: brick walls, exposed pipes and co.
In many cases, a loft is found on the ground or first floor and offers one to two floors. The apartment is a large, open and free space without partitions. Characteristic features include concrete floors and ceilings and brick or unplastered walls, which are particularly reminiscent of old factories. Also openly laid pipes are often to be found. So as you can see, a loft apartment retains the historical charm and this is what makes this property so special.
Room layout: large, open room with high ceilings
A loft is usually a large room with high ceilings. This is because the apartment used to be a warehouse. Floor-to-ceiling and large window fronts are also not uncommon. You have a lot of daylight available to make the large room bright and friendly. Also with the room layout you are bound to nothing. You as a buyer or tenant have the possibility to create your own boundaries with high cupboards or shelves and to arrange everything according to your wishes.
Are you looking for a suitable apartment – whether as a tenant or investor? Then take a look at our guide to apartment types A-Z!
Advantages & disadvantages of a loft: free space, area, costs & Co.
Before you decide to invest in a property, you should thoroughly examine the advantages and disadvantages of this type of construction. Especially a loft apartment is very different from other apartments and must be renovated and modernized at least once to make it livable. For sure, this type of architecture is not for everyone and you should think twice before investing and living in such a property. To help you decide, we have summarized the most important advantages and disadvantages of a loft apartment for you.
Advantages: Design freedom and an extravagant ambience
An open ambience and a lot of free space. This is a great advantage especially for young adults. You have many design options and can make an individual room layout. It is also possible to create a combination of work and private life by dividing your apartment accordingly. Due to the extravagant ambience and the special charm of a loft apartment, it is very popular. Also the historical background of the mostly listed building is something very special and unique.
Plenty of free space, individual room layout
Extravagant ambience
Mostly listed
Combination of work and private life
Disadvantages: high prices and little privacy
Despite the many advantages that a loft apartment offers, there are some disadvantages that you should consider when buying. Many lofts are in need of renovation due to their historical background and you have to invest a lot of time and money into it. If the property has already been modernized, the apartment will usually be very expensive. Also, you have to keep in mind that the utility costs will be higher than other properties and it will be harder to heat. Due to the brick walls, the apartment is usually less insulated and you will have to factor in additional costs for this as well. Lastly, you should note that especially if you live alone, retreat and privacy is rather difficult.
High prices or in need of renovation
High ancillary costs
Poorly insulated, difficult to heat
Little privacy
Loft: suitable for whom? Offices, luxury loft or retreat
Loft apartments are a good investment and capital investment. They are very sought after on the real estate market and above all limited. This makes this type of housing even more exclusive. If you plan to buy an old warehouse, you can convert it in different directions, because a loft can be used in many ways. Here we show you two different ways to use a loft and who is the perfect target group as a tenant.
Company: open office space, pleasant atmosphere and exchange of ideas
You don't have to use a loft exclusively for living space. Especially in recent years, it has become apparent that the property can be ideally used as office space. Especially young agencies or start-ups try to get away from a sterile, segregated office atmosphere and create a relaxed and open atmosphere. This is made possible by the large space in a loft. It encourages exchange and collaboration, which is the philosophy of many young companies. Each employee is free to choose his or her own workspace, and you can set up seating or creative corners to make working more pleasant. The charm of the loft plays a major role in the implementation.
Yuppies: young, successful adults
A loft is also perfect for single people. The target group here is young, successful adults. The so-called yuppies. They are able to afford such an expensive apartment at a young age and if you have the opportunity, everything is open to you in terms of design. Create your own spaces and live out creatively. A very popular layout is also a mix of professional and personal. You could arrange your large living space so that you have a private area with the bedroom and a second area where you can receive clients or business partners. This way you can easily work from home and still receive your partners in an exclusive environment.
Tip. You are interested in the topic of buying luxury real estate and want to learn more about it? Here you will find an article with useful tips!
What you should consider before buying/renting a loft
Especially with older buildings, including lofts, you should thoroughly inform yourself about the building before renting or buying. Especially when buying, you invest a lot of money in this property and want to avoid unexpected costs. You have to pay special attention to some things and for this we have researched for you. You can find the most important points here.
If you want to learn even more about buying a home, you can find an in-depth article here!
Surroundings & location: Not a city centre, but a peripheral district
As you have already learned in the course of the article, loft apartments are created from old industrial wastelands and warehouses. Of course, you won't find these in the middle of the city centre, but on the outskirts in (mostly old) industrial districts. While these neighborhoods have been modernized in many cases and you don't have to live among factories, it's still often a fringe neighborhood where the popular apartments can be found. Think about whether you need to be connected to public transport or if you have a car yourself. If you had a car, you would probably be able to get to the motorway quickly and would not have any problems finding a parking space. Make sure you know the location of your property before you buy. If the location is not right, it will be difficult to find a good paying tenant.
Refurbishment & renovation: create a luxury property
Another important aspect is the need for renovation of your property, which you should check before buying. Many brownfields have not been sufficiently modernized and especially if you plan to create a luxury property, you usually have to invest a lot of money. We recommend that you consult an expert who can help you with the purchase decision. Have your potential apartment inspected beforehand and compile a list of the costs involved. Then you can consider whether you want to make this investment and whether the final amount fits into your budget.
Another aspect is the thermal insulation in a loft. Often you will find brick walls, which are nice to look at but not well insulated. If this is the case, your utility costs will be higher due to the heating. So check this too and make improvements accordingly.
Viewing Appointment: Office space & checklist
As you have already experienced, a loft is not only suitable as a living space, but also for an office space. Are you an entrepreneur yourself and would like to move into new premises with your team? Then you will find the most important tips for your office search and viewing here. Get a checklist with aspects that need special attention and that you might not have thought of.
The right office: productivity through the right office environment
Studies prove that the office environment has an impact on the working atmosphere and thus also on the productivity of a company. Therefore, you should choose your new office space carefully and consider some aspects. Every company and every entrepreneur has individual ideas about the ideal office space and especially young agencies or startups prefer an open and friendly atmosphere. The exchange between employees plays a decisive role in working efficiency and the premises should also be designed for this. A loft offers many advantages and is ideal for the implementation of these goals.
You want to invest? Find out everything about commercial real estate here.
Checklist for entrepreneurs
Here you will find a checklist to help entrepreneurs in particular choose the right office property. These factors should be considered under all circumstances when choosing an office.
Location of the office (site, infrastructure, green areas)
Office space (growth opportunity, efficiency, kitchen, etc.)
Office equipment (energy costs, high-speed internet, temperature, light)
Rental prices (additional costs,…)
During the visit (traffic, environment, neighbours, pleasant atmosphere,…)
Financing a loft: loans, requirements and co.
Buying a loft apartment is ideal as an investment. You will have to invest a lot if you want to convert an old factory floor, but it will be worth it. For example, the window frontage will need contemporary glazing and efficient heating. If your property is listed, however, you can often offset the renovation costs against tax.
Loans and Credit: Differences, Comparison & Apply for Credit
If you want to buy a loft, you pretty much always have to take out a loan, because you can hardly pay the complete sum out of your own capital. As a rule, you will need a real estate loan. Usually you can choose between an annuity loan and a fixed loan, both of which have their advantages and disadvantages. With an annuity loan, you have to pay the same instalment every month, but the proportion of interest and repayment changes. With a fixed loan, on the other hand, an interest-only payment plus some sort of principal payment is made each month.
Here you can find more information about loans!
Requirements for a real estate loan: credit rating, equity & documents
In order to get a loan to finance a loft from the bank, you must meet various requirements. This is especially for protection, because the bank wants to make sure that the loan can be repaid. A prospective borrower must have a regular and secure income. In addition, a good credit rating and positive Schufa information is advantageous. The banks also look for a German current account and a German residence.
Real estate financing equity: investment, costs & investment comparison
Many banks require a certain amount of equity capital when buying a property. In general, about 20% of the purchase price should be covered by the buyer personally, which is then used to pay ancillary purchase costs (land register entry, notary). Some credit institutes offer also a full financing, so that no own capital funds must be brought in. However, this is still possible in rare cases, is usually more cost-intensive and a very good credit rating is a prerequisite.
https://lukinski.com/wp-content/uploads/2021/01/loft-wohnung-mieten-vermieten-kaufen-verkaufen-merkmale-definition-preise-kosten-tipps-vorteile-nachteile-finanzierung.jpg
800
1200
Laura
/wp-content/uploads/2023/09/lukinski-real-estates-immobilien-logo.svg
Laura
2021-02-09 10:40:49
2022-03-01 10:25:07
Loft apartment: Exclusive living in an industrial look? Advantages & disadvantages, costs and tips