Living in Charlottenburg (Berlin): Real estate as an investment – tour, tips and prices per square meter for house & apartment
Living in Charlottenburg – Alongside the districts of Schmargendorf, Kreuzberg, Dahlem and Tiergarten, Charlottenburg is one of the most attractive places to live in Berlin. Charlottenburg inspires with its friendly atmosphere, a historically influenced cityscape and a very good infrastructure – Not to forget the breathtaking houses and apartments! Would you like to invest in a property as an investment, buy a house or purchase a plot of land in beautiful Charlottenburg? Find out everything you need to know about living in the trendy Charlottenburg district. Also: A tour through the most historic corners of the quarter, as well as all square meter prices for apartments, houses and land – Welcome to Charlottenburg! Back to: Living in Berlin.
Living in Charlottenburg: Attractive residential area experiences renaissance
For a long time, Berlin's Charlottenburg district was considered underrated. In the meantime, the tide has turned. Wealthy families, entrepreneurial heirs and rich investors have now settled here. Especially the north of Charlottenburg is experiencing a true renaissance. Not only the breathtaking architecture and historical monuments characterize the cityscape, but also the unique mixture of elegant coffee houses, luxurious boutiques and awe-inspiring mansions of bygone times. Charlottenburg is now considered a real trendy district and one of Berlin's most popular neighbourhoods.
Welcome to Berlin: Capital of Germany
Berlin is considered an international fashion, art and culture metropolis. Moving to Berlin sounds appealing and offers quite a few new possibilities and opportunities. The capital of Germany is a breathtaking city in every respect. Whether shopping on Kurfürstendamm, sightseeing at the Brandenburg Gate or tracing history in Berlin's many museums. Its historical value is also unsurpassable. Berlin really has it all!
Charlottenburg: Map & Location
Centrally located in the west of Berlin is the popular Charlottenburg district. The sought-after residential areas of Wilmersdorf, Schöneberg and Kreuzberg are also nearby. Further west on the banks of the Havel is Grunewald. And Schmargendorf, Dahlem & Co. are not far away either.
Sights: Palace, Museum & the famous Savignyplatz
Charlottenburg inspires not only with its unique architecture and high standard of living, but also with its multitude of historical monuments and sights. With the Kurfürstendamm, one of the most famous shopping streets in Europe is also at home here. And while Charlottenburg Palace invites you to spend a relaxing afternoon in the footsteps of German history, the multitude of museums, operas and theatres will delight young and old alike.
The most popular sights in Charlottenburg:
Charlottenburg Palace
Kurfürstendamm
Museum Berggruen
Käthe Kollwitz Museum
German Opera Berlin
Theatre of the West
Savignyplatz
Celebrity neighbours: Jürgen Vogel, Till Brönner and Kai Wiesinger
Charlottenburg and especially Charlottenburg-Wilmersdorf are especially popular with German celebrities. Comedian Jürgen Vogel, musician Till Brönner and the German actors David Kross, Kai Wiesinger and Stefan Jürgens are at home here.
If you live in Charlottenburg, you can count on these prominent neighbors:
Jürgen Vogel
Tim Oliver Schultz
Till Brönner
David Kross
Kai Wiesinger
Natalia Avelon
Stefan Jürgens
Heiko Maas
Sightseeing: A tour of Charlottenburg
Charlottenburg Palace, Savignyplatz, Schlossstraße & Co. – Charlottenburg has so much to offer! So join us on our tour through the trendy district.
Savignyplatz: Cosy cafés and exclusive boutiques
Spandauer Damm: On the way to Charlottenburg Palace
Schlossstraße: Apartment building, flat & Co. in the centre of the district
Real estate & prices per square metre in Charlottenburg
Apartments are particularly popular in Charlottenburg. Spacious maisonette, exclusive loft or renovated old building apartment – everyone feels at home in Charlottenburg. As a result, the district is experiencing a real renaissance. This is also reflected in the apartment prices. If you want to invest in a property as a capital investment, you can expect prices per square metre of between 5,000 and 8,000 euros. It is much more expensive in the vicinity of Kurfürstendamm and Savignyplatz. Here it can cost up to 10,000 per square metre.
Reading tip: Berlin – The most expensive streets
Here is an overview of the prices per square metre:
Buy apartment (existing): 5,281 €/m²
Buy apartment (New): 7.850 €/m²
Conclusion: Living in Charlottenburg
Living and residing in Berlin – more precisely: in Berlin-Charlottenburg! The quality of life is high, the real estate market is booming and the colourful big city life is not far away. Charlottenburg is charming and delights young and old with its unique flair. The most affordable areas here are on the south side of the river. In the north, however, it is already quite expensive. You want to buy a property in the extravagant Charlottenburg? Then contact the real estate agent you trust. Not only will you benefit from your agent's many years of experience and expertise in the off market, but you can also enjoy the process of buying your new property stress-free. What's more, investing in Charlottenburg real estate is well worth it. Because residences in Berlin are in demand. So you can sell your existing property after successful renovation by craftsmen, architect & Co. lucratively. No matter what type of house or apartment it is, if you want to sell your property in Berlin, your chances are good to make a real profit.
Berlin: Real estate in the capital
Capital, university city, historical stronghold and as an international location an attractive place to live for families, couples, singles and students. Accordingly, Berlin faces a continuously growing population due to immigration.
Berlin real estate market: Overview
Berlin offers everything from fashion, art, finance, start-ups, and the list goes on. There is hardly a person who would not find their passion in this city of 3.75 million. This is also evident in the sprawl of the city and the different districts. For this reason it is often described as' many cities in one'. A walk through Berlin-Mitte is very different from Kreuzberg and Prenzlauer Berg is not often confused with Zehlendorf.

Living in Berlin: Popular residential areas
We present the most beautiful districts of the German capital and tell you where you can buy the best, highest quality and most exclusive properties to set up your new home, or which districts are best suited to invest in a property as an investment. Here we present the most popular residential areas – from upscale Grunewald to charming Schmargendorf and quiet Dahlem to historic Charlottenburg. Back to overview: Living in Berlin.

Selling real estate in Berlin: house, apartment and land
As an international location, Berlin is an attractive place to live for people from all over the world. While the district of Wilmersdorf in Charlottenburg convinces with its well-kept green spaces, the residential areas of Prenzlauer Berg and Weißensee in Berlin-Pankow inspire with their unbeatable prices and central location. You want to sell your apartment, your apartment building or your property in the world metropolis Berlin? With our free guides and tips on the topics of real estate sales and property valuation, you are well prepared. Back to overview: Selling real estate in Berlin.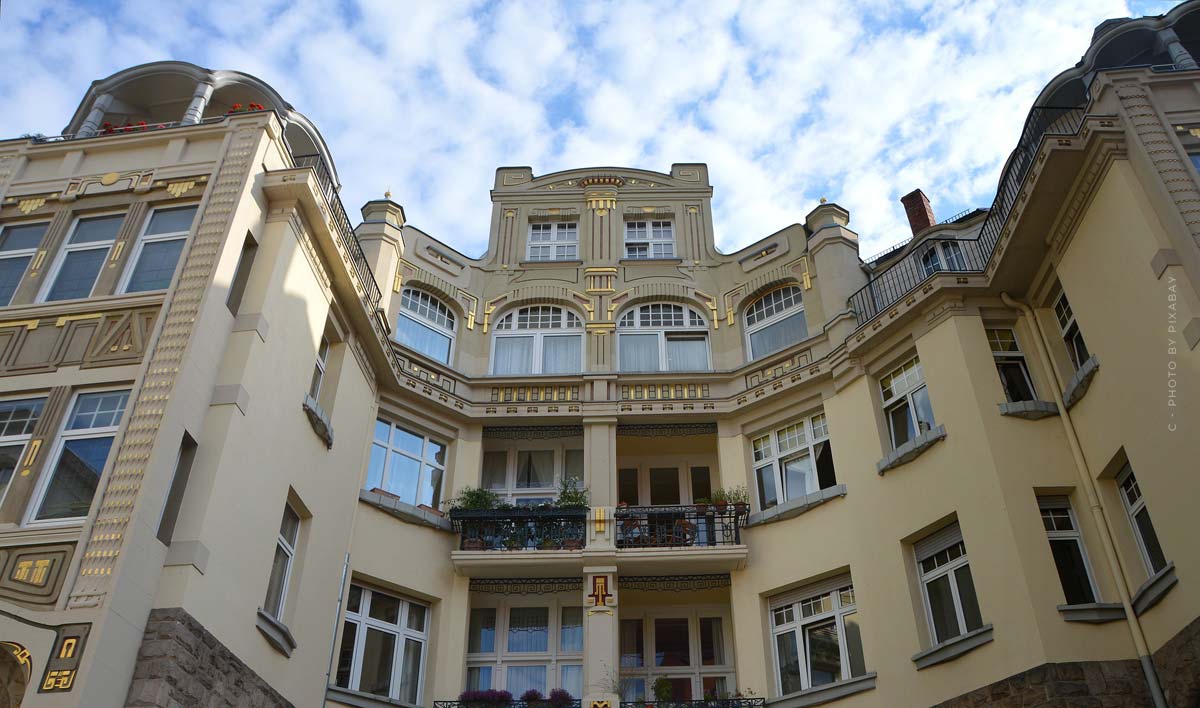 https://lukinski.com/wp-content/uploads/2021/05/berlin-charlottenburg-haus-wohnung-grundstueck-quadratmeterpreise-tipps-immobilie-kaufen-schloss-himmel.jpg
800
1200
Laura
/wp-content/uploads/2023/09/lukinski-real-estates-immobilien-logo.svg
Laura
2021-05-26 11:21:11
2022-03-01 10:13:34
Living in Charlottenburg (Berlin): Real estate as an investment – tour, tips and prices per square meter for house & apartment