Living in Bogenhausen (Munich): Buy & rent a house or apartment – Viewing, price per square metre & Co.
Living in Bogenhausen – There is hardly any other part of Munich where life is as exclusive and luxurious as in Bogenhausen. The district inspires not only by its central location, but also by the high quality of life and the breathtaking architecture. You would like to invest in a property in Bogenhausen as a capital investment? Buy a house or purchase a plot of land? Find out everything you need to know about living in Bogenhausen, the most popular and most expensive streets and all property prices at a glance – Welcome to Bogenhausen! Back to: Living in Munich.
Living in Bogenhausen: Upscale villa district with elegant flair
With its 86,000 inhabitants, Bogenhausen is one of Munich's largest districts and at the same time one of the least densely populated districts of the Bavarian capital. Along with Grünwald and Tegernsee, this upscale neighborhood is one of Munich's most attractive places to live. The social structure is balanced, the crime rate low and the quality of life high. There is hardly any other part of the city where you can find as many villas as here. And if you need a break from the bustling city life, you can relax on the banks of the Isar – a magnificent view, typical Bavarian coffee and a fabulous sunset included.
Welcome to Munich: The capital of Bavaria
A high quality of life, low unemployment rate, booming economy and breathtaking nature make up the charm of Munich. Thus, not only couples, families and students can be enthusiastic about the romantic capital of Bavaria, but also entrepreneurs and investors. Munich is one of the most important business locations in Germany, along with Berlin and Hamburg.
Bogenhausen: Map & Location
The famous Bogenhausen district is located in the north-east of Munich and is thus somewhat removed from the hustle and bustle of the turbulent city centre. However, the popular districts of Lehel, Neuhausen-Nymphenburg and the historic old town are not far away by car.
Bogenhausen is a district and a borough at the same time. The district Bogenhausen can be subdivided into:
Bogenhausen
Oberfoehring
Daglfing
Denning
Englschalking
Johanneskirchen
Zamdorf
Steinhausen
Here map and location of Bogenhausen:
Sights of Bogenhausen: From the banks of the Isar River to Villa Struck
Bogenhausen is not only one of the most popular districts in Munich, it is also one of the places with the highest quality of life. No wonder: While the most expensive streets in Munich with their breathtaking architecture invite you to take a leisurely stroll, the local coffee houses and typical Bavarian restaurants delight with their local delicacies. Several monuments and sights can also be found in Bogenhausen. And if you need a change of scenery, you can quickly get to other parts of the city by car or public transport.
Here are the most famous sights in Bogenhausen:
Angel of Peace
Villa Struck
Monacensia in the Hildebrand House
Bogenhausen Cemetery
River bank of the Isar
Especially the sunsets at the riverside belong to the most beautiful sunsets in Germany:

Celebrity neighbours: Jerome Boateng, Boris Becker, Manuel Neuer & Co.
If you live in Bogenhausen, you can count on celebrity neighbours. Whether it's film, television, music or sport – it's not just entrepreneurs and investors who have discovered this district of Munich for themselves, but also some of the most famous faces in Germany. For example, professional athletes Jerome Boateng and Boris Becker are among Bogenhausen's best-known residents. Goalkeeper Manuel Neuer is also rumored to be moving here soon. The history of the villa district shows: Many a celebrity has also been drawn here in recent decades. Author Eric Kästner, actor Walter Sedlmayr and director Rainer Werner Fassbinder have not only lived here in the meantime, but are now buried here in Munich's most famous celebrity cemetery.
Here are the famous residents of Bogenhausen:
Jerome Boateng
Boris Becker
Manuel Neuer
Eric Kästner
Walter Sedlmayr
Rainer Werner Fassbinder
Sightseeing: A tour through Bogenhausen
Living in the middle of the city in a stately villa with an adjacent park and its own beach? That's also possible in Munich. And you don't even have to be of blue blood to do it, although it helps immensely if you belong to the moneyed aristocracy. The highest density of villas in the city is to be found in the Bogenhausen district. This is the district north of Prinzregentenstrasse, which for decades has been the favorite neighborhood of celebrities – along with Grünwald – and has correspondingly high real estate prices. This is where society meets at the "Käfer" delicatessen counter or at the noble restaurant Aquarello in Mühlbauer Straße, goes out to the Prinzregenten Theater in the evening or visits one of the city's celebrities during a walk through the old cemetery of St. Georg: Fassbinder, Eichinger, Sedlmayr and Helmut Fischer are buried here.
Alt-Bogenhausen: Historic apartment buildings & baroque architecture
Alt-Bogenhausen not only inspires with its many monuments, churches and historical sights. The most beautiful old buildings and monuments of the city are also at home here. For example, the magnificent old mansions in the classicist and baroque style of past centuries can be found along Maria-Theresia-Straße and Ismaninger Straße. They are among the most sought-after properties in the city.
The top locations in Alt-Bogenhausen: Maria-Theresia-Straße & Ismaninger Straße
See more on Streetview:
Mauerkircherstraße: Exclusive villas experience price increase
Mauerkircherstraße is located north of Ismanigerstraße. While in Alt-Bogenhausen you will find mainly apartment buildings, luxurious lofts and renovated apartments in old buildings, this corner of Bogenhausen delights with its many extravagant villas. The riverbank is only a few minutes away from here and so local residents appreciate the many Isar green spaces, beach access and the tranquility of the district. As a result, there has hardly been such a high price increase for real estate in any other street. You can expect prices per square metre of up to €13,700.
Apartment & house: 13,700 euros per square meter
Take a look at the most beautiful villas in Bogenhausen:
Real estate & prices per square metre in Bogenhausen
The Bogenhausen villa district has not only grown in size in recent years, but has also always enjoyed a large influx. The high demand is also reflected in the prices per square metre. How much does a newly built apartment in the east of the district cost? And how much rent can you ask for when you finally want to buy an apartment building, right on the banks of the Isar? You can find out this and more here.
Buy property: Altbogenhausen, Daglfing. Johanneskirchen & Co.
Whether it's a new build or an older property, one thing is certain: only top earners can afford their own home in Bogenhausen. Prices for apartment buildings, condominiums and villas have risen significantly in recent years. In fact, they have doubled! For example, you now pay 12,300 euros per square metre for new apartments in Altbogenhausen, and almost 13,000 euros per square metre in the vicinity of Herzogpark. By way of comparison: five years ago, the price per square metre here was only 6,700 euros! Whereas apartments in older buildings used to be worth just under €4,000 per square metre, today you can hardly get an apartment for this price, even on the outskirts of the district, as prices per square metre have also jumped rapidly in the east.
Square meter prices almost double after 5 years!
Here everything at a glance:
Altbogenhausen (new building): 13,000 euros per square metre
Daglfing (existing): 6,000 euros per square metre
Johanneskirchen (existing): 5,350 euros per square metre
Daglfing & Johanneskirchen (new construction): 6,100 to 8,400 euros per square metre
The properties near the river are therefore among the most popular properties in the whole of Munich: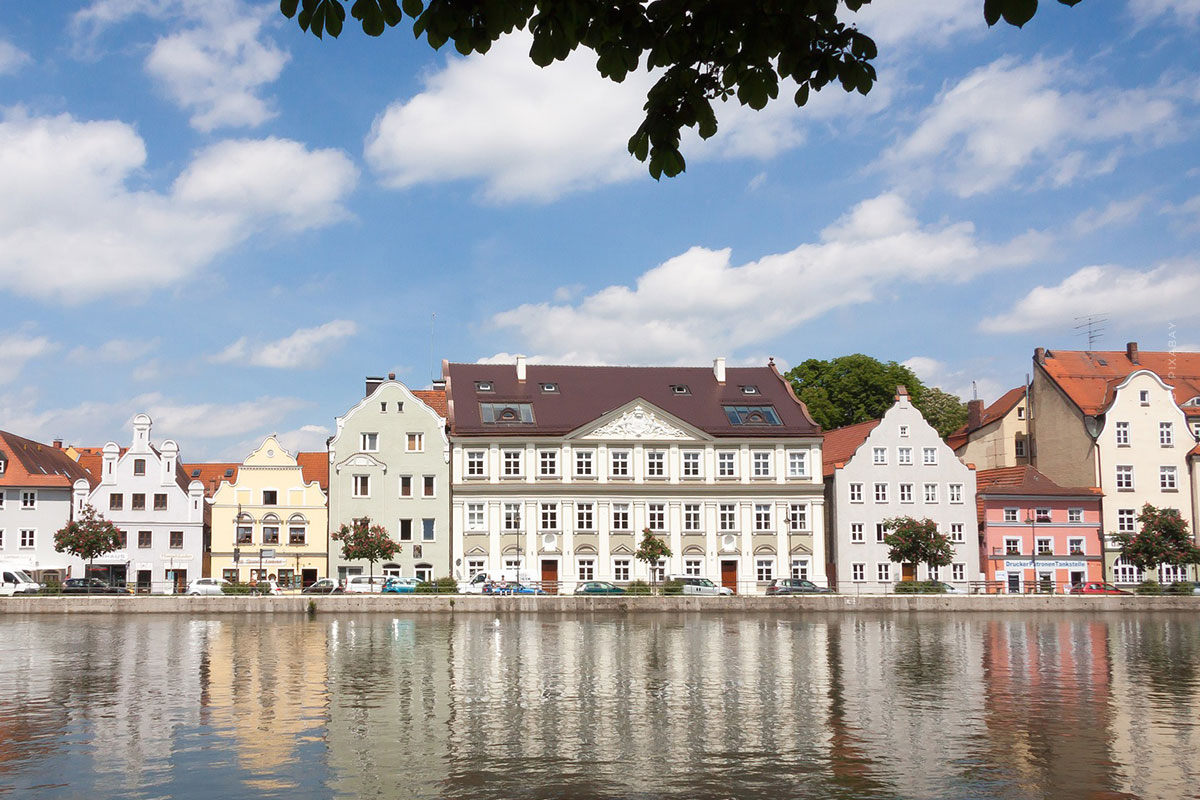 Rent apartment, house & land: Old building & new building
Rents have also risen in the meantime. Especially at Herzogpark, i.e. on the banks of the Isar, you can expect prices of up to €19 per square metre. That is still 5 euros higher than in the east of Bogenhausen. Whereas the western part of the district is attractive because of its proximity to the Isar, the eastern part is impressive because of its modern, newly built apartments, the good connections to the train station and airport, as well as the proximity to schools, theatres, shopping centres and hospitals.
In the west almost 5 euros higher than in the east
Here are the most important figures at a glance:
New construction in the west: 18-19 euros per square metre
Old building in the west: 11-12 euros per square metre
New & old buildings in the east: 14 euros per square metre
Conclusion: Living in Bogenhausen
You would like to live in Munich? Here Bogenhausen delights with its prime location, the many historic mansions of years gone by and its proximity to the lakeside of the Isar. A high quality of life, first-class real estate and the elegant ambience of the district are what make Bogenhausen so charming. The exclusivity of the district is also reflected in the prices per square metre. Although these have risen rapidly in recent years, as an investor and landlord this means that you can look forward to a high return here. If you would like to buy a property in Bogenhausen, we recommend that you contact a competent estate agent. He will not only advise you on the subject of taxes and finances, but will also accompany you through the entire purchase process. An experienced real estate agent not only accompanies you through the entire purchase process, but also advises you on the topics of taxes and real estate, renovation and modernization with craftsmen, architects & Co, as well as real estate valuation and off market.
Munich: Real Estate in Bavaria
Munich is the most populous city in Bavaria and the third largest municipality in Germany. With around 4,800 inhabitants per square kilometre, the Bavarian metropolis is also the most densely populated municipality in Germany. The figures confirm the population growth. More and more people want to live in the Bavarian metropolis. The proximity to the Alps and neighbouring Austria make Munich very attractive.
Real estate in Munich
Munich counts itself as one of the economic metropolises of Germany. It is also famous for its high quality of life and the surrounding nature. Skiing in the Alps or hiking, as well as countless lakes for summer activities are in the immediate vicinity, not to mention the Italian coast in the south.

Living in Munich: Popular districts & residential areas
In no other German city is housing as expensive as here. Experts agree that a property in Munich in the right neighbourhood is a safe investment. But what does 'right location' mean in Munich and what kind of investment should one expect to make in order to buy a decent apartment or a luxurious house in the capital of Bavaria? We answer these questions here! To the overview: Living in Munich

Sell, buy and live in Munich
More and more people want to live in the Bavarian metropolis. The proximity to the Alps and the neighbouring country Austria make Munich very attractive and also the individual districts have a lot to offer. While Lehel and the old town convince with their historical charm, the residential areas of Bogenhausen and Schwabing inspire with their variety of well-kept green spaces and parks. The vibrant Maxvorstadt and the elegant Nymphenburg are also among the most attractive places to live in Munich. Do you want to sell your apartment, your apartment building or your own property here? With our free guides on selling real estate in Munich, you are well prepared. To the overview: Selling real estate in Munich.

https://lukinski.com/wp-content/uploads/2021/04/wohnen-bogenhausen-muenchen-isar-haus-wohnung-grundstueck-immobilien-kaufen-quadratmeterpreise-villa-baum-wald.jpg
800
1200
Laura
/wp-content/uploads/2023/09/lukinski-real-estates-immobilien-logo.svg
Laura
2021-04-19 02:13:43
2022-03-01 10:15:19
Living in Bogenhausen (Munich): Buy & rent a house or apartment – Viewing, price per square metre & Co.