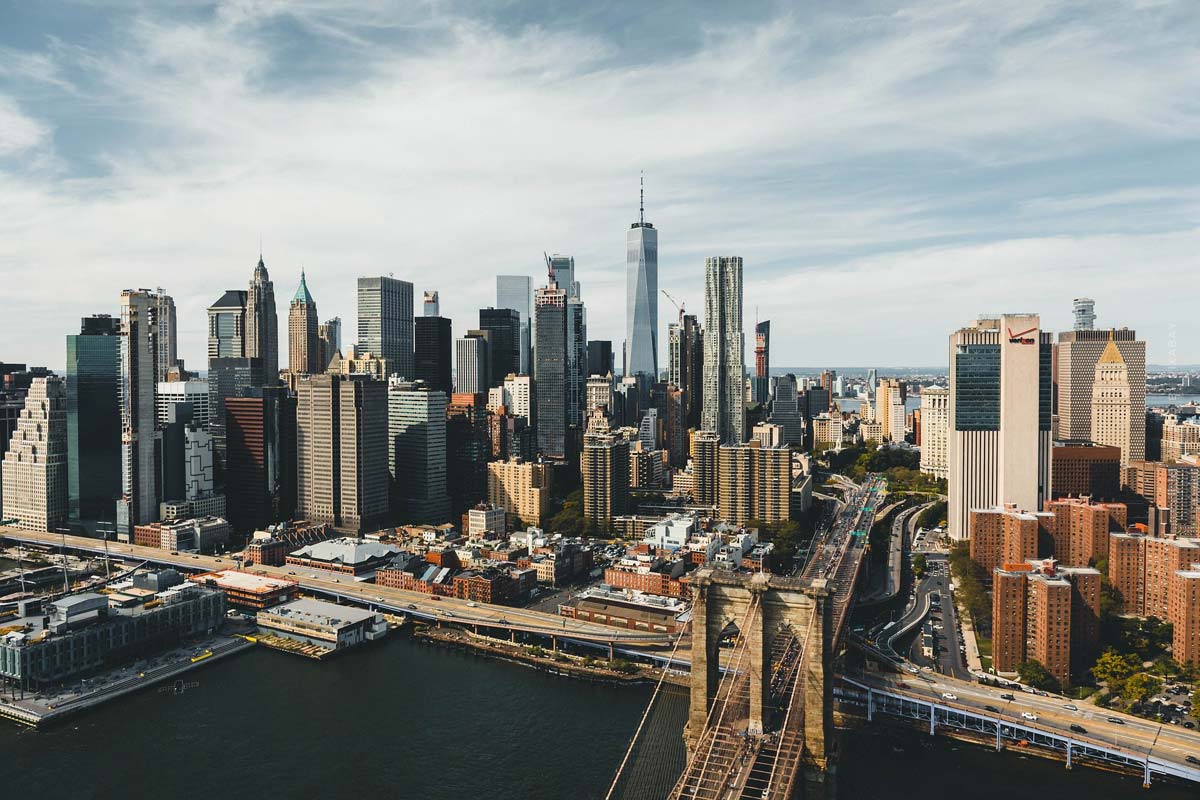 Buy an Apartment New York – Everything to Know Explained, Easy Guide
New York USA – Buying an apartment in New York City is different than anywhere. We give you a full, easy to understand step-by-step guide to buying an apartment, penthouse or loft in New York, whether Brooklyn, the Bronx, Queens, or Manhattan. We cover everything from the New York City real estate market overviews to answering questions like buy or rent an apartment in New York? What are the tax rates for real estate in New York? What's different about buying an apartment in New York? All this and more in our New York Apartment Guide.
This is part of our larger guide on buying apartments. Back to Buying an Apartment USA.
Living the Dream in NY – Buying an Apartment
New York, the city of dreams. You too can live your dream of owning real estate, many people dream of buying an apartment or buying a house in New York, one of the top cities worldwide in everything from fashion to finance to art and food. Buying an apartment in New York certainly isn't the easiest of tasks, but one that is likely to leave you happy you took the risk.

The Money's Flowing? New York Economy Overview
In regards to economic developments, New York is seeing a surge. So in a city where money is everyhwere anyways, it's flowing even more now. Currently it is the city with the second highest economy in the world, ahead of Los Angeles. In recent years, multiple top companies from digital sectors have moved headquarters or opened offices in the city. This means increased investments in multiple sectors, along with higher demand for rentals in the inner city, housing workers. The general real estate market has weakened over recent times, meaning the classic investments of earlier years like TriBeCa or Soho where high square meter prices dominate, are currently clever investments for buying as the market is likely to recover, and these parts are likely to gain back value.
The Beauty of the City – New York Drone
New York City is known worldwide for its massive skyscrapers and epitome of big-city atmosphere. Take a view at the Metropolis from above:
Buy or Rent? Calculation Explained
When deciding whether to buy or rent, of course the low property taxes suggest you should buy. But as always, it depends where you want to live, and how long. If you're looking at the downtown core, like Manhattan, it's near-impossible to buy, and rent is comparatively cheap. So here, you would be good to rent, and invest your money elsewhere.
Neighborhoods like Bushwick, or even Chelsea, give you better buying options. Buying in Bushwick carries the same financial load as renting for three and a half years. That means buying here is much better than renting. You're likely to leave a few years later with a strong return on your investment, along with financial equity.
Depends on which neighborhood
Why it's Good to Buy in New York City
In New York, it's especially advantageous to buy, because New York property taxes are quite low. Thanks to fairly high income taxes, the state does not require to set high property taxes, which allow homeowners to save money. These taxes are at 0.86% in New York City, much lower than in the vast majority of U.S. States.
Low property tax rate in New York City means owning is worth it!

What state has the highest property tax rate? Ranking
New York's Real Estate Market – Explanation
So what do you have to know about buying real estate in New York?
Properties are becoming increasingly large. Accordingly, there is an increase in purchases of properties valued at more than $1 mil. In New York, real estate is all about location though. On average throughout all of New York City, one-bedroom apartments can be had for $2.810/month, or two-bedroom apartments at $3.576/month. In e.g. East Brooklyn, the average rent is at $1.250/month, demonstrating the large chasm in where you pay and how much you pay. This is quite different from when you buy an apartment in Los Angeles, where no matter what part of the city you go to, you're going to be paying hefty sums.
Apartment Median price: $916.000
Price per square meter: $7.244/m²
Important Facts – Property Investment in New York
There are a few things the experts swear by. If you want to invest in rental properties or generally non-owner-occupied real estate, these are the things you should keep in mind when thinking about investing in New York real estate:
How long do you want to own the property?
How do sales compare with the rent you will likely take in
Find the right neighborhood
Should you buy a Multi-Family or a single unit?
Get your attorney to look over the building
Buy the most bedrooms per most square footage
Keep an eye out for tax abatements
How to Buy an Apartment
It's of course a long and arduous process to buy an apartment, and takes a lot of time as well as financial investment. From beginning to end, there are irreplacable steps which, if you miss them, could be costly. If you're not sure what real estate you should invest in, start here:
Checklist – Things to do Before Buying
How to prepare for buying an apartment. Before buying real estate, you need to do these 5 things:
Get knowledgeable about your finances
Get together documents about your finances
Speak to your possible mortgage broker
Decide on the type of financing
Find an attorney, real estate agent, and home inspector
Buying Apartment – Process from Negotiation to Close
To buy the apartment finally, you will want to start negotiating.
Make an Offer – How to Negotiate Sales Price
So you decide that this is your dream apartment. What now? Well now it's time to make an offer. That means approaching the seller with an offer. There are two sides on which to negotiate, and you must pick one or the other. Either you try to reduce the size of the sale price. I.e. buying a property for $800.000 as opposed to $850.000. The other option is to negotiate the closing costs, e.g. agreeing on the sales price, but asking the seller to pay some of the additional costs, including real estate purchase taxes. These tactics of course mean either having more money in your bank account at that moment, or reducing the amount of montly costs in the future. You can typically expect to negotiate 5%-10% of the sale asking price.
Next Steps – Building Inspections
Your lender will most certainly require you to have an inspection of the apartment building, as well as the unit itself. This usually shows slight flaws, such as necessary maintenance in the future, or e.g. structural flaws.

Reducing Sales Price on Real Estate
Now you can renegotiate. You have found flaws in the building, and now have a strong negotiation stance. Let the seller know your concerns, and they will likely be more lenient in their negotiation.
There's also a ton you can save on the many slight additional costs which come up when buying real estate, we give you the full guide
Final Important Step! Walk-through
Don't forget the walk-through! This is one of the most frequent beginner mistakes. After moving out, things may change, the previous owner may have broken something, or a cabinet may have been covering up a flaw. Not doing a final walk-through can be your number one regret later on. It doesn't take that long, and will most certainly be worth it, at least for the peace of mind.
What's Different in New York?
There's of course some caveats to buying an apartment in New York as opposed to elsewhere in the U.S. That means a few things to keep in the back of your mind when considering your purchase of an apartment. Of course, the normal process takes place, you buy a unit using a downpayment as part of your mortgage, pay closing costs, and then taxes, and then move in.
Property taxes vary from county to county, if you're investing in New York,
Before – Buying Apartment Preparation & Planning
The people which are required to be at your side are of course the same all over the U.S., but in New York there is one specific requirement. When buying an apartment in New York you are required to have an attorney on hand. That means you need to get one sorted (preferably with real estate specialization) before even starting your search.
Mandatory to have an attorney

Taxes – Extra Real Estate Costs
Of course there's different taxes in New York than elsewhere in the country. New York is one of the states which, along with the real estate transfer tax, requires a mortgage tax. Like for example the mansion tax, which kicks in when buying a property worth more than $1.000.000, or the flip tax, which is actually not much of a tax because it is private. The property taxes, how much they are and how they're calculated is of course also unique in the Big Apple.
Pretty much everyone pays too much in taxes. It's especially easy to save on real estate taxes. Learn how:
Insurance – Expensive Additional Cost
Not to forget is that you will have to pay homeowners insurance. In New york this can run around $2.000 a year.
$2.000/year homeowner's insurance
Sponsor Units – Affordable Apartments Trick
Sponsor units are only available in New York. They are a special types of apartments. These typically exist in multi-residential buildings which the developer or co-op have mostly rented out or sold. Yet, often these developers or cooperatives keep a few units to themselves for private use. These are often later turned into rentals or sold on. The advantage, in co-ops, the new resident will not be required to have to submit a financial package. Sponsor units are also usually cheaper to buy than other type of units.
Cheaper
Easier to get
Rare

Rent Control? Stabilization? NYC Real Estate Law
Is it even worth it to buy an apartment? New York has rent-controlled and rent-stabilized apartments. These differ from the typical apartments in that they have much lower rent. But, because they are extremely rare and nearly impossible to find, it's better to focus on rent stabilized apartments.
Rent Stabilizing – Meaning & Definition
Rent-stabilized apartments are apartments who's rent cannot increase heavily. The yearly increase is regulated by the government. This protects you as a tenant. It also makes you lucky to live in such an apartment. Meaning that if you are at the moment living in a rent-stabilized apartment, you are likely to be paying less than many others. Therefore, buying an apartment is perhaps at the moment not the best idea.
Rent stabilized = government-controlled rent increase
Where to Live in NYC – Best Neighborhoods
There's the five boroughs, Bronx, Queens, Manhattan, Brooklyn and Staten Island. But within these, countless neighbourhoods, some world famous like Harlem, Upper West Side, Greenwich Village, Williamsburg, and the list goes on. So where should you move? Most everyone, we included will suggest you to get to know the city a bit first, research, and also just walk around the neighbourhoods and see which atmosphere fits you best.
Ultra-Luxury Penthouses & Lofts
Of course, some of the super-rich of the USA have ultra-luxury apartments in New York. Among them Superstars like Jay-Z & Beyonce and Justin Timberlake. One of the most impressive though has to be Jeff Bezos' $80 million apartment in Manhattan.
Worst Neighbourhoods in NY – Danger, Crime, Low Standard of Living
The worst neighborhoods in New York are decided by how dangerous it is, how good they are to live in, and more. And if you think that you can make a clever deal by moving to one of these areas you are mistaken, as none of these neighborhoods are especially cheap.
Woodlawn-Nordwood
Hunts Point
Brownsville
Fordham
Mott Haven
Fordham
Bedford Park
Downtown
New York's Hippest Neighborhoods – The Places to be in New York
There are a few neighborhoods you can't miss. These are the classics like SoHo or TriBeCa. The top neighborhoods in New York City to invest are the famous ones of course. Think Greenwich Village or Williamsburg. The other famous ones, Astoria (Queens), Bushwick (Brooklyn), or Greenpoint (Brooklyn) are also safe bets, especially for younger or more culture-oriented movers. Some ones to keep an eye out for are Chelsea, where the nearby Hudson Yards project is driving down prices of top and up-and-coming real estate, or Bedford-Stuyvesant the prodigal son of hip New York neighborhoods, and lastly Park Slope, which will likely see a sharp increase in prices over the next years, meaning investment now is likely to pay off.
Classics: SoHo, TriBeCa, Greenwich Village, Midtwon
Hip: Astoria, Bushwick, Greenpoint
Future Stars: Chelsea, Bedford-Stuyvesant, Park Slope

You want more info. Where to buy an apartment in New York City? We tell you everything you need to know
Best New York Neighbourhoods List
The best New York neighborhoods are difficult to pin down. Everyone has their own preferences, and their own needs. Making it impossible to say definitively what the best are. Below are what are considered some of the top New York neighborhoods.
TriBeCa
Gramercy
Battery Park City
Nolita
SoHo
Dumbo
Financial District
Murray Hill
NoHo
Kips Bay
Prospect Heights
Brooklyn Heights
Should I Rent a Co-op Apartment?
Co-ops are probably more famous and more popular in New York than anywhere else. Here, they make up almost half of all residences. Co-ops are slightly more challenging to get, with a complicated and time-consuming process, but the time investment is worth the reward, with typically lower property taxes, the possibility to build equity, and more.
What is a Co-op Apartment? Real Estate Corporation
A co-op apartment is an apartment which is administrated by a housing cooperative. If you buy a co-op apartment, you are not actually buying the property, i.e. the four walls which you intend to live in. Rather, you are buying a share in a legal entity. The shares you buy entitle you to use a specific part of the building. Therefore, you are not the owner of real property, but rather a membership which allows you to use the apartment you live in. This also means of course that you do not take out a mortgage, but rather share loans, i.e. a loan to pay for the shares.
You buy shares, not property
Why you Should choose a Co-op – Explanation
Because you are not the owner of the property itself, you do not have to pay property taxes. Rather the cooperative pays the property taxes for the whole building, and these are divided among the members, i.e. residents. The main advantage of a co-op is that it is cheaper. The property taxes which each resident pays are lower, and any additional fees are also lower, because the co-op is not intended to make profit. Lastly, residents in co-ops, despite not actually owning the property, are entitled to many tax deductions which real estate owners are entitled to.
How to buy a Co-op Apartment in New York – Step-by-Step
There are a few steps to go through before buying into the cooperative. Before approaching a co-op, or identifying an apartment which you are interested in, you have to gather an attorney, a mortgage broker, and an engineer. Although this is not necessary, it greatly increases your chances of getting the apartment you want. This is because, once you've identified the apartment you want, you apply. Your application is decided upon by the board. This board obviously wants the best possible residents, therefore it's important to present yourself as a serious buyer. All co-ops have a certain list of requirements, which include the amount of downpayment you need to pay, and how much financial reserves you have. Following this, you contact the seller, begin the title search and mortgage application, and close the purchase.

Buying an Apartment NYC – Checklist
If you want to buy an apartment in New York, these are the most important things to do and keep in mind.
Decide! Rent or buy?
Prepare! Visit the city, research the market
Lawyer Up! Find your attorney
Choose affordable! Sponsor units, coops, or up-and-coming neighborhoods
https://lukinski.com/wp-content/uploads/2020/12/new-york-buy-apartment-explained-guide-real-estate-market-rent-buy-property-skyline-manhattan-brooklyn-bridge.jpg
800
1200
Laura
https://lukinski.one/wp-content/uploads/2023/01/lukinski-logo-real-estate-investment-financing-1.svg
Laura
2020-12-01 10:42:31
2022-04-03 08:15:54
Buy an Apartment New York – Everything to Know Explained, Easy Guide