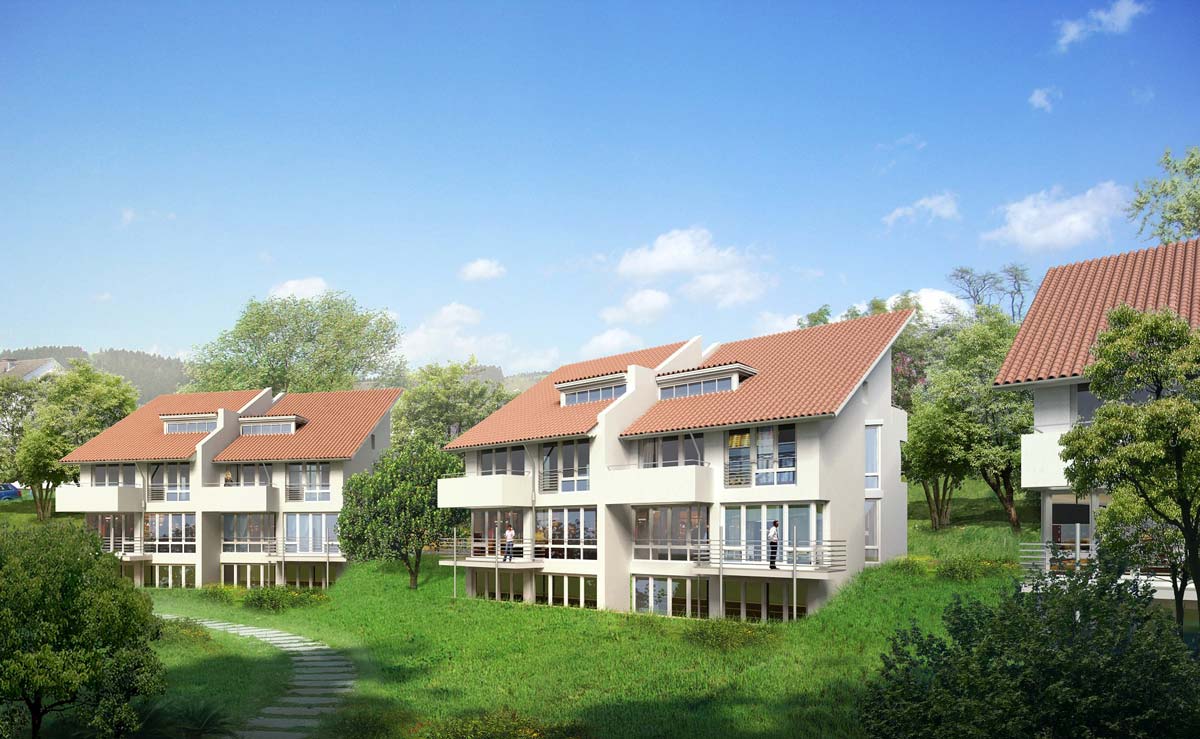 Semi-detached house: buy your own home or build a new one? Checklists, tips and more
Buying a semi-detached house – Choosing the right property, whether as an owner-occupier or investor, is not easy. Buying a house or building a house, or even selling a house requires appropriate preparation, and you should always be as well informed as possible about your property. There are countless house types, such as the villa, the country house or a zero-energy house. However, the following will introduce you to the house form semi-detached house. This housing option offers space for the whole family, but what actually distinguishes it from the detached house and, above all, which is better? From prices to finding a plot of land to financing options for your own home, we'll tell you everything you need to know here. Click here to return to the overview of the advantages and disadvantages of each type of house.
Semi-detached house, what is it? Definition & Features
The term semi-detached house refers to a residential unit, which usually extends over several floors and is about the size of a standard detached house. The difference to the single-family house, however, is that, as the name suggests, semi-detached houses extend over half of a very large, elongated house. This saves lot area and still allows you to experience almost the luxury of owning your own home with a few limitations, which we'll go into in more detail later in the article.
Room layout and green area
A semi-detached house offers two almost identical living units, each of which is roughly the same size as a detached house. Of course, this depends entirely on the type of detached house. In principle, however, the aim of a semi-detached house is to provide space for a medium-sized residential group.
For this reason, you can expect at least two bedrooms in a semi-detached house. Often several bathrooms, as well as guest toilets, living rooms and kitchens are part of the housing unit. In addition, there are terraces and green areas that are either private or shared with the immediate house neighbors, because you should be aware of one thing: A semi-detached house always represents only a part of the house, so contact with the neighbors is almost inevitable.
You want to buy or build a house, but don't know which one is right for you? Then take a look at our guide to house types from A – Z! Here you will find all house types, from bungalow to terraced house!
Advantages & disadvantages of a semi-detached house: size, prices and neighbours
Now that you have some information about semi-detached houses, we will continue with the advantages and disadvantages of this type of house. Often hidden here are the crucial points that make the decision for or against the house form.
Advantages: Better than the single family home?
The space-saving properties of the house form often make the most of the available space. In addition, semi-detached houses often create an environment with young families due to their target group. As a result, the areas are very much designed for children and teenagers with schools, kindergartens and the like.
Large living space
Garden area
No upper and lower tenants
Disadvantages: Trouble with the neighbors?
However, the type of house also brings disadvantages, because, for example, in cities, the classic semi-detached house is less common than other types of housing. Nevertheless, it is not absolutely impossible to find them in the city centre. But just new building areas are here often too expensive and too valuable to build a semi-detached house. How exactly you find a suitable property, you will learn later in this article.
Direct neighbours
Predominantly in suburbs
For new construction: search for tenants
Tips and tricks: renovation, energy rules and location
Sometimes the perfect house is not yet built, but a few steps are still missing until the dream home or the neighbors put a spoke in your wheel. You want to avoid that at all costs and therefore you will find here a few suggestions for renovation, peace from the neighbors and where exactly the best semi-detached houses can be found.
Renovation: Conversion to the perfect house
Especially if you buy a semi-detached house there are many possibilities to improve your new home. You are not bound by any rental agreements that restrict you, but you should still be careful, because the renovation work and the associated noise can be the first cause of trouble with the neighbours. For this reason, it is advisable to have at least talked to them beforehand, because you share a common living wall.
Where can I find semi-detached houses?
The type of housing is often found in suburbs or small towns, as the target group is often interested in moving to these places. The environment is often family-oriented and characterized by children of different ages.
If you, as a builder, want to build a house in order to rent it out in the future, it is advisable to analyse not only the property itself, but also the surroundings. More about this in the section on the right property.
Energy rules when buying a house
In 2013, Germany's Energy Saving Ordinance was changed for the last time. Since then, and already with the previous legal texts, rules apply that must be observed, especially when building a house, and should be presented in advance in order to obtain a building license. As a buyer I should have the energy certificate of the house presented to me.
Tip. You want to buy a house? Then take a look at buying a house. Learn more about financial planning, additional costs, loans & Co.
Land and building: The right reason for a semi-detached house
Whether for personal use or for subletting, the location of a house is at least as important as the house itself. After all, you want to find an environment in which you feel comfortable for many years or in which potential tenants are interested. In order to make the construction and living in the new building as pleasant as possible, it is worthwhile to pay attention to a few things early on.
Checklist: Choice of plot and location
Is there such a thing as the perfect property? Unfortunately, we can't give you a blanket answer to this question. What we can do, however, is provide you with tools that let you know exactly what you are looking for. On this basis, finding it will definitely be easier.
Composition of the subsoil: clay, sand, stone, pebble?
Size of the plot
Elevation of the plot
Proximity to water bodies (risk of flooding?)
Former use of the land
Proximity to public transport
Existing lines
Construction projects in the vicinity
Schools/kindergartens/public facilities nearby?
Energy rules for builders and developers
With the introduction of the Energy Saving Ordinance, building projects must meet certain structural requirements in order to obtain a building license. Data on the heating system and thermal insulation are calculated in order to determine an approximate value that provides information on the sustainability of a building.
The merging of insulation and heating system requirements took place because the aim was to ensure that poor insulation could be compensated for, for example, by a more efficient heating system. This is particularly interesting for buildings that are to be renovated. But new buildings can also benefit. Whereby the trend towards environmentally conscious living is becoming ever stronger. According to Statista, the construction of buildings with sustainability certificates has more than quadrupled since 2009.
Real estate search: What to consider before buying
Looking for land, starting a construction project and the hassle that comes with it is too much for you? Then a purchase is always a good option. The positive aspect is of course the planning and many other works that have already been done for you. However, here you can of course no longer have a say in how the building is constructed or looks in the end. But depending on the location, the real estate market is not to be scoffed at and leaves nothing to be desired.
Viewing appointment checklist
Even before viewing a property, or even before you start looking, you've probably already thought about what you want your new home to look like. We'll discuss what you should look for in the following section. Here we'll talk briefly about how you should prepare for your candidate's viewing appointment so that you can get the home of your dreams.
A viewing appointment shouldn't just be used by you to see the property and find out a few dates, the appointments are also mainly for the sellers and you to get to know each other. You will be screened so that agents and previous owners can assess whether you or they are the right candidates for the property.
So your goal is to make a good, well-groomed impression. It's also good to be prepared and organised. Yes, a lot is indeed expected of you. But don't worry, no one expects you to be a superhuman. Mistakes are okay and will be tolerated as long as the overall impression is right. After all, it's in both your and the seller's best interest to have someone who fits the house.
Look for the following things to make a good first impression:
Be groomed
Ask for parking possibilities beforehand
Ask before entering if you can wear shoes
Bring important personal documents (creditworthiness etc.) already with you
Ask questions about the object
Try to convey why you are interested in the object
Checklist for semi-detached houses: This is what the new home should have
Of course, it is important to convey a good impression, but you should not lose sight of the fact that you are also pursuing or should pursue certain interests with the viewing, because of course you do not only want to get to know all the advantages, but also the faults of the house, which a seller may not directly address. Targeted questions are appropriate here.
Energy costs: take ancillary costs into account
If your intended house is a new build, the easiest way to see the energy performance of the house is to look at the energy certificate that the house should have received. In addition, of course, energy-saving devices such as solar panels and the like can also reduce energy costs.
Another great way to find out how much is actually being used in the house is to ask for tenants' utility bills. But be careful: no one is obliged to give you access to personal bills. So don't be too eager to see them. The energy provider, on the other hand, can easily give you information about prices.
Contract of sale: examination & criteria
Finally, it is of course important to check the purchase contract, so as not to fall into a trap. Either you do this yourself, or hire a lawyer. The notary should send you the rental agreement two weeks before the agreed date, so that you have enough time to take another close look at the document.
It is important to check what exactly you are buying, especially in the case of semi-detached houses. Because of course there is a second party in the house, with which the property is shared.
Extra: Buying a property and saving taxes at the same time?
Buying a property can not only be for the reason that you want to live in your own 4 walls. It can also be that you want to buy or build a property as an investment. Either way, there are a number of factors to consider – because big money doesn't come easy! Here you will get tips and information to make your investment and your property successful.
Buying a multi-family house: Valuing property, procedure, costs, renting & Co.
Your idea has manifested itself and your dream of a house is becoming reality. You have already looked at a few properties, compared prices and set your budget for buying a house. Before you enter into closer negotiations with sellers or reserve a property, you should plan the house financing and determine your conditions. The more professionally you proceed and the more concretely you plan, the less complicated the house purchase will be, from the idea to the financing to the notarisation to the conclusion of the contract. Then everything is ready for the rental of the apartment house. Learn everything here, from the valuation, to the rental of apartment buildings.
Save taxes with real estate: buy, rent or sell
Learn how to do taxes! You are the greatest financial professional you can find for your individual setting (private and corporate). Calculating taxes yourself is the tool to minimize your own tax burden. It is therefore a matter of converting taxes into private wealth. The less taxes you have to pay to the tax office, the faster your private wealth builds up. Here you will find articles that have been written on the topic of tax optimization. For the most part, we deal with real estate purchases in Germany. Start with the basics about ancillary purchase costs in Germany, land transfer tax and legal forms such as real estate GmbHs and family foundations.
https://lukinski.com/wp-content/uploads/2021/02/doppelhaushaelfte-doppelhaus-kaufen-bauen-mieten-verkaufen-haustypen-tipps-vorteile-nachteile-finanzierung.jpg
739
1200
Laura
/wp-content/uploads/2023/09/lukinski-real-estates-immobilien-logo.svg
Laura
2021-02-04 09:58:44
2022-03-01 10:32:40
Semi-detached house: buy your own home or build a new one? Checklists, tips and more