Sylt: The most expensive streets – Hobokenweg, Heideweg, price per square metre
Sylt – Sylt is and remains an island of superlatives. And that in many respects. The proximity to the North Sea and the untouched nature make the clocks tick differently here. While it draws in the summer a multiplicity at European holiday-makers from the mainland, who drive themselves in the warm months in their holiday house or even beach house the time with action and bath vacation, the autumn and winter months stand completely in the indication of the peace and relaxation. This is also reflected in the purchase and rental prices. Nowhere in Germany is real estate negotiated as expensively as here, even for a granny flat or basement flat you have to dig deep into your pocket. Who thinks the most expensive street in Germany is in Munich, Berlin or Hamburg, is wrong. The most expensive street in Germany is the Hobokenweg in the east of the island Sylt. Here you can get back to the main page with the most expensive streets in Germany.
The most expensive street in Germany: Hobokenweg & Co.
The small village of Kampen, with just 700 inhabitants, is located north of Westerland and is surrounded on both sides by the sea. The place has established itself especially in recent years as a celebrity hot spot and popular holiday resort of German tourists. Here you can find, especially in the high season, the elite and high-ranking society. At the exclusive parties the motto is: see and be seen. Besides the society, Kampen also offers a beautiful and picturesque nature with white sandy beaches and the legendary red cliff. If you are interested in real estate on the island and want to buy an apartment or a house, you have to dig deep into your pocket.
List: The most expensive places & streets
Before we take a closer look at the individual streets on Sylt, you will now get an overview of the most expensive streets on the island. The purchase price per square metre is between €28,000 and €35,000.
Hoboken Way
Heideweg / Heidewinkel
Meadow Path
Osterheideweg
Hobokenweg (Kampen)
Also called the 'street of the super-rich', Hobokenweg outshines all other streets in Germany in terms of square metre prices. Only those who can afford it live here: From wealthy heirs to successful corporate executives. Nowhere in the entire Federal Republic is it as expensive: property prices here are in fact around 35,000 euros per square metre.
The price per square meter here is 35.000€ /sqm
Maximum price up to 35.000€/ sqm
Map and location of the Hoboken Trail:
Heideweg/ Heidewinkel (Kampen)
Next to Hobokenweg, Heideweg or Heidewinkel is the top address on Sylt. Its central location in Kampen and the extensive plots of land drive up the prices per square metre. Anyone who wants to sell or rent out a property here will quickly find suitable buyers.
The price per square metre here is 28,000€ /sqm.
Maximum price up to 28.000€/ sqm
Map and location of the Heideweg/ Heidewinkel:
Meadow path (Kampen)
Like all of Sylt's most expensive streets, Wiesenweg is located in the small town of Kampen on the northern tip of the island. Properties here trade at up to 28,000 euros per square metre. Generally speaking, the quiet location and proximity to the sea come at a price.
The price per square meter here is 28.000€ /sqm
Maximum price up to 28.000€/ sqm
Map and location of the meadow path:
Osterheideweg (Kampen)
The Osterheideweg is only a few meters away from the luxury street Hobokenweg. Here in the neighbouring streets Osterheideweg, Heideweg, Heidewinkel or also Wiesenweg up to 30,000 euros are paid.
The price per square meter here is 30.000€ /sqm
Maximum price up to 30.000€/ sqm
Map and location of the Osterheideweg:
Overview: Most expensive roads on Sylt
Here you see again the 3 most expensive streets on Sylt at a glance.
Sources: Image / Engel und Völkers / Lukinski
| | | |
| --- | --- | --- |
| Street | City / Region, District | Maximum price / m² |
| Heideweg / Heidewinkel, Wiesenweg | Sylt, Kampen | 28,000 Euro |
| Hoboken Way | Sylt, Kampen | 35,000 Euro |
| Osterheideweg | Sylt, Kampen | 30,000 Euro |
Most expensive streets in Germany: real estate, districts & prices per square metre
Berlin, Munich, Sylt & Co: Germany's metropolises are home to some of the most luxurious properties. Inselstraße in Berlin, Königinstraße in Munich and Südliche Seestraße on Lake Starnberg – only those who can afford it live here! Would you like to buy a property here? Find out everything about Germany's most exclusive streets, what makes them so special and above all: how much a square metre costs here.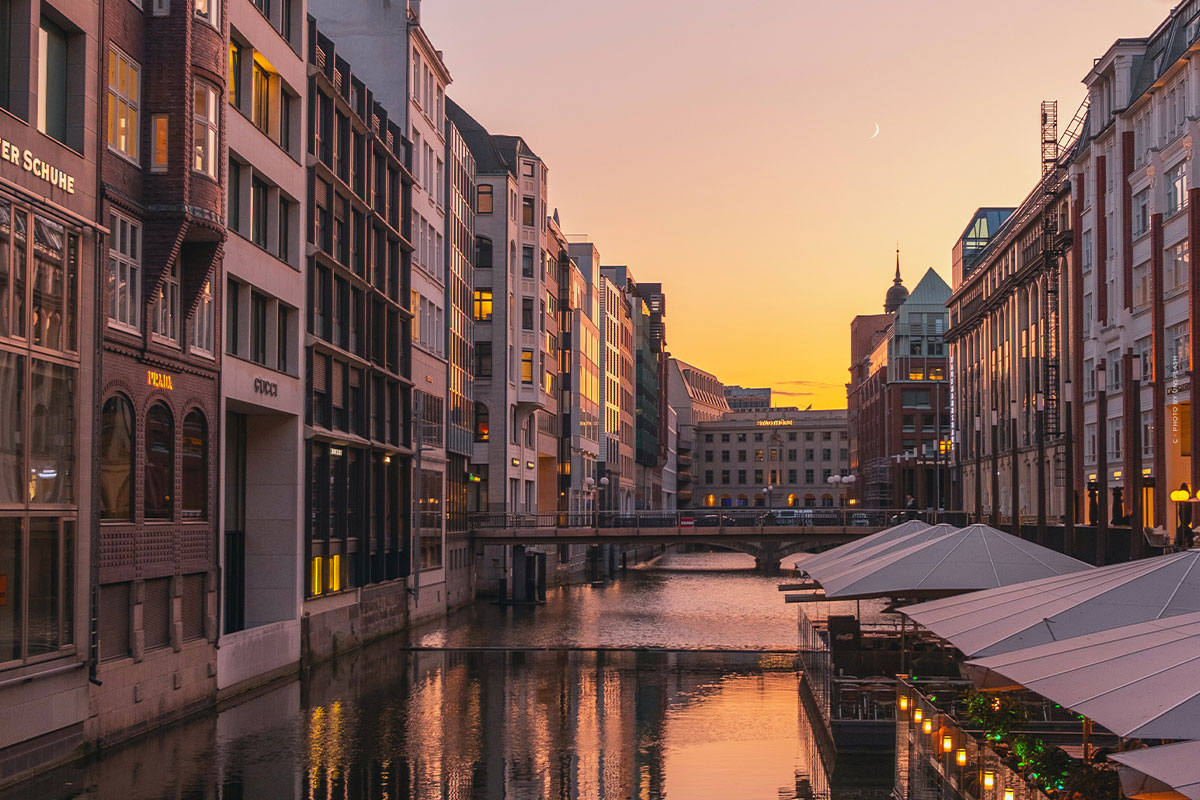 Tips & Tricks Real Estate Sylt: To live or to buy
Finding a suitable property is not always easy. Especially if you are looking on the thriving and most popular real estate markets in Germany. Besides the right budget, there are other factors that need to be considered. On Sylt, for example, you will mainly find villas and large properties, while in the big cities of Germany the housing market is booming.
Buying a Villa: Exclusive property – house, investment, checklist, procedure
You will not find exposés of first-class properties on real estate portals. Villas are bought and sold discreetly. The purchase of real estate has a fixed procedure: Property search, viewing, negotiations, purchase contract, notary, taxes & Co. The purchase of villas is of course a bit more demanding. If only because you certainly don't want to waste time on 8, 9 or even 10 viewings, like normal house buyers. Are you looking to buy your first villa? Here's a little insight into the world of luxury real estate.

Holiday home & holiday apartment: Buy instead of rent!
The dream of a holiday home exists for many city dwellers. Whether a house by the sea on Sylt or Norderney, in the warm south or simply a retreat in the country. However, there is a lot to consider when making such a big decision and you should plan well before you decide to take that big step. In this post, you'll find out all about taxes, costs, second homes and property abroad. However, if you're more interested in the pros and cons and features of such a property, feel free to check out our post on buying a holiday home.

https://lukinski.com/wp-content/uploads/2020/08/villa-kaufen-buy-sylt-beach-germany-isalnd-250-quadratmeter-garden-flowers.jpg
960
1280
Laura
/wp-content/uploads/2023/09/lukinski-real-estates-immobilien-logo.svg
Laura
2021-06-02 08:15:43
2022-03-01 09:56:27
Sylt: The most expensive streets – Hobokenweg, Heideweg, price per square metre