New York Property Taxes – Buying Real Estate Explained, List of Counties
USA – How to for New York property taxes. We explain everything you need to know about New York and New York City property taxes. What is New York City's proeprty tax? From tax rates, mills and millage rates, this easy to understand guide will explain everything about the most important facts about property tax. It's important to get to know the myriad of details and complications which New York City's property tax system throws up, such as millage rates, mansion tax, and tax classes. Investing in New York City properties? Buying a house near the big city? This explanation gives you all the facts you need when deciding about purchasing real estate in New York or NYC. Back to: Property Tax Guide USA
Most Expensive in the Country?
If you want to buy an apartment in New York, or buy a house in New York, you should be certain of your neighborhoods property taxes. New York's property taxes are some of the highest in the country. With the top 5 highest property tax rates in the USA, finding home in New York State. This, despite New York City's five boroughs having an average property tax rate 0,86%. New York's investment possibilities are endless, and can be found in its boroughs, but outside as well with the shores of Lake Ontario, or the capital of Albany. New York is also one of the few states in the country where you are required to pay Mortgage Tax.
What are Property Taxes?
Property Taxes are ad-valorem taxes which you pay for owning property, meaning that it is based on the monetary value which is estimated to be attached to an item, piece of land, property, etc. A property appraiser provides the basis for calculation. If you're planning to buy real estate in New York, you're going to have to get acquainted.
Property tax is often confused as being a tax on real estate property. Yet this is a misconception. The largest proportion of property taxes come from real estate, because this is the most expensive property most people own. Yet property taxes can also be levied on airplanes, computers, furniture, etc. When buying a house, these must be paid in advance, and then received back from the seller.
Property Taxes are taxes on: Real Estate, Airplanes, Boats, etc.

How are Property Taxes Calculated?
Property taxes are ad-valorem taxes, meaning the amount you have to pay on these taxes is determined by the value of the property. This value is estimated by an appraiser, and takes into account location, age, etc. Property taxes are typically a rate which is multiplied by the estimated value of the property. E.g. a property in California will be subject to a property tax of about 0.77%. A property valued at a total of $3 mio. will require the owner to pay property tax to the sum of $23.100.
Tax Bill = Property Tax Rate x Value of Property
Property taxes are a complicated concept. To learn more about U.S. property taxes, when you have to pay them, and how much each state pays in property taxes,
New York Property Tax Explained
In New York, property tax is quite high compared to other states. In New York State, property taxes change from year to year, depending on the needs of the state. Additionally, it is also complicated by the fact that tax rates are constructed in millage rates as opposed to tax rates. Buying an apartment in New York is therefore more complicated than you'd like, but let us try to explain.
Mill Rates are Tax Rates
Millage rates serve the same purpose and work quite similarly to conventional property tax rates. A millage rate, is first and foremost a number. This number indicates the amount of property tax a property owner is required to pay for their property. A mill rate of 1 indicates 1$ of tax for $1.000 worth of property, a mill rate of 24 indicates $24 of tax per $1.000 worth of property.
Mill Rate of 1 indicates 1$ of tax for $1.000 worth of property

Residential Assessment Ratios – Determine your Home's Worth
Sounds complicated, but if you're looking into buying real estate in New York, you have to know what RAR's are. RAR's are a method by which the state accounts for fluctuations in the real estate market. You can challenge the assessment given to you via the RAR when you believe you property is worth 10% less than the assessment. By law, the equalization rates are used to divide taxes in tax zones that cross municipal boundaries. These tax jurisdictions can be school districts or the county.
RAR is a ratio determining the assessment of your home
Too Much Property Taxes on your Home?
As always, there is an assessment on the value of your home. To calculate the property taxes you have to pay, you would usually calculate your property tax by multiplying this by the tax rate of your county. In New York state, you receive an approximate value which you multiply by the Residential Assessment Ratio. This gives you a value on your property, based on which you will pay your property tax.
Estimated Value = Assessment Value x RAR

Property Tax Exemptions In New York
In New York, a wide variety of tax exemptions exist. They exist with the intention of supporting those disadvantaged. Note, that these exemptions are tax breaks, meaning that they reduce the value of the property which you are paying taxes on.
STAR (School Tax Relief) is for owners of residential properties with an income <$250.000. This can save about $300/year. For owners of residentials older than 65, and with an income lower than $90.550 this can be improved to enhanced STAR, with approximate savings of $650/year. All need to be appliedd for before the deadline of March 15.
If you want to learn more about lowering your property taxes, we have a guide on the subject
New York City Property Tax
Many people looking to buy a home in New York State are mostly interested in the massive metropolis making up much of its fame. The big apple is made up of 5 counties, although these counties are here counted as boroughs, and therefore do not have their own governmental agencies. New York City has an average property tax rate of 0.86% across the five counties which make up the city.
Property Tax Rate in NYC: 0.86%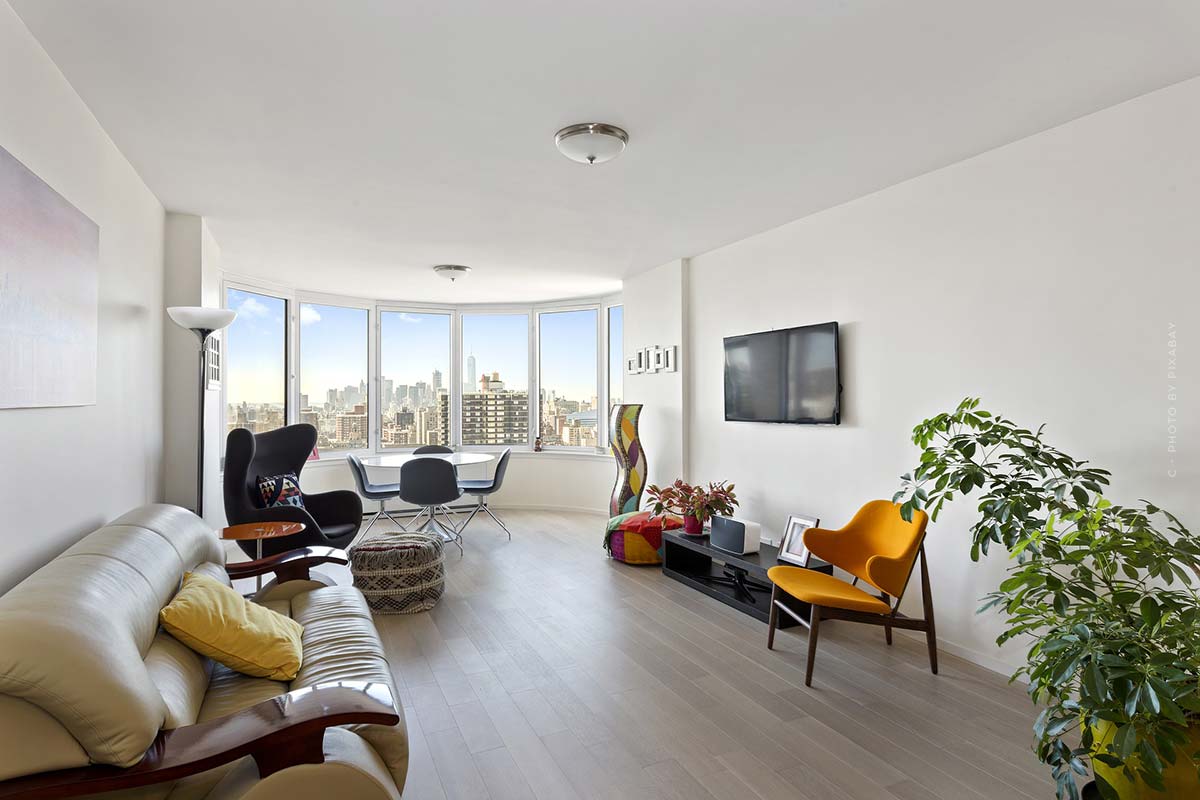 Buying Property: Mansion Tax
When buying a property in New York city, you may be subject to the "mansion tax", beginning with an extra rate of 1% when buying properties worth more than $1.000.000. This tax is intended to provide the state more funding from high earners or those with more capital. This tax, unlike property transfer tax, is paid by the buyer. For this reason it is also a staggered tax, with higher property prices incurring higher rates. These rates are from 1% up to 3.9% depending on the value of the property. Below the mansion tax rates, depending on the amount the property is bought for.
1.00% – $1.000.00 < $1.999.999
1.25% – $2,000,000 < $2,999,999
1.50% – $3,000,000 < $4,999,999
2.25% – $5,000,000 < $9,999,999
3.25% – $10,000,000 < $14,999,999
3.50% – $15,000,000 < $19,999,999
3.75% – $20,000,000 < $24,999,999
3.90% – $25,000,000 or more
Mansion tax is just one of the taxes you have to pay when buying real estate. Learn more in our article on Taxes You Pay when Buying a Property.
Building Classes – What Tax Class is your Building in?
In New York City there are different tax classes for different buildings. These set the assessment ratios, mentioned in the RAR's above. That means that depending on which building class your property falls under, you pay a different tax rate. You are most likely to be owner of a class 1 property, as these are residential properties. Class 2 includes all properties not included in class 1, but still fall into the category of residentials. Class 3, is what is known as utility property, and class 4 commerical and industrial properties. This final class is where you would be taxed as the owner of an office space or factory. The tax rates for these classes are:
Class 1 – 21.05%
Class 2 – 12.27%
Class 3 – 12.83%
Class 4 – 10.69%

New York City Counties Property Tax Rates
The individual counties in New York city have varying property tax rates, but also make up the 5 lowest property tax rates in the whole state. This makes them an attractive place for investment, with low capital losses each year.
Kings (Manhattan) – 0.65%
Queens – 0.87%
New York – 0.90%
Richmond (Staten Island) – 0.91%
Bronx – 0.97%
Ranked – Property Tax Rates by County
There are 62 counties in New York State. All have their own tax rates. These are also quite high, Californian property tax rates are minimal compared to these. Although, the popular counties around New York city are among the lowest, and lower than most in California. You will find the highest tax rates in Orleans (3.28%), Allegany (3.30%), and Montgomery (3.46%), with the lowest property tax rates in New York being in Kings (0.65%), Queens (0.87%), and New York (0.90%). Below is the list of New York state property tax rates, ranked from lowest to highest.
Kings – 0.65%
Queens – 0.87%
New York – 0.90%
Richmond – 0.91%
Bronx – 0.97%
Hamilton – 1.11%
Saratoga – 1.62%
Warren – 1.63%
Jefferson – 1.64%
Greene – 1.70%
Essex – 1.76%
Lewis – 1.83%
Otsego – 1.83%
Columbia – 1.93%
Westchester – 1.95%
Delaware – 1.99%
Clinton – 2.06%
Albany – 2.08%
Franklin – 2.09%
Nassau – 2.17%
Yates – 2.17%
Dutchess – 2.20%
Washington – 2.25%
Schoharie – 2.28%
Schuyler – 2.31%
Rockland – 2.35%
Suffolk – 2.35%
Ulster – 2.39%
Ontario – 2.41%
Tompkins – 2.45%
Rensselaer – 2.47%
Madison – 2.49%
Cayuga – 2.50%
St. Lawrence – 2.51%
Fulton – 2.53%
Herkimer – 2.55%
Orange – 2.55%
Chenango – 2.56%
Oneida – 2.56%
Putnam – 2.57%
Chemung – 2.59%
Sullivan – 2.59%
Erie – 2.63%
Tioga – 2.64%
Broome – 2.77%
Steuben – 2.78%
Seneca – 2.80%
Wyoming – 2.80%
Livingston – 2.81%
Onondaga – 2.81%
Schenectady – 2.84%
Genesee – 2.86%
Chautauqua – 2.87%
Oswego – 2.88%
Wayne – 2.94%
Niagara – 2.98%
Cattaraugus – 3.11%
Cortland – 3.17%
Monroe – 3.19%
Montgomery – 3.28%
Allegany – 3.30%
Orleans – 3.46%

https://lukinski.com/wp-content/uploads/2020/10/new-york-property-taxes-explained-investing-real-estate-how-to-mansion-luxruy-villa.jpg
779
1200
Laura
/wp-content/uploads/2023/09/lukinski-real-estates-immobilien-logo.svg
Laura
2020-11-02 09:51:15
2022-04-03 08:15:24
New York Property Taxes – Buying Real Estate Explained, List of Counties