Buying a House in NYC – Guide, How-to for New York Real Estate
Buying a House in New York USA – How to buy a house in New York! We answer all your questions regarding buying a house in New York City. How much do you need to buy a house? Where in New York is it most expensive to buy a house? Where is it least expensive? Whether you are buying a house in New York as a foreign, or if you're from USA. Or buying a house in New York upper east side, the Hamptons, Brooklyn, etc., this is all the information you need, easily explained with an easy guide and step-by-step process checklist. If you want to buy New York Real Estate, this is for you.
This city article is part of our full size guide: Buying a House
New York Real Estate – How to Buy a House in NYC
Perhaps the most famous city in the world, New York has everything going for it. An incessant economy, endless museums and creative opportunities, neighbourhoods for every taste, and an undoubtable atmosphere. Buying real estate in New York is, for that reason, so popular and lucrative. The real estate market, as we will see below, is an opportune chance to invest safely with high profits. So, with relatively low interest rates, the lowest property tax rates in New York State, and seemingly impossibly low prices, now is the time to invest in New York real estate!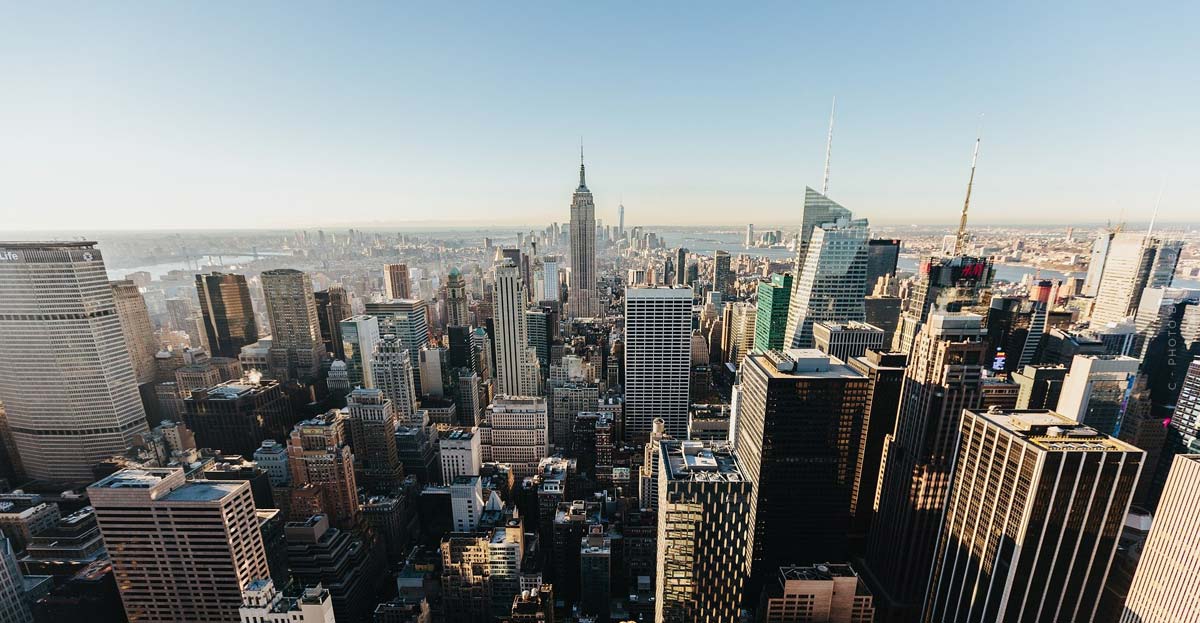 Largest House in USA – New York Mega-Mansion
One of the most expensive houses in the whole of the USA, 281 Daniels Lane is a bigger house than you could imagine. Built by multi-billionaire Ira Rennert, this massive compound has multiple houses and sits on 63 acres of waterfront property. If you want to get an impression of how luxxurious and opulent this self-made entrepreneur lives, you should know that his neighbours commonly complain about the noise of the oversize helicopter which lands on the designated helicopter pad on the property.
The massive mansion boasts multiple dining rooms, a gym, two tennis courts, three swimming pools, a bowling alley, a movie theater, a private museum showcasing the billionaire's massive art collection, and a basketball court.
Location: 281 Daniel's Lane, 11962 New York
What is New York's Biggest Economy?
New York is perhaps best known for its legendary finance sector. Countless mammoth banks have their headquarters here, and 'wall street' is known worldwide for its trading business. Yet New York is also home to a billion dollar port, being the source of thousands of jobs. It is also a major hub for manufacturing of textile and clothing industry. More importantly though, New York is a young tech-hub. With many software and new-tech startups and companies being housed in the metropolis. Lastly, with the city being one of the biggest in the U.S., and most popular worldwide, New York also has a massive gastronomy and hotelier sector, with tourism pushing a large proportion of it.

Is New York's Economy Growing?
New York's economy is growing. Between 2001 and 2019, the city's GDP rose from $1,20 tril. to $1,57 tril., a 24% increase! There are some 70.000 businesses in New York City, and this number is growing annually. New York's real estate market also makes up a huge share of its massive economic growth.
GDP: $960,25 bil. (8% of total U.S. GDP)
Past 20 years, 24% increase.

Is it a Good Time to Buy a House in New York? – Real Estate Market
Right now is a very good time to buy a house in New York. Low prices are almost certain, thanks to many vacancies by lettors who are no longer interested in renting out the very low rent prices. That means prices will be low, but thanks to New York's legendary status, and cramped market, the prices are certain to pick up again. In a few years, the current prices will have multiplied, meaning an investment now will reap profits. Prices of homes are expected to increase by 9.1% over the next year.
Home Prices Currently Low
Expected 9.1% increase in price
Home Price Trends New York City – New York Real Estate Crash?
It seems every year there is an impending real estate crash. Yet this has not happened until now. Some experts have warned again of a crisis, yet looking at the house price index for New York, there is no evidence. The opposite in fact, the rising house price index indicates not only a healthy economy, but also a strong real estate market.
Strong real estate market
Rising Price Index
Most Valuable New Constructions
This graph is perhaps indicative of New York's real estate market. Only surpassed by Dallas-Fort Worth, and the Houston-Sugarlands areas, the New York metropolitan area is among the places with the highest value of new residential construction permits. That means that new constructions are valued very highly in New York, thanks to high real estate prices, which are, thanks to these expensive new constructions also expected to remain high.

New York Real Estate Prices
New York City's average house has a value of $660.000. Last year the median sales price on single-family residentials hit $718.000. Additionally, the amount fo sales being completed increased by over 21% compared to last year. Per square foot, you can expect to pay $341, a number 2.4% higher than last year. Manhattan is the most expensive borough, with the hotspot's averae sale price being ata $995.000.
Average home: $660.000
Average sqft: $341
New York Real Estate Market Explained
NYC is certainly a buyer's market at the moment. There are more properties for sale currently, than there are buyers. Properties were being sold, on average, almost 3% below asking price, and were typically sold after a long 151 days on the market. This is likely also due to the high supply of properties making buyers be more specific in their wishes. Also, while it may seem like rental-heaven, New York is over 50% owner-occupied, meaning that you are not alone in owning instead of renting.

Is it Hard to Buy a House in New York? – Problems
As mentioned, the New York market has many homes for sale, meaning that, apart from few issues, it's not very difficult to buy a house in New York. Different from buying an apartment in New York, buying a house will likely leave you with a more specific and satisfactory property.
Where Can You Buy a House in New York? – Detached Single-Family Residences
You may think of New York as a place where you can only buy apartments or condos. This is not the case though, although detached single-family houses are quite rare in e.g. Manhattan. You will not have much difficulty finding a house in e.g. the southern parts of Brooklyn (Bensonhurst, Sheepshead Bay, etc.) as well as Queens (e.g. Forest Hills, Woodhaven, etc.). Of course the legendary Hamptons are also prime real estate.

What is the Minimum Downpayment on a House in New York?
Mortgage is always a major topic when buying a house in New York. Even here you will need to pay at least 20% on your downpayment. The FHA loans, which would allow you to pay as little as 3.5% without significant interest rates will be hard to find in New York, as there are so few houses compliant with the regulations. If you decide on a downpayment lower than 20%, you can expect high mortgage interest rates, and of course principal mortgage insurance. With a home price of e.g. $700.000, the classic 20% downpayment is a hefty $140.000!
Tax Tip: NY state will allow you to deduct much of your mortgage interest from your taxable income!
Taxes! Where to Pay and How
Taxes on buying a house in New York: this is the fun part. Taxes in New York are structured so that you are advantaged when you buy a home instead of rent. That means you can deduct many things like mortgage interest and your New York property taxes from your taxable income! More on optimizing your taxes in our article:

How Much Money do you Need to Buy a House in New York?
There are of course a million ways to save money everywhere on your home. From saving on your taxes when buying a home to government programs, you need to make sure to take a look at the possible programs for you in your income-, cultural-, and geographical region.
How to Pay Less when Buying a House in New York
For people who are not able to pay a full downpayment, there are many support programs. Real estate purchases are generally encouraged with incentives and support programs. The best are for first-time homebuyers, meaning that if it is the first time that you buy a full residence, you will pay less taxes, and have other monetary incentives. More on that in our main article on buying a house.
Less taxes for first-time homeowners
We have a full-size guide on all the additional costs you have to pay when buying a home:
Saving with Home Improvements
The planet is dying, and everyone has to do their part. That's why many houses in New York nowadays are sold with eco-friendly upgrades already done. These include renewable energy sources such as solar power, or other variants such as more insulated roofing or smart thermostats. Having these can cut down on your recurring costs.
Eco-friendly = Wallet-friendly

What you Need to Know About Buying a House in NYC
These are the top tips for buying a house in New York. You can be certain that if you adhere to these tips, you will have a good time, and end up satisfied homeowner of New York real estate.
People you Need to Hire to Buy a House
The most important step of the house buying step is the people who you will have fighting on your side. You want a group who are capable and empathetic. Additionally, you may need more people than you think. The list includes real estate brokers, agents, loan officers, mortgage brokers, and a real estate attorney. This is the step of the process where you will need to spend more time than you think. A good team surrounding your purchase will be a deciding factor in the quality of your home, as well as how much stress the home pruhcase will be to you.
Real estate broker
Agent
Loan officers
Mortgage broker
Real estate attorney

It's the Season – Spring
If you want to buy a house in Los Angeles, the time to do it is in the late winter to early spring. From January to March, the prices of homes are lower than the rest of the year, which means you can pay less for the same house that you would normally.
Location Location Location – New York Neighborhoods
Which neighbourhoods in New York to buy in? The old realtors adage, location location location. New York is home to five boroughs, all with a unique character and different qualities. Within these boroughs though, there is also large variation. For example, Brooklyn is home to some of the most high-end real estate areas in the whole city, while its neighborhood of Brownsville is considered the most dangerous. Therefore, which neighborhood you buy in can be decisive

Checklist – Where to Buy a House
What to look for in a location for buying your house? The location of a home, and the amenities nearby can decide your resale value, and can mean over- or under-paying on your house. This is our checklist of things you absolutely have to check out when looking at buying a house in a certain location:
What are other homes or buildings on the block like? If
neighboring homes or buildings are in poor condition, it could affect resale
values.
Schools: Are there good schools nearby? Do they have a good reputation?
How close is the home to shopping areas such as malls? If you don't have a car, public
transportation? If driving, parking garages?
What community amenities are nearby? E.g. museums, parks, restaurants, etc.
Don't Forget Additional Costs
New York has an extra mansion tax, as well as a few other unique facets which make the additional costs here more difficult and sneaky. Be certain that you and your real estate broker have thoroughly discussed the details of all potential additional costs which you could face when buying a house.

How long a House has been on the Market – Beware of this
A major problem can often be unseen by you. Whether it's shoddy renovation work which your inspector misses, a future construction project which could heavily affect resale value, or any number of things. Therefore it's smart to always check how long a house that you are looking for has been on the market. Remember, in NYC, the average home is on the market a little under 5 months. Anything significantly longer than that can mean danger! It could also mean that a seller is just a particularly hard negotiator, and if you have the money to buy, it can still b the right purchase. So just make sure to take an extra close look.
Process Explained – How to Buy a House in New York
The process in New York is the same as for buying a house in the whole of USA. In short you save up, find the people that will help you through the journey, find your future home, and close on the deal. More specifically:
Save up for the Downpayment
Find a Mortgage Broker
Get Mortgage Preapproval
Get your Team Together: Attorney, Real Estate Agent, etc.
Start looking at Listings
Go to Viewings
Submit an Offer
Close

How Long does it take to Buy a House in New York
From start to end, the process is going to take a few weeks at least. The time can range anywhere from three weeks to three years, but on average you can expect about 6 months from start to finish. Remember! Even after closing it typically takes about 90 days before being able to move into the new property. Some people search for years and fail to find anything. In the end, how long you spend finding a new house depends on how well-prepared you are. On average though, in New York, people buying a house look for 50-70 days between starting the search and closing.
Best Real Estate Agents in New York for Buying a House – Ranked
New York has more real estate agents than home buyers it seems. In this sea of real estate agents, all claiming to be the best, our ranking for the top 8 real estate agents in New York is below. These are NYC's best realtors:
Richard Leasure (Howard Hanna Rochester)
John Farrell (EXIT Realty Homeward Bound)
Alexa Lambert (Compass)
Michael Kenduck (21st Century)
Bryan Karp (RE/Max)
John Lajara (RE/Max In the City)
Geraldine Andolina (21st Century)
Daniel Axtmann (Berkshire Hathaway)

New York City Explained
Counting the neighbourhoods, and finding out where one ends and another begins is a hard task in New York. The city is massive and spread out over 784 km² (303 mi²), being home to 8,4 mil. people.
Pop. 8,4 mil.
Area 784 km² (303 mi²)
New York's Counties – Are NY's Boroughs Counties?
New York City incorporates five counties, these are: New York County (Manhattan), Kings County (Brooklyn), Bronx County (The Bronx), Richmond County (Staten Island), and Queens County (Queens). In other words, each borough makes up one county.
New York County
Kings County
Bronx County
Richmond County
Queens County
All New York Neighborhoods Mapped – Williamsburg, Midtown, etc.
With so many neighborhoods, it's nice to see what neighborhood ends where. Where is the famous Williamsburg? See it all in the map below.
Property Taxes – New York's Property Taxes by County
Buying a house in NYC means looking at how much you're going to have to pay in taxes. With some districts paying more than others, this is an important part of your investment. New York property taxes are slightly more complicated than elsewhere, but broadly, the most you will be paying is in the Bronx, and least in Manhattan.
Kings (Manhattan) – 0.65%
Queens – 0.87%
New York – 0.90%
Richmond (Staten Island) – 0.91%
Bronx – 0.97%

Neighborhoods in New York City – Where to Buy Real Estate
What neighborhood should you move to? Where are prices low, and likely to rise? These are the questions we answer here. Importantly, you will want to decide beforehand what type of neighborhood you're looking for. There are young, trendy, and soon-to-be-gentrified areas like BedStuy, the super-rich luxury pads in Manhattan, or a little more suburban in Carroll Park or Park Slope.
New York Real Estate – Manhattan
Manhattan… Need I say more? A timeless and undisputed king in New York real estate. Neighborhoods to keep on your radar: TriBeCa, the perhaps most opulent part of New York City, or Upper East Side, which is the hottest tip in New York at the moment.

Bedford-Stuyvesant – Future Williamsburg
Williamsburg is perhaps the most famous example of gentrification worldwide. Not yet prey to gentrification is Bedforsd-Stuyvesant, where low prices, boundless amenities and a young atmosphere allow inhabitants to enjoy the big city, without its incessant tumult.

Park Slope – Where to Raise a Family in New York
Park Slope is already more famous than it was only two or three years ago. This is thanks to its near-perfect combination of proximity to the city, neighborhood safety, as well as a nice park and more. If you want to raise a family in New York City, this is where you should do it.
T
https://lukinski.com/wp-content/uploads/2021/01/buy-house-new-york-city-guide-explanation-taxxes-saving-money-real-estate-investment-purchase-villa-mansion-million.jpg
800
1200
Laura
/wp-content/uploads/2023/09/lukinski-real-estates-immobilien-logo.svg
Laura
2021-01-18 10:05:11
2022-04-03 08:16:41
Buying a House in NYC – Guide, How-to for New York Real Estate