Villa Tour Los Angeles: Buy luxury real estate in LA! 7 Highlights @ FIV Magazine
Los Angeles – Many people have a dream: to live in the USA! Preferably in one of the hotspots like New York or LA. Buying a house in Los Angeles, where do you start? The best place to start is with research. What best fits your goals and desires? Are you planning owner occupancy, renting as an investment, or a mix of renting/rental? What location is Los Angeles the best, between beachfront mansion, condo in LA Central, mansion in West Hollywood and estate in exclusive Beverly Hills? We team up with FIV Magazine to visit a few of our Lukinski Home Highlights in LA. Now in real estate magazine: Villa Tour LA.
Villas in Los Angeles
In the new issue of FIV Real Estate Magazine, I take you to Los Angeles. Here you will find some of the most exclusive villas you can find anywhere in the world.
West Hollywood, Bel Air, Beverly Hills…
Sales prices of 10 million euros in Hollywood, 20 million in West Hollywood or even 40 million in Bel Air or Beverly Hills. No wonder, because Los Angeles is a hotspot for the film industry, as well as the music industry, but also many other economic sectors.
Even in the USA itself, there is little competition for Los Angeles, actually only New York and smaller metropolises like Miami, San Francisco or Las Vegas. However, the "City of Angels" is not comparable with any other.
Los Angeles is the perfect mix of New York and Miami.
Palm trees and always good weather, at the same time los Angeles offers a thriving business world for entrepreneurs. Did you know? If the state of California were its own country, it would be among the top 10 in the world compared to all the others (gross domestic product 2,968 billion / Compare Germany 3,861 billion).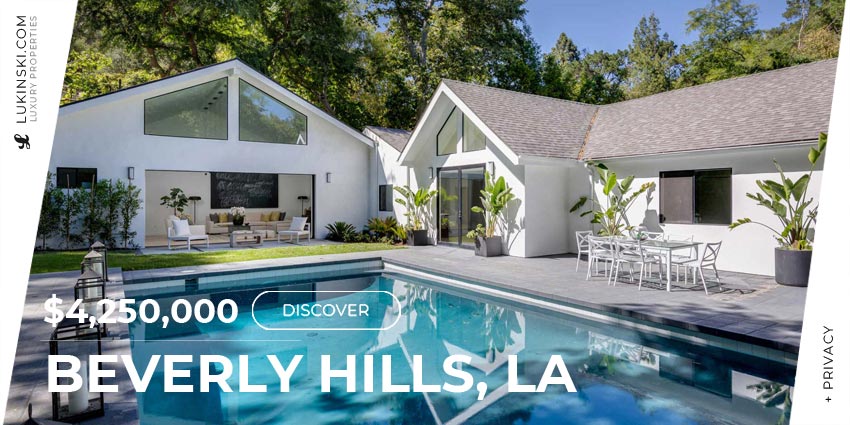 Own use or capital investment for renting
Strong advantages for personal use, but also for capital investors for renting and asset accumulation, if the own, personal connection to the USA, respectively to the west coast of the USA, is available.
In the new issue of the real estate magazine you will find 7 highlights, which we have currently added to our portfolio on Lukinski Home.

LA real estate: buy, rent and sell
Buy and sell in Los Angeles (USA). Learn more about the "City of Angels" here.
Real Estate in Los Angeles
What is important? Which neighborhoods are important? What taxes do real estate buyers face in the U.S. and California? A look at the LA real estate market.
City districts for investors
The original name of Los Angeles is "El Pueblo de la Reina de Los Ángeles", which means "The City of Our Lady, Queen of Angels of the Portiuncula", which is why it is also called "The City of Angels". The weather here is between 18° and 30° Celsius all year round thanks to the California Pacific Current. In Los Angeles you have Disneyland, America's most popular amusement park, the LA Philharmonic Orchestra and the Museum of Contemporary Art. Of course, many people travel to the city to see the nearby Beverly Hills, but the Sunset Strip as well as the famous beaches that you usually only see on TV are also considered sights of the city.
Luxury in LA: properties up to $38 million.
LA is mentioned in the same breath as the megacities of the world. Accordingly, the real estate market is hot. Houses, condos, penthouses: if you're looking for a good property to use, rent or invest in, you need knowledge of the building fabric, location and interior design. Hermès, Fendi, Marble, Art. A trusted real estate agent with recommendation, essential. High-tech industries like Google, Amazon & Co. are driving up rents, and not just in Silicon Valley. There are also musicians, actors, celebrities and politicians. Welcome to LA – the city of angels. Here you will always find new properties in LA Downtown, Beverly Hills, Hollywood Hills to Long Beach.

https://lukinski.com/wp-content/uploads/2021/01/los-angeles-buy-real-estate-invest-california-house-apartment-condo-taxes-mortgage-finance-how-to-guide-steps-hollywood-sign-.jpg
613
1200
L_kinski
/wp-content/uploads/2023/09/lukinski-real-estates-immobilien-logo.svg
L_kinski
2021-07-25 06:47:14
2022-03-01 10:45:55
Villa Tour Los Angeles: Buy luxury real estate in LA! 7 Highlights @ FIV Magazine