The Business Book – Startup, Business Plan & Pitch
Becoming an entrepreneur is not difficult, but being an entrepreneur is very difficult. Already knew 9 of 10 startups failed in the first 5 years. When I am on the road during my lectures, this is often the first step to make it clear to the young entrepreneurs that every person around them has to fail if they want to survive as entrepreneurs themselves. The reality check for entrepreneurs is pretty brutal. Nobody remembers the pyramids that fell. Everything talks about those who are still standing. It's the same with entrepreneurs. Failure knocks on the door faster than you'd expect. This book is the result of my experience as an entrepreneur, the lectures and the reflection of the audience.
What's Business Book?
The Business Book deals with the pitfalls of entrepreneurship but also with the recipe for success. In short, entrepreneurship means a lot of work. Daily, on weekends, on public holidays and of course sometimes on Christmas and New Year's Eve. You have to be an entrepreneur from the bottom of your heart. That's what the book's about. Topics such as financial plans or press releases are kept extremely short, leaving enough space for the important topics. You as entrepreneur and founder, the business idea, the proof of concept, the profitable business ideas bit to pitch in front of banks, investors and customers.
If you are looking for dry formulas and topics that have already been discussed in hundreds of books, you are in the wrong place. This is about real entrepreneurship. Simply described, kept simple, simply implemented. Good business ideas don't need buzzwords, words that usually nobody understands. Entrepreneurs are good salespeople, they understand something about their material and products. Entrepreneurs can lead teams but also motivate themselves. But entrepreneurs are also accountants and permanent financial jugglers.
The good thing is that after three or four years you have made it at some point and you notice that things are always going uphill. Now remember the statistics, 9 out of 10 companies fail in the first five years. You hang on a little longer, you're out of the woods. My new book gives you the necessary motivation and inspiration to make it as an entrepreneur!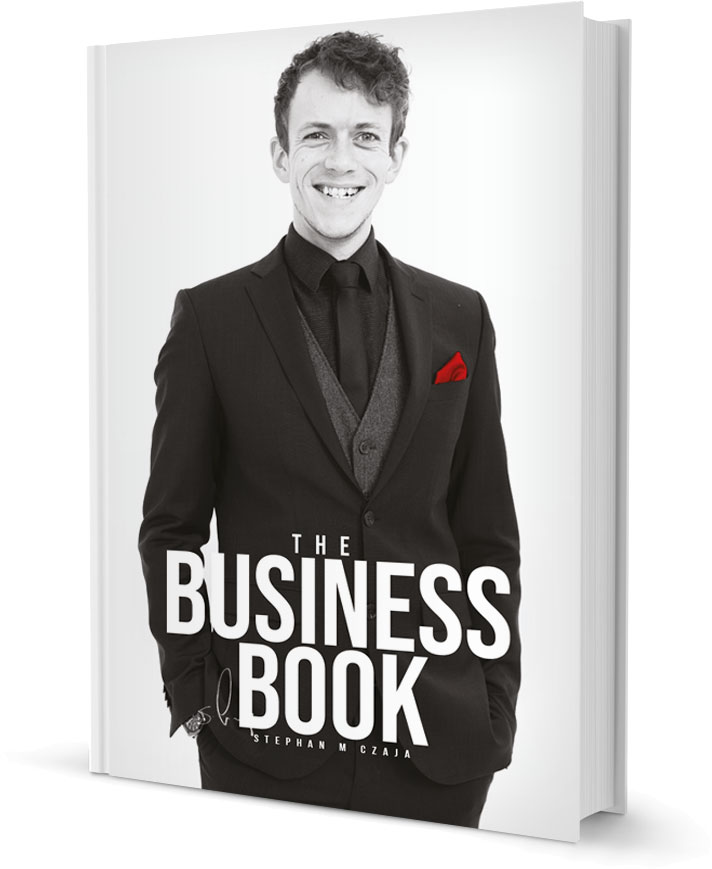 Who Does the Entrepreneur Help Book?
The Business Book also helps young entrepreneurs who want to start their own business. In The Business Book you learn how to sell yourself successfully, how to develop a successful business idea and how to bring it successfully to a large audience.
The practical tips help beginners as well as advanced learners to improve their own business model. Anyone who takes all tips and advice into account and also ensures that the checklists are fulfilled himself has a good chance of making it far as an entrepreneur. In the book you learn the absolute basics, but also everything important about business plans, financial planning and pitches for customers, banks and investors.
Help the book also in your studies?
Yes! the book can also be used excellently for your own Bachelor's or Master's degree. This is because there are absolutely practical tips here, most of which are only derived from expert interviews. Those who adhere to the guidelines will be convinced in the paper, the term paper, the Bachelor or Master thesis.
Recommended book value
More books? Here you can find all publications (Stephan M. Czaja): Books.
The Social Book
Social media marketing is more complex than ever. Facebook, Instagram, TikTok and YouTube now have more than two billion users. Any social media manager who knows how to address people and how to reach them is worth a lot in the company. Social media is the new instrument in marketing. No matter if Facebook Advertising, Group Marketing, Community Management, Instagram Stories, YouTube SEO or Influencer Marketing. The possibilities and means of social media expand month by month. The development of social networks is progressing and, of course, the complexity for individual social media managers is also increasing. The Social Book provides all the basics that beginners in the field of social media marketing need to run successful campaigns. From practical agency experience, many conversations with customers and of course also concepts and strategies, for individual social media channels or also more complex, cross-media influencers and advertising campaigns. More about: The Social Book.

The Content Book
Writing good SEO texts needs to be learned. Therefore there is now the new book from my SEO Collection, The Content Book. Search engine optimization has changed many marketing processes. Today, people can be reached globally within a few seconds and with just a few tricks. Knowing the right tips and tricks, especially from everyday agency life, is worth its weight in gold for young companies as well as for online shops of all shapes and sizes. The Content Book shows how it works: practical and direct. More about: The Content Book.

Content: The Business Book
The Business Book
Business – What does that mean?
Many jobs and poorly paid
Finance Juggler
What do you need for your idea / company / brand? – Overview
Team of founders / People / Knowledge / Qualification
Employees or co-founders?
Analysis / Strengths / Deficits / Compensation
Idea / Basics / Special feature(s)
Prerequisites / Development / Rights / Testing
Start / Time (why)
Clients / Demography / Interests / Type → Moodboard (3 persons)
Needs / everyday life / little luxury / dreams
Purchasing behaviour / Places / Ways / Meeting opportunities
Product meets competition / benefit / innovation / difference
Pricing / High Pricing / Low Pricing / Middle
Pricing strategy / Introduction / Conditions / Discounts / Specials
Sales / Partner / Quantities / Regions / Costs / Profitability
Advertising / Offline / Online / Channels or media / Costs
Phase 1: Winning customers / advertising / communication / ways
Phase 2: Customer retention / Advertising / Communication / Ways
Best Practice: Influencer Fee
Exkurs: Satellite Project
Returnability / Benefits / Reach / Conversion
Exkurs: KPI – Key Performance Indicator (Online)
Interaction Rate – Engagement Rate
Click rate – click-through rate CTR
Reaction rate – response rate
Opportunities and risks / 3 x
Market / Development / Growth / Niche / Advantages / Disadvantages
Excursus: niche products
Cost Planning Start / Realistic / Rent / Personnel / Equipment / …
Future / planning for 3 years
Personnel
Recruitment / How do you get the best employees?
Ultra Local
Online Portal
Search engine
Exkurs: Positive reviews in social networks
Positive reviews in social networks
Google Reviews
Facebook reviews
Kununu, Yelp & Co
Human Resources Management / Leadership Style
Press release
E-Business / Which methods do you use for your idea?
Scaling
Course: Learn to scale with Affiliate / Advertisements
How does Affiliate / Ads Scale?
Tip! ROI (Return of Investment) for investors and valuation
Calculation and Formula
ROI for comparison – Investment decision
Partners / Why / How / With what success
Business and financial plan / 3 – 5 years for orientation / Objective
4 questions for you
Are I a founder or entrepreneur type?
How often does a company foundation fail?
Is your idea profitable later in the market?
I am also an entertainer and motivator?
Entrepreneur – seller
Robert Geis
Carsten Maschmeyer
Kylie Jenner
Elon Musk
Steve Jobs
Failure – Top 11 reasons
Shit happens! Make it a T-shirt
Failure at a young age: Today Icons
Jeff Bezos, Amazon
Morten Lund, Skype
Bill Gates
Business idea
Create ideas? Go openly through the world
Where do you see gaps, missing concepts?
Notebook
What can you do? What do you want?
Brainstorming and Idea Development: Validation
Igniting idea
Foundation
Must I write a business plan?
Business plan
Business Concept (short)
Founder
The unfair advantage
Reality Check: Founder Team
Product/Service
What is special about your offer?
State of development of your product / service?
When can the product be marketed?
Reality Check: Brand protection and evaluation
Customer Satisfaction
Products
Services
Market overview
Customer analysis – Who are your customers? Where are your customers?
Competitor product analysis – Which products are already available?
Do you already have reference customers? Image transmission
Market overview
Reality Check: It's all been there before…
Location
Reality Check: Expensive or square meter?
Coworking?
Actual state, development and positioning
Marketing
Price strategy
Psychological Price
Sales
Advertising
Winning customers
Media advertising
TKP – thousand contact price
Trade fairs, presentations, conferences and congresses
Information, training, trade advertising
Sales talk
Mailing, Throws
Telephone calls
Sales promotion, sales documents
Merchandising
Promotions, discounts, special offers
Exclusive offers
Additional services, warranties and service
Internet and Social Media Marketing
Recommendation marketing on the Internet
Exkurs: CPC is King! CPM and interaction
Facebook Ad Manager: A/B Test – MOVE
The split test – campaign and analysis
Customer Care
E-Business
Exkurs: Electronic trading
WordPress and WooCommerce
Call Center Provider
Realization expenses
Cooperation
Reality Check: Opportunities and Risks
Financial planning
Pitch Time
What is a pitch?
Pitches in advertising agencies: How the presentation works
Pitches for Investors: Preparation for Start Ups
3 Tips for your first presentation on a pitch
Get short
Make your presentation simple
Take your audience with you
Do's & Don'ts
Elevator Pitch
Elevator Pitch – Person
Elevator Pitch – Business
Elevator Pitch – Example
Full Pitch
Time
Story
Focus
Exkurs: Revenue Model
Real Talk – Pitch
Who spends money on it? – Mental
How do we make money? – Content
Book Tips
Social Media: Theory and Marketing – Facebook, Youtube, Instagram
The Content Book: SEO text writing: 1×1 for free reach
The Spinning Book: SEO Content Spinner Tools and Text Writing
https://lukinski.com/wp-content/uploads/2019/07/buch-empfehlung-stephan-czaja-autor-speaker-the-business-book-start-up-existenzgruendung-geschaeftsidee-lernen.jpg
600
1200
Stephan
/wp-content/uploads/2023/09/lukinski-real-estates-immobilien-logo.svg
Stephan
2019-07-16 08:48:51
2022-04-03 08:03:48
The Business Book – Startup, Business Plan & Pitch