The Content Book – Writing Good SEO Texts
Writing good SEO texts needs to be learned. Therefore there is now the new book from my SEO Collection, "The Content Book". Search engine optimization has changed many marketing processes. People today can reach each other globally, within seconds and by pressing a few buttons. Knowing the right tips and tricks, especially from everyday agency life, is worth its weight in gold for young companies and online shops. The Content Book shows exactly how it works: Practical and direct.
Search engine optimization and its significance in marketing
Search engine optimization allows you to reach people organically. This means that the range does not have to be purchased for a fee. This is also directly the further advantage of search engine optimization. Every visitor, every click does not have to be bought individually. Search engine optimization is sustainable and present for months and even years.
Since we have a lot of questions about search engine optimization and how to write good SEO texts, I became aware at the beginning of the year that I should express myself in the form of a new book on this topic. This is where the most important findings from everyday agency life come together and of course all the experience and knowledge that should be conveyed to the SEO managers of the future, but also to employees in my company. Whoever implements all these tips reaches an estimated 100,000 visitors per month, with a set-up time of two to three years. So you can achieve top rankings in the search engine even without an expensive advertising agency.
Before we talk a lot around the bush, let's just ask ourselves the question, which tips the book contains exactly? What advice and tricks are included? Here is an overview of the individual topics.

SEO 1×1 for beginners
How do you improve your rankings?
Text and language – you always write first for people, then for search engines
Analyses – Work from the beginning with web analytics like Google Search (free) and Google Analytics (free)
Linking – Link relevant content of other websites
Backlinks – Get other relevant, good sites to link yours
Load speed – remove anything from your page that slows it down
Page URL – Use clear and easy to read URLs (example www.example.com/produkt245 > www.example.com/sneaker-nike-air-mann-gruen)
Meta Description – Write individual meta descriptions for each article (tip for WordPress: SEO Yoast)
Social Media – Invigorate activity and community
Images – URLs should be clear and easy to read (keywords), images should also be
Content – Content with added value for rankings and virality
Frequently asked questions in search engine optimization
What is SEO? What does Search Engine Optimization?
Why SEO Optimization?
What is SEO optimized?
What to do with SEO?
How can you improve your Google ranking?
What is a backlink?
Here are quick and short answers.
What is SEO and what is Search Engine Optimization?
Search engine optimization is the targeted processing of your own website or online shop to improve placement in the search results of search engines such as Google, Yandex or Bing.
Why SEO Optimization?
In marketing, a distinction is made between two forms of reach. On the one hand there is the organic range, on the other there is the paid range. Paid range has the advantage that it is immediately available, but also costs money with every single click. The disadvantage, for each new visitor of the website money must be invested again and again. Organic reach, on the other hand, is concerned with improving reach through "good" content. "Good" content is more often shared in social networks, it is better placed in search engines and therefore more often on the actual content. The great advantage of this placement is sustainable. Every month you get 1.000, 10.000 also 100.000 visitors. No new money has to be invested for this. The disadvantage of this organic range is that it takes some time to build. Otherwise it is not immediately available and needs experts, as well as a lot of capital for concept and production.
What is SEO optimized, or what to do with SEO?
Search engine optimized are all projects that deal with a structured structure of the individual articles, as well as with the use of meaningful and previously defined keywords. Keywords are words that are frequently entered by people when searching. For example, if you are active in make-up, you should include similar words in texts, but also in headings. Quality instead of quantity applies. This optimization method is called Onpage Optimization. In contrast, there is the offpage optimization. It deals to a large extent with backlinks.
How can you improve your ranking on Google?
The own placement in the search engine is improved by adapting the own web offer, no matter if internet page or online shop, to the competition. It is even better if your own website exceeds that of your competitors. The focus is on the diversity of the topics, but also on the depth of the topics.
What exactly is a backlink?
A backlink is a link from another online portal to our website. The more other Internet pages refer to your own, the better it will be placed. The principle of quality instead of quantity applies here again. Better are 10 backlinks from renowned online magazine than 1,000 backlinks from dubious forums and dubious readers. Ultimately it is, as in real life, a person enters a bar, there are two ways. Either people talk about the person entering the bar or they don't. The more people talk about a person, the more important he or she is felt to be. It's the same with search engines. The more people talk about their site, the more important it is and the better it is placed.
Recommended book value
More books? Here you can find all publications (Stephan M. Czaja): Books.
If you are interested in good content and first class SEO texts, then you might also like these books from me.
The Social Book
Social media marketing is more complex than ever. There are more than two billion users on Facebook, Instagram, TikTok and YouTube today. Any social media manager who knows how to address people and how to reach them is worth a lot in the company. Social media is the new instrument in marketing. No matter if Facebook Advertising, Group Marketing, Community Management, Instagram Stories, YouTube, SEO, or Influencer Marketing. The possibilities and means of social media expand month by month. The development of social networks is progressing and, of course, the complexity for individual social media managers is also increasing. "The Social Book" provides all the basics that beginners in the field of social media marketing need to be able to run successful campaigns. From practical agency experience, many conversations with customers and of course also concepts and strategies, for individual social media channels, or also more complex, cross-media influencers and advertising campaigns. More about "The Social Book".
The Business Book
Becoming an entrepreneur is not difficult, but being an entrepreneur is very difficult. Already knew 9 of 10 startups failed in the first 5 years. When I am on the road during my lectures, this is often the first step to make it clear to the young entrepreneurs that every person around them has to fail if they want to survive as entrepreneurs themselves. The reality check for entrepreneurs is pretty brutal. Nobody remembers the pyramids that fell. Everything talks about those who are still standing. It's the same with entrepreneurs. Failure knocks on the door faster than you'd expect. This book is the result of my experience as an entrepreneur, the lectures and the reflection of the audience. More about: The Business Book.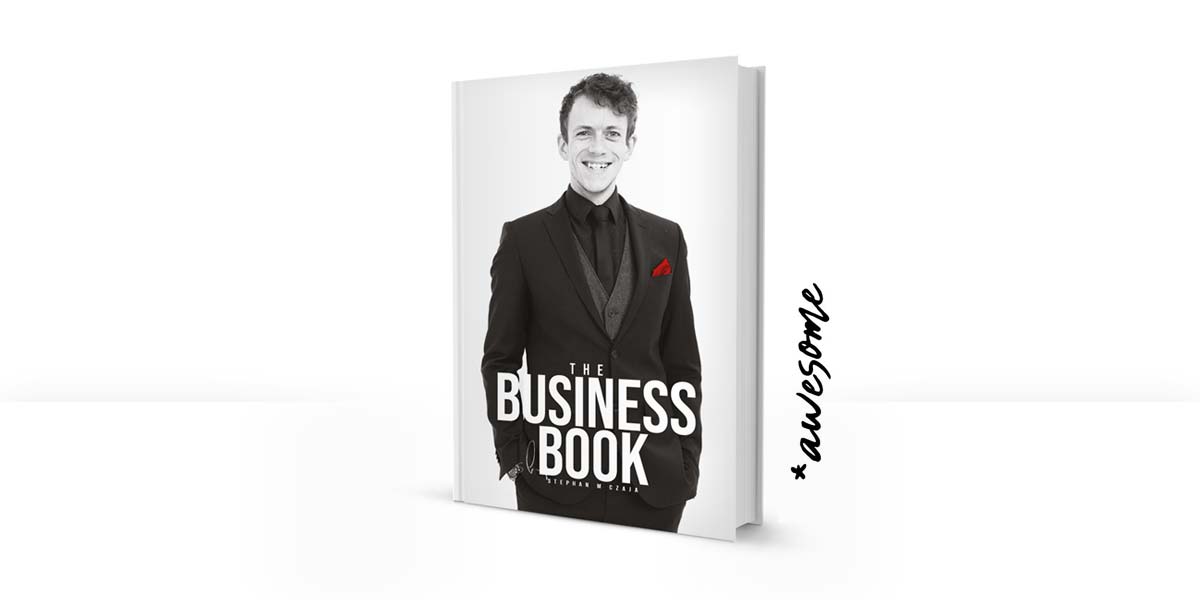 The Spinning Book
Contents Spinning is especially for those who like to work with data packages and big data a nice addition in the area of content marketing. In the second sentence it should be said that content spinning is definitely not for beginners. Contents Spinning requires a lot of practice, at least 15, 20, 30 projects. This means a lot of time investment in training (weeks and months). The topic should therefore only be approached by content managers who want to learn for themselves. Warning! Don't use it for "SEO," "sounds simple." More about: The Spinning Book.

Content: The Content Book
SEO texts, quality and rankings
Quality criteria of good online texts
More quality increases the personality
Structure imparts professionalism
How do I create a good SEO text?
200, 300, 400 words or more
Internal and external links
Bad SEO texts
Good SEO texts with structure with added value
Recommendations for the structure
A, B, C – Analysis of keywords
Keyword Search and Planning
A, B, C – Analysis of content
Text and HTML elements
Titles in articles
List elements
Image and video elements
Exkurs: Image compression with Photoshop
Infographics
Table of contents
Internal linking in article
External linking in article
How do I start writing?
Content Management System
Self Made with WordPress
Page, Post, Category and Permalink
Webspace and server – a recommendation
FTP and SQL
Page Speed
Reasons for slow charging times
Content Publishing
Pages and Posts
Categories and keywords distinguish
Table of contents
Internal page linking by plugins
Page titles
URL
Text optimization through structure
Video Tutorial: Everything to the Point
Headings and text length
WordPress: From Login to Publishing
Settings and Post Pictures
Editor vs Composer
Design Principle Shortcodes
Composing in WordPress Editor
Columns, cells and structure
Tools for planning SEO texts
Google Keyword Planner
Google Analytics and WebMaster Tools
Video Tutorial: Setup and Embedding
Keywordshitter
Google Pagespeed Insights
Secret tips
Wiki
Questions and Answers
Lists
Homepage
Backlinks
Organic Backlinks
Bought backlinks
Collect active backlinks through requests
Predictive planning
Increase text output
Editorial planning with increasing output
https://lukinski.com/wp-content/uploads/2019/07/buch-empfehlung-stephan-czaja-autor-speaker-the-content-book-seo-suchmaschinenoptimierung-texte-schreiben-lernen.jpg
600
1200
Stephan
/wp-content/uploads/2023/09/lukinski-real-estates-immobilien-logo.svg
Stephan
2019-07-16 08:42:44
2022-04-03 08:03:46
The Content Book – Writing Good SEO Texts