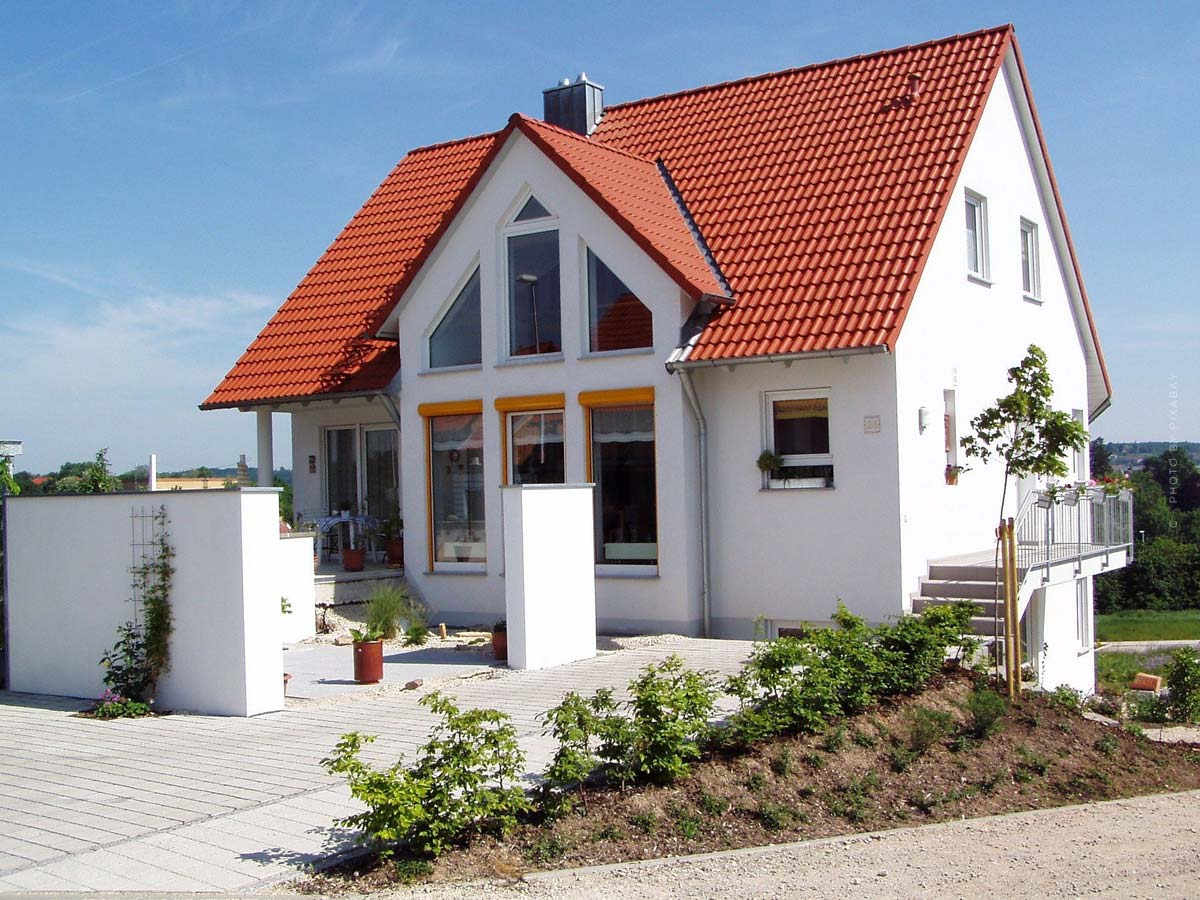 Single-family home: buy or build? Everything about floor plan, size and advantages & disadvantages
The single-family house – is probably the most popular house type in Germany. Besides other types of houses such as the bungalow, villa or solid house, the single-family house is one of the most popular types. The single-family house has long ceased to be traditional and just an ordinary terraced house. It encompasses a wide range of house types and is an ideal investment. Real estate is the best investment and why not invest in a future with your family? Single family homes are becoming more and more modern. From floor plans, to energy codes to the smallest detail. Are you interested in buying or building a single family home? Maybe even including a granny annexe? Here you will find everything about the advantages and disadvantages, prices, different sizes and get exclusive tips and ideas for your first home. Click here to return to our overview of house types.
Single-family home: what does it mean? Definition & Features
What is a detached house? Under this term one imagines first of all a terraced house or a semi-detached house, which is correct, but does not explain the term sufficiently. The single-family house describes only that it is designed in principle for a family, the size, shape or location you can choose freely. Decide for a luxurious city villa or a down-to-earth bungalow. Build or buy and bring everything up to date and modern. In this article you will learn everything you need to know about this building type.
Features: a house for the whole family with more living space
In most cases, a single family home will be the first home of a small family. It does not matter whether the property is large or small. Often you move from an apartment into your first own house and have the opportunity to live out freely. Accordingly, you should plan the house carefully and think about what is important to you in a house. You are offered a wide range of family homes and you must now go in search of the perfect home.
You want to buy or build a house, but don't know which one is right for you? Then take a look at our guide to house types from A – Z! Here you will find all house types, from bungalow to terraced house!
Advantages & disadvantages of a detached house: garden, living space & Co.
Before making any major investment, you should give it some thought and decide for yourself whether you can afford it. This also applies to building or buying a house. In order to support you ideally in your decision, we have summarized the most important advantages and disadvantages of a single-family house for you. Think about it and find your dream house.
Advantages: Freedom and individual design
A single-family house is one of the most common and most diverse types of house there is. In many cases, you move into it as a young family and live in your own four walls for the first time. The resulting freedom is probably the biggest advantage that you get in a family home. You have the space to live out your individuality and be creative. Especially when you build your dream house, you can design everything according to your wishes and ideas. Decide how your house should look like, how big it is and what the ideal room layout looks like. Another advantage is the garden. Usually you move from an apartment into a house and now you have your own green space. Especially with children this is a big plus.
Freedom
More individuality/ creativity
Mostly a garden
Tip. Read more about the topic: Designing a garden in harmony!
Disadvantages: large investment and a lot of responsibility
Building or buying a house always involves a large investment. As soon as you plan to live in your own four walls, you should clarify in advance whether you can handle this financially. Although the construction or purchase will cost the most money, you should not ignore the incidental costs incurred while living there. You will have to pay more heating costs and even if repairs are necessary, you alone are responsible for the implementation and financing. So put a lot of thought into it before making such a big decision.
Great investment
Higher heating costs
No landlord for repairs
Different sub-types of a detached house: Bungalow & Co.
Under the type of single-family house there are various subtypes, which belong to it. These can differ in size, price or location. We have summarized for you three different types of a family home, so you can decide for yourself what you want for yourself and perhaps for your family. Find your dream home and invest in the future.
Bungalow: single-storey and durable
A bungalow is also a type of a single-family house, which is mainly durable and an investment in the future. Compared to other types, the main feature of a bungalow is its single storey and accessibility . In most cases, this property requires a larger plot of land, as it is detached and therefore more expensive. Often the attic and basement are also developed, but are only used for storage. If you want to learn more about the topic, you can find a suitable article here.
City villa: luxurious, large and open
The villa is the luxury property in the range of detached houses. The hallmarks of this type of house are, among other things, a large property, a spacious garden and a Mediterranean style construction. The floor plan is larger than, for example, a semi-detached house and a villa is detached. It offers a lot of space and is usually located in upscale villa neighborhoods. If you are interested in building or buying a villa, you can find useful articles here.
Semi-detached house: classic, popular and cheaper
A semi-detached house is the most popular type of family home and is in many cases cheaper and more practical than, for example, a bungalow or villa. With this property, you share the property boundary and a wall with your neighbour, which has the advantage that heat loss and heating costs can be lower. With this type of house you live directly with your neighbours and should get along with them accordingly. Are you interested in a semi-detached house? Here you can find more information.
Land: choosing and buying the right land
You have decided to build your own house and are now looking for the perfect property? We would like to support you in this decision and have put together a checklist with the most important aspects. Think about where you want to build your property and pay attention to the type of your plot. To find the perfect place for your future house, you will find the most important aspects here.
If you want to find out even more about choosing the right property, you can find lots more useful information and tips here!
Choice of location: City or more rural?
First and foremost, consider your choice of location. Do you want to live more centrally or outside? In the city or more rural? Once you have decided this question for yourself, you need to find the right place. Check the infrastructure of your potential property. How far away is the nearest school and your work? And what are the public transport connections like? These are all important aspects that you need to clarify for yourself. If you have a car at your disposal, you will be less dependent on trains or buses. Last but not least, you should decide whether you want to live in a residential area or in a new development. Both have their advantages and disadvantages.
Central or outside
Infrastructure (work, school)
Public transport
Residential area or new development
Checklist for choosing the right property: What you should look out for
Besides the choice of location, the choice of the right land is almost still important. The condition of the land must be right, which is why we recommend that you look into the history and quality before buying. First look at the development plan to find out if the plot is already developed. Then you should take a look at the land register to exclude possible rights of way and to fix the mortgage between you and your credit institution. Afterwards, we recommend that you have a soil survey carried out, as this is particularly important when building a cellar. Last but not least, you should be able to exclude contaminated sites such as chemicals, oil or scrap metal.
Development plan
Land Register
Soil investigation
Legacy
Building a single-family home: financing, loans & co.
Once you have found the right plot of land, nothing can stand in the way of starting to build your dream home. However, you should consider some aspects when building any type of house. In addition to the financial costs associated with such an investment, it is also important to keep your eyes open on the construction site so that no mistakes happen. We have created a checklist for you with the most important points, so that nothing can go wrong.
Service charges, loans & co.
To build a house, you always have to take out a construction loan, as you cannot pay for the entire investment out of your own capital. Let yourself be advised in advance by the credit institution of your confidence and consider whether you will be able to pay off the mortgage in the long term. Furthermore, there are some requirements to get a loan, which you will find out at your bank. In addition to this investment, you should not ignore the additional costs incurred during the construction. A real estate agent, notary fees or the land transfer tax are usually paid from the equity and these additional costs you must take into account.
Tip! If you would like to learn more about the topic of new construction projects, you can find a suitable article with information about the process and costs for developers & construction projects here.
Building partner, building expert & Co.
The building partner and building expert are also two important people that you should choose personally. Do you want to design everything yourself, consult an architect or go for a prefabricated house? How much energy and time do you want to invest in the construction? You should also decide this in advance. As soon as the construction starts, you have to make sure that everything goes off without a hitch. For this reason, we recommend that you call in a building surveyor, so that he can take over the site supervision and you are relieved.
Decisions such as a garage, carport or basement should also be made beforehand. Do you need the additional storage space of a cellar and a parking facility for your car? Think future-oriented and keep the resulting costs in mind.
Building a house vs. buying a house: a comparison of advantages and disadvantages
When building a house as well as buying a house, this involves a large investment. Before making such a decision, you should carefully consider the costs involved and whether they fit into your budget. We will show you here the respective advantages and disadvantages of these investments so that you can make the important choice.
House building: design freedom only for higher costs
One of the advantages of building a house is the freedom to design the house and the rooms. You have the opportunity to set up everything according to your ideas and can install the latest technology from the outset. In addition, you have the freedom of choice when looking for a plot of land, can decide where the best environment and the best location for you is.
Design freedom
Site selection
With the disadvantages you should include the higher costs in any case. Since you want to combine all your wishes, your budget can quickly be overloaded and the financial investment is higher than expected. You should also take into account the time it takes to build a house. Something can always come up and lead to unexpected costs.
Higher costs
More time required
Unexpected costs
Buying a house: faster and cheaper for less individuality
Buying a house is more cost effective in most cases and especially the lack of unexpected costs that can arise during construction is a big advantage. You will have much less work and do not have to put thought and energy into planning.
Cheaper and faster
Little personal time
However, it should be noted that it can often happen that houses are in need of renovation and you have to invest additional money in it. In addition, you do not have the possibility of an individual room design and can not always choose the location of your property ideally. You will be forced to compromise and lower your expectations if necessary.
May be in need of renovation
No individual house/room design
Possibly worse situation
https://lukinski.com/wp-content/uploads/2021/02/einfamilienhaus-bauen-kaufen-verkaufen-mieten-kosten-finanzierung-definition-grundriss-kosten-vorteile-nachteile-checkliste.jpg
900
1200
Laura
/wp-content/uploads/2023/09/lukinski-real-estates-immobilien-logo.svg
Laura
2021-02-04 09:59:01
2022-03-01 10:32:28
Single-family home: buy or build? Everything about floor plan, size and advantages & disadvantages