Find your dream property in Mallorca: Tips & Tricks
Dream property in Mallorca – It's time. You think to yourself, now is the right time to invest in a property. What could be better than owning a property on your favorite island? Nothing at all. Dare to take the step and find with our help your dream property in Mallorca or the new foreign property in Spain! Buy or rent a holiday home, welcome to Mallorca!
Mallorca: Investment in a foreign property by the sea
Sun, wind and sea. That's what most people think of when they hear the name Mallorca. Mallorca is the absolute favorite travel destination of the Germans. No wonder, because Mallorca has not only the famous Ballermann to offer, but also quiet, beautiful places where you can let your soul dangle. No matter in which part of Mallorca you prefer to live, with our help you will find your dream property. Not only do we recommend the best real estate portals for Mallorca, but we also show you some beautiful examples of how different life and living on Mallorca can be.
Luxury property in Mallorca
Welcome to the Germans' favourite island. Lots of sun, relaxed people, the sea and only 1-2 hours flight from cities like Berlin, Paris and Madrid. This makes Mallorca one of the most popular regions for many from business and industry, but also for celebrities who are attracted to the island. Especially on the mainland, a little off the coast, you will find villas, fincas and condominiums of the extra class. But beware. If properties are tied up, you will quickly pay too much. Therefore, we strongly recommend working with a local real estate agent. Because in Mallorca there are also Spanish laws, from the residence obligation (subject inhabited houses) to tax issues. Therefore, before we take a look at available apartments and houses, we briefly highlight the property prices in Mallorca.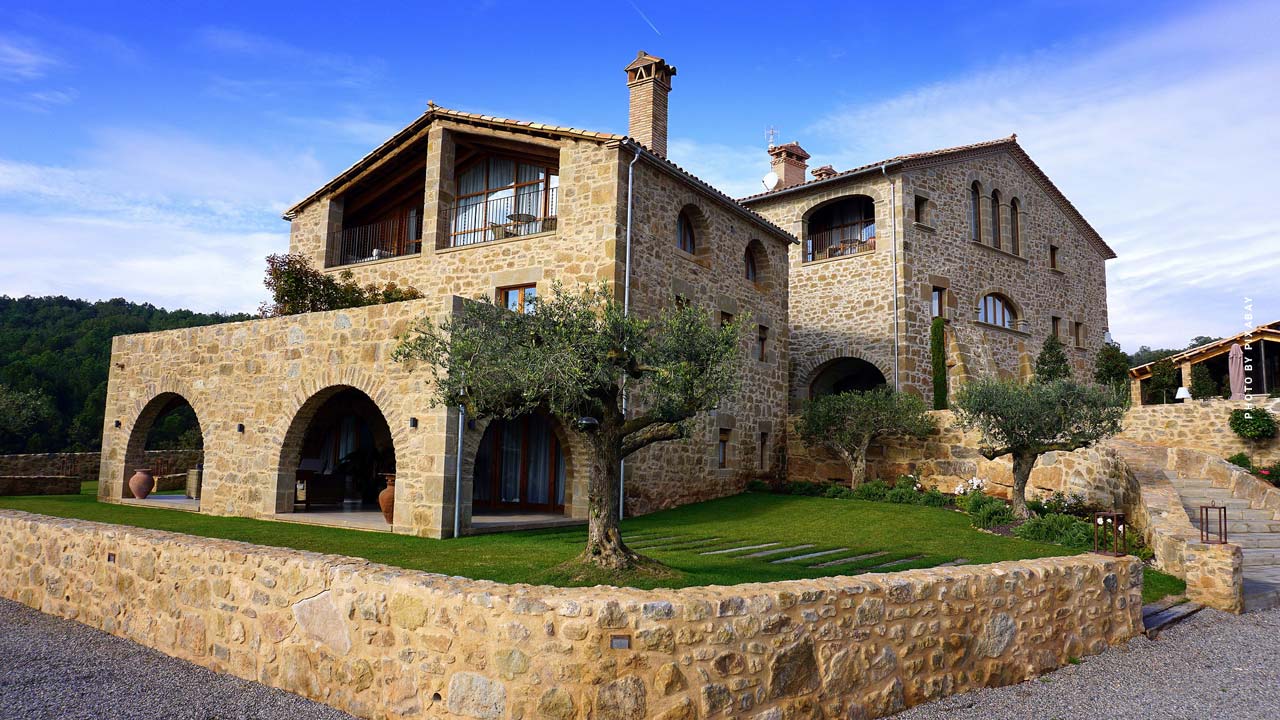 Pollensa (Pollença): Living inland
The town of Pollensa is located in the north of the beautiful island of Mallorca. When tourists spend their holidays in Mallorca and want to do more than just party, they also like to come to Pollensa to visit some sights. But which sightseeings are there in Pollensa? There is for example the Roman bridge also called "Pont Roma" and some more sights. The place itself is worth to be explored, as it is an old town and there are many winding streets. Pollensa is home to a mixture of locals and newcomers, which has created a particularly pleasant and warm atmosphere.
Pollença: Beach
Map & location: Pollença
Palma de Mallorca: Life between hustle and bustle and fun
Palma de Mallorca is the capital of the island. Even in this very popular city there is no shortage of sights. However, Palma de Mallorca is famous for long party nights. Palma de Mallorca offers the perfect mix for most holidaymakers, because there are varied beautiful places, such as an old town, a port district or a city beach. But how sensible is it to invest in a property in this popular and much visited city? From Palma, you can quickly get to all the places that could be important, such as the airport or the doctor. This will benefit you as a property owner in this city. You will also never get bored here, as there are countless varied places to visit. However, if you would rather have a bit of peace and quiet and live far away from the stress of everyday life, you should not necessarily choose Palma de Mallorca as a place to live.
Palma de Mallorca: Video Tour
https://www.youtube.com/watch?v=IjkTvUjf0jA
Map & Location: Palma de Mallorca
Son Vida: For the rich & beautiful
Son Vida is one of the most popular residential areas on Mallorca. This town is surrounded by mountains and is located west of Palma de Mallorca. As a residential area it is particularly popular here, because on the one hand the way to the center of Palma de Mallorca, so the hustle and bustle and fun is not far and on the other hand you have the opportunity to retire here in peace and enjoy the silence. This place is also a paradise for golfers and you are quickly at the airport, in the shopping mile or on the beach.
Son Vida: Video
Map & Location: Son Vida
Calvia: Rural living (Santa Ponsa Calvià)
Those who would like to live in Mallorca, but prefer a quieter place to live, could be well served with the town of Calvia. The surroundings here are rather rural and ideal for hiking. If you are particularly fond of nature, you might be well served with the town of Calvia as a place to live. With a property in Calvia you have the possibility to retreat from the tourist hustle and bustle and enjoy the peace and quiet. However, if you feel like having a good time with lots of people, you have the possibility to go to the nearby Palma de Mallorca. Calvia offers a perfect balance and is worth considering when looking for a suitable property.
Calvià from above (video)
Map & Location: Calvià
Port d'Andratx: Life at the harbour
Port d'Andratx is a very popular place for potential property buyers. It is a beautiful harbour that has a yacht club. Visitors to the port love the direct waterfront location and the nature that surrounds the port. No matter who visits this place – All are enchanted. There are also two small beaches and the town of Andratx town is only 5 km away. Port d'Andratx is particularly popular as a place to live as there is the ideal mix of restaurants, cafes, clubs and quiet places to relax. Those looking to buy a property in this area should bear in mind that the cost of living in this location is slightly higher.
Port d'Andratx Video
Map & location: Port d'Andratx
360° view from the harbour
Investing in real estate: Mallorca
Living and working abroad is a very memorable experience, professionally, personally, culturally and of course financially. In this free guide, you'll get investment tips for all the major cities in Europe, America and Asia, from New York to London to Paris.
House & Apartment for sale in Mallorca
From the valuation to the speculation tax. In this guide you will find all the important factors simply explained. Learn step by step the procedure in the apartment sale to be able to answer the question: Selling with or without an estate agent? The private sale of real estate involves many risks and sources of error, starting with the apartment valuation to the offer price to the individual marketing, from "advertising" to internal customer network and off market real estate sales.
Buying: Portals for cheap real estate
There are now so many real estate portals that broker real estate abroad, that you often do not even know which would be best suited to your own interests and requirements. These real estate portals could be interesting for you.
Immobilienscout24: The all-rounder for all aspects of real estate
Everyone has actually used Immobilienscout24 to search for a property to rent or sell. Immobilienscout24 is also suitable for the search for a property abroad. If you are looking for a property abroad in Mallorca via Immobilienscout24, then you will benefit from a large selection of filter functions and a wide range of different properties.
Porta-Mallorquina: The Mallorca Specialist
The real estate portal Porta-Mallorquina offers many different properties. From luxurious villas to smaller apartments, there is a lot on offer here. If you are not particularly familiar with Mallorca, it is helpful on this website that you can read not only a description of the property, but also a description of the location and the surroundings. So that you do not feel overwhelmed due to the abundance of offers, you can also limit your property search. You can limit the locations, the types of property, the prices and the regions according to your interests. Porta-Mallorquina is for you if you are already sure that you want to invest in a property on Mallorca. Moreover, not only do you have the option of finding a property for sale, but you can just as easily find a property to rent long term or for holidays.
Immowelt: Find a property abroad
The famous portal Immowelt offers not only properties on Mallorca, but as the name suggests, all over the world. Immowelt offers a nice overview of the most important facts about an apartment or a house. Since many properties are sold privately here, you can possibly make one or the other bargain on Immowelt. If you are not under pressure, but on the side looking for a suitable property in Mallorca, you have the opportunity to be informed by e-mail about new offers that match your interests.
Firstmallorca.com: The fast track to property in Mallorca
On the real estate portal Firstmallorca the chance is high that you will find your dream property. Here you can not only specify the type of property, the location and the price, but also activate other filters so that you get faster to the result that fits your ideas. The real estate portal values loyalty, honesty, transparency, respect and team spirit.
5 housing options in Mallorca – What suits you?
Here we have compiled the most popular residential locations on Mallorca for you. We briefly present the residences so that you can get an overview and find out in which place the purchase of a property would be the most sensible for you.
Buying property abroad: Tips
https://lukinski.com/wp-content/uploads/2020/08/villa-kaufen-buy-italy-exclusive-lake-meditranean-house-orange-trees-direkt-at-the-water.jpg
853
1280
Laura
/wp-content/uploads/2023/09/lukinski-real-estates-immobilien-logo.svg
Laura
2020-07-29 12:00:54
2022-03-01 09:33:55
Find your dream property in Mallorca: Tips & Tricks