Buy Villa Ibiza: Where to buy?! Exclusive island tour, villa neighborhoods + realtor tips
Villa in Ibiza – You want to buy a villa in Ibiza? Villa with pool, close to the beach and / or airport, quiet near the bay or close to the city with all shopping hotspots. Here you get to know you right and important parts of the island in Spain / Ballearen. Which location is worth buying according to my experience? Which parts of the island I give customers as a recommendation? So that you have a quick overview in Ibiza, divided into A, B and C location. Maybe you already know our Lukinski Real Estate Rating, in which we rate cities in Germany with more than 50,000 inhabitants, in 3 categories: From good A-locations to more affordable C-locations. From Eivissa and gated community in Es Cubells, to Cala Vadella, to Sant Antoni.
You want to buy a villa in Ibiza?
I was on tour again. This time 3 days on Ibiza to find a Vila for a friend. Time enough to jot down some Ibiza tips for you too. PS: You want to buy in Ibiza and are looking for a consultant for buying (and upgrading)?
Just give me a call or write to me:
Why Ibiza? Climate and weather
For those who move to Ibiza, there is one main reason: the always beautiful, warm climate and sunny weather of the ballear island. Especially wintering and renting in the summer, during the peak season, is a popular model, even for villa owners in Mallorca. A brief look at the statitical values:
Ø Low temperature / Ø High temperature in ° C:
Winter (January): 7 ° / 15 °
Summer (August): 31 ° / 21 °
Then the most important question from customers:
How much does a villa in Ibiza cost?
Real estate investors and brokers know: Asking price is not selling price.
I like to calculate for my clients, in a first evaluation, like this: Each square meter (with beach view) costs 10,000 euros. If recently renovated or new 15,000 euros. In addition, there is "the view". The better the view, the more exclusive, the more expensive. Depending on the size of the villa 100,000, 200,000, 500,000. As always, upwards there are no limits.
A "nice" villa in "good" location (everything is relative and depends on your individual goals and desires) with 200 m² so 2.000.000 + "View".
As in Germany, it is worth looking at existing properties in which you can still invest a little to get a more attractive purchase price. Per square meter, you can expect a cost of around 1,800 euros at a corresponding level.
Buying on the Bellearen, read more buyer tips here (purchase price, building substance, etc.):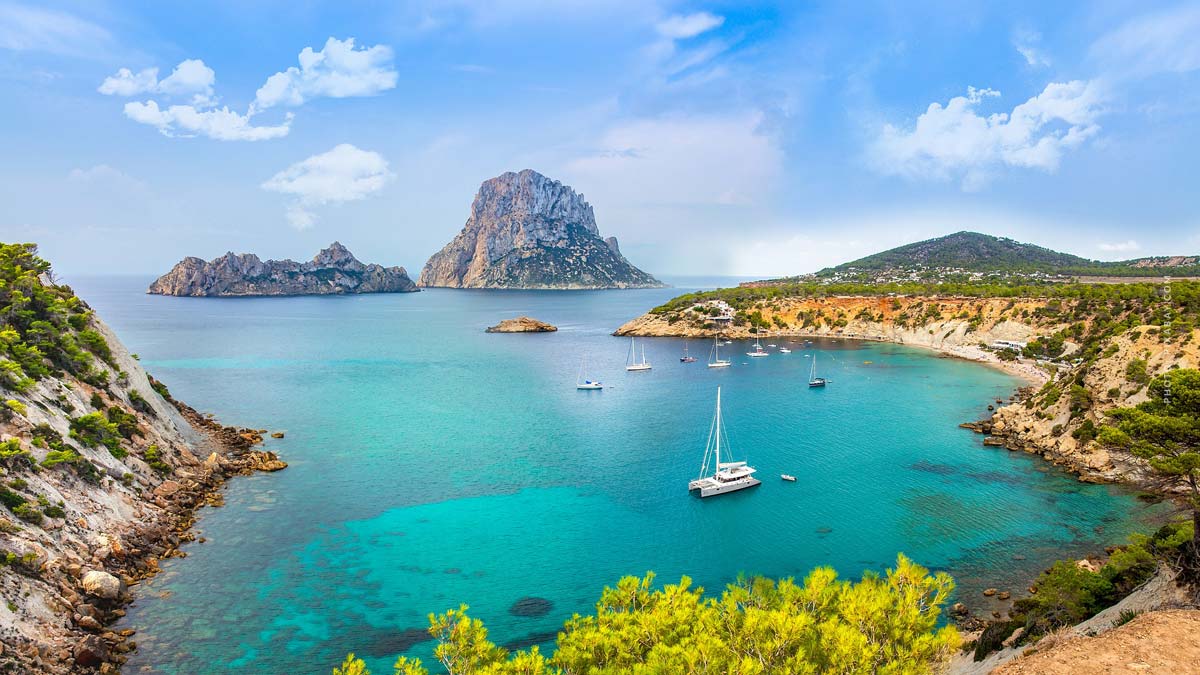 The most exclusive locations, the most expensive places: let's start in Ibiza's A-locations.
Tip. All places are with map, so you can easily find your way around, even if you do not know the island or have visited only briefly.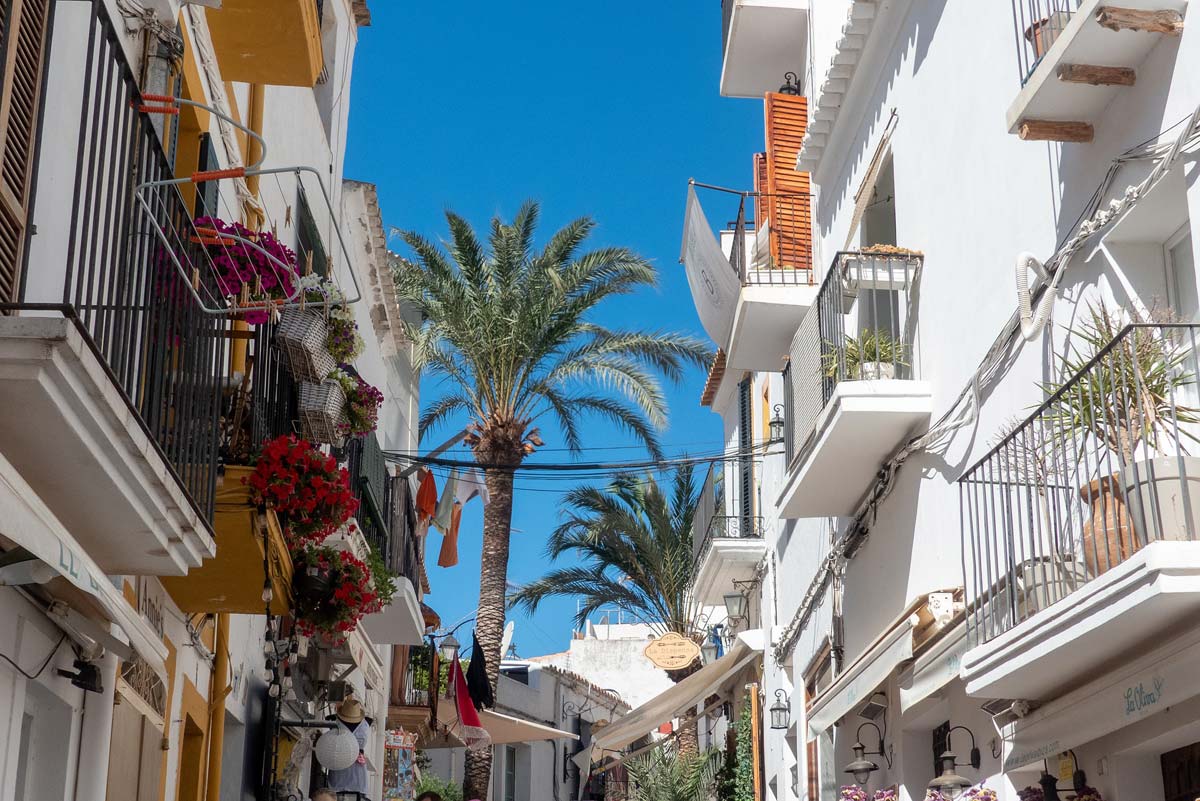 Ibiza: A-location for your villa
Start me with (my, personal) A-locations on the island. Starting with Eivissa, the "island capital" with direct access to the airport, shopping, but also beaches, yacht port, etc.. Then I take you to Es Cubells, one of the most exclusive and expensive places in Ibiza.
Eivissa (Ibiza Town)
It Cubells
Roca Llisa
Sant Jesús
Santa Eulària des Riu
Cala Salda
A-location means mainly south-facing and sea view, the most popular are of course:
Villa by the sea, or at least
Villa with sea view
Villa with pool
Eivissa: Ibiza Town with airport, shopping, etc.
Eivissa is the largest city on the island and around the city you will find villas of all kinds. From the almost historic, spacious finca with 350 years of history, to the ultra modern new construction villas. From the airport you can reach all parts of the city within minutes.
Advantages of Eivissa:
City and shopping
City life and culture
Airport
Yacht harbor
…
A small selection of my properties in Eivissa: Ibiza Villa.
Es Cubells: Most exclusive location & gated community
Es Cubells is a village in the southwest of the island, with attached gated community on the cliffs, towards Africa.
Want to live next to soccer stars from Barcelona and Madrid? One of the few gated communities built right on the cliffs. So there is only one road into this community with villas from 6 million to ~ 25 million. Individual wishes upwards are of course no limits. In a short time there will be no more properties under 10 million.
I now had another of the few gems that were on the market for only 3.7 million. An incredible villa built in the cliffs on several levels.
The travel time from the airport is about 30 minutes, with a comfortable ride.
Advantages of Es Cubells:
Secluded, who really seeks tranquility
One of the most exclusive locations
Immediate proximity to famous soccer players
Gated Community (optional)
Most of the properties are on much steeper cliffs than this one:

Roca Llisa: One of the most exclusive addresses
Roca Llisa is also a gated community and can only be entered with a short security check. The big advantage of Ruca Llisa is the proximity to Eivissa (airport, shopping, etc.), the capital of the island. From here to the city you need hardly 15 minutes by car. Here in Roca Llisa there are not only villas in the million range, you can already buy condominiums around 500,000 euros.
Compared to the gated community in Es Cubells a great advantage if you appreciate and love the city and city life. In return, you have absolute seclusion in Es Cubells if you are looking for it in Ibiza.
Here, of course, sell only the best real estate agents in Ibiza. If you are looking for such an exclusive location, feel free to contact me.
Sant Jesús: North of Eivissa
Sant Jesús has one great advantage, its close proximity to the city. The municipality itself is small, but with the short drive time to Eivissa, this cozy atmosphere is exactly what makes Sant Jesús, so close to the center, so attractive to buyers.
Advantages of Sant Jesús:
Proximity to Eivissa (City, Shopping, …)
Proximity to the airport
Still own community with tranquility
Great view to Eivissa
Santa Eulària des Riu: 15 minutes from Eivissa
Somewhat quieter, though involving some driving time (for those who need to get to the airport more often), is Santa Eulària des Riu. Nearby is also the Nikki Beach Club, known from Miami & Co.
Advantages of Santa Eulària:
Quiet and secluded
Much nature around the community
Only 15 / 20 minutes to Eivissa

Cala Salda: bay and seclusion
Last but not least in the list of A-locations in Ibiza is the bay around Cala Salda, above Sant Antoni.
Beautiful bay
Secluded location
Small town nearby (Sant Antoni)

B-locations in Ibiza: Upscale island life
My recommendation for good B locations in Ibiza.
Cala Vadella
Santa Gertrudis
Sant Josep
Sant Agusti
Cala Vadella: First class cove with tranquility
A dreamlike bay, which is 30 minutes away from the airport, but offers exactly this comfort: Seclusion. With small restaurants, a beach bar, but above all peace and quiet and this unique view into the bay.
Also I am writing this little Ibiza real estate guide just from right here: Cala Vadella.
Advantages of Cala Vadella:
Really secluded
Beautiful bay and sunsets
Santa Gertrudis: The "real" Ibiza
Santa Gertrudis, more precisely Santa Gertrudis de Fruitera, is an absolute pearl, in the center of the island. While of course very much of Ibiza is focused on the beach, here you will find the real Ibiza. Another reason for the authentic nature of the place, here is the residence of the Spanish king. In fact, you'll pass by it every time you leave the expressway from Eivissa to Santa Gertrudis.
No beach view, no sea in front of the house, but the absolute real life of Ibiza, between lemon trees and small two-story houses.
Sant Josep: center island
Sant Josep is on the way to Cala Vadella. It is one of the most central towns and is very close to the hippie market, where you can also spot a celebrity or two. In the core of the municipality you will find everything important and the route to Eivissa is simple: straight ahead. In just 20 minutes you are at the airport.
Popular, well-known and always worth a visit, the "hippie markets".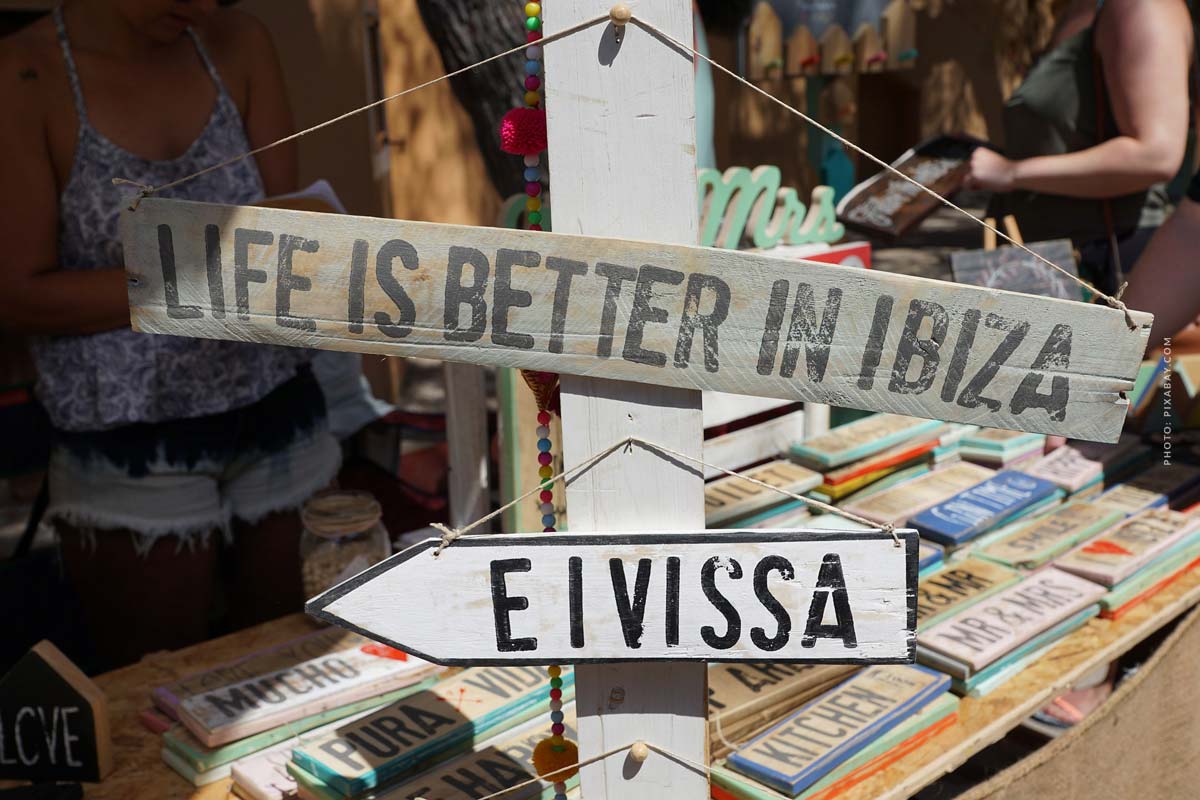 Sant Agusti: Wide view over land and sea
Sant Augusti is located next to Sant Antoni, a rather simpler place. But: the view goes from Sant Augusti is wonderful. Here you will also find one of the highest rocky islands rising from the sea. Between the Mediterranean Sea and the property you also look at Ibiza as it is. With small fields and orange trees as far as the eye can see.
Spectacular and fabulously illuminated at night by the lights of Sant Antoni – and better than looking at the inky black sea at night.
C-locations in Ibiza: Good, but simple
C-location does not mean risk, as in Germany. C-location means rather, something "simpler" from the cityscape. You should also know these places and, if necessary, omit them directly from your real estate acquisition.
Sant Antoni de Portmany
Formentera
Sant Antoni de Portmany: The city of the British
One of the great places in Ibiza, but rather with British tourists looking for a cheaper alternative. By no means a comparison to Mallorca and Palma de Mallorca, but by Ibiza standards, not the first choice for buyers.
Formentera: offshore island with ferry connection
A beautiful island, but really only for those who want to live really secluded.
To be discovered
Coming soon more about:
Port de Sant
Portinatx
Cala de Sant Vincent
Cala Llonga
Financing a villa: Financing in Ibiza
Financing a foreign property – This aspect cannot be summarized in a general way for the whole world. But here is a little insight for Spanish real estate.
In Spain, however, you can expect to have to provide between (40 to) 60% equity as a rule.
~ 60% equity
In Germany, it is usually only 15% equity that you need for real estate financing.
Security of the bank for foreign property
Why is that? For example, you live in Germany and your property is in Ibiza. Suddenly something goes wrong with the current financing, one or two installments arrive late at the bank. The effort, simply put, to get the property would be enormous for the bank, compared to a property that is in Germany.
Accordingly, the bank requires much more collateral from you for such a property abroad, even as a millionaire. Your regular house bank will most likely also refer you to a Spanish partner bank, which will then provide the financing.
But don't worry, I can advise you on this aspect as well.
Contact and advice on purchase
You want to buy in Ibiza and are looking for an advisor for the purchase and financing of the property? Call me!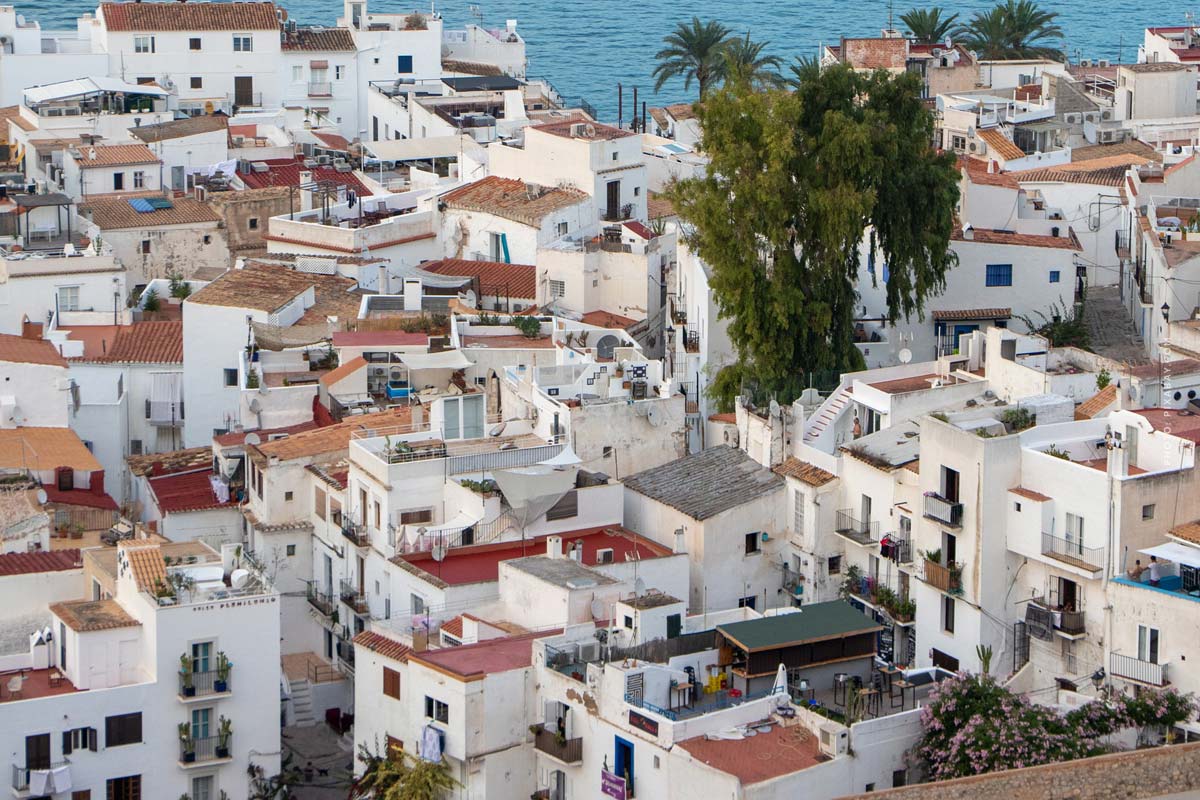 Buy villa on the Mediterranean Sea
Get to know more, Spanish hotspots of the Mediterranean here.
Mallorca: The largest ballear island
Buy Villa Mallorca – Villa with pool, unique views of Palma, secluded coves or hotspots like Son Vida (suburb of Palma) and Port Andratx, in the west of the island. Mallorca is the buyer magnet in the Mediterranean when it comes to real estate. There are many hotspots, but only this island combines "the big city life" with beach, nature, sun and tranquility – in the secluded villa neighborhoods. Some have been visiting the island for 5 or 10 years and know exactly in which area of Mallorca they want to buy, others are still undecided about the right location in Mallorca.

Marbella: The "Miami of Europe" for many golfers
Villa in Marbella – Especially for golf lovers Marbella is one of the hotspots in Europe. Many call Marbella the "Maimi of Europe". Pleasant to warm climate all year round and almost exclusively sun, in all seasons. Marbella is considered one of the hotspots in the Mediterranean, along with the hotspots of Mallorca and Ibiza. You want to buy a villa in Marbella? I will take you to one of the most southern regions of Europe, spoiled by sun and the good life at the Mediterranean Sea.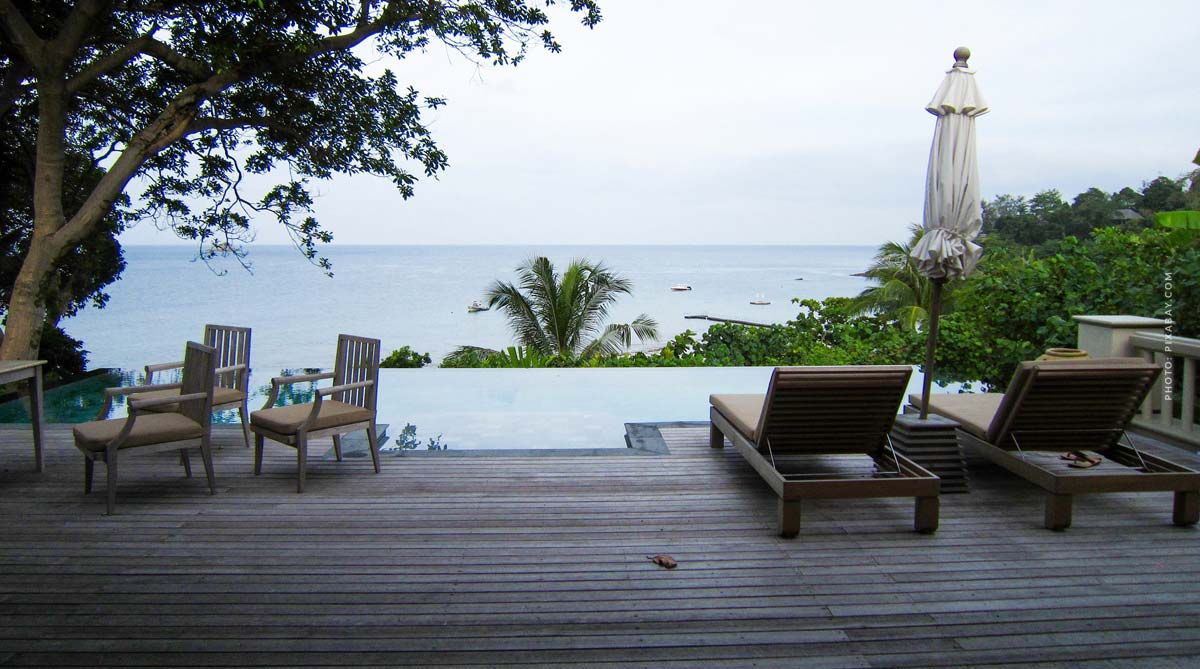 https://lukinski.com/wp-content/uploads/2022/02/ibiza-villa-kaufen-buy-realtor-makler-ausblick-es-cubells-klippen-exklkusiv-beste-lage-gated-community.jpg
800
1200
L_kinski
/wp-content/uploads/2023/09/lukinski-real-estates-immobilien-logo.svg
L_kinski
2022-02-17 14:42:57
2022-03-01 10:47:23
Buy Villa Ibiza: Where to buy?! Exclusive island tour, villa neighborhoods + realtor tips