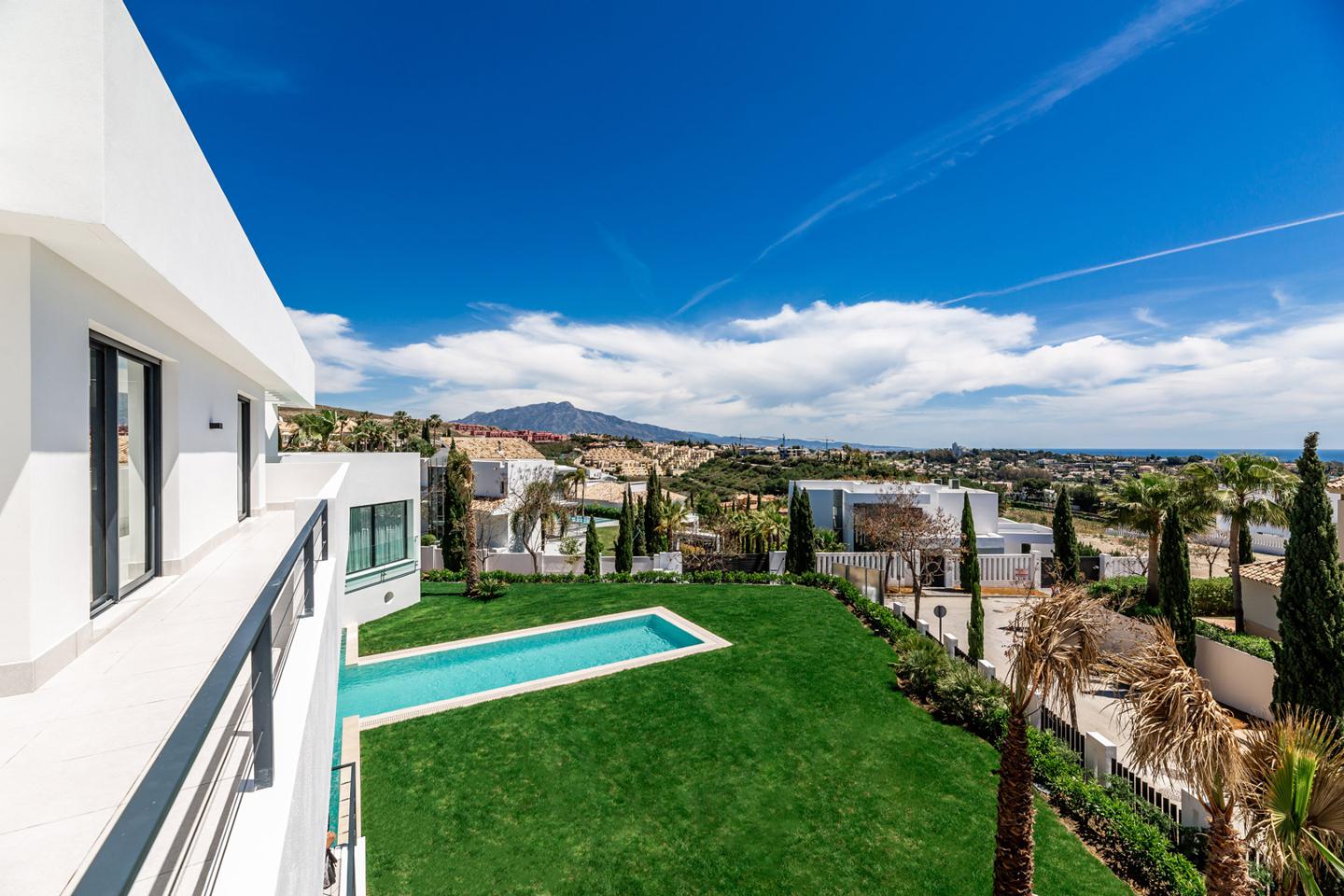 Buy Villa Marbella: Where to buy?! Buyer tips, villa neighborhood + real estate agent tour
Villa in Marbella – Especially for golf lovers Marbella is one of the hotspots in Spain and Europe. Many call Marbella the "Miami of Europe". Pleasant to warm climate all year round and almost exclusively sun, in all seasons. Marbella is considered one of the hotspots in the Mediterranean, next to the hotspots Mallorca and Ibiza, especially because of the many, first class golf courses in Marbella. You want to buy a villa in Marbella? I will take you to one of the most southern regions of Europe, spoiled by sun and the good life at the Mediterranean Sea.
Buy a villa in Marbella?
Marbella has a high attraction especially for those who like warm climate, the securities of Europe and at the same time a little "paradise". In the immediate vicinity of Marbella alone there are more than twenty golf courses. Another magnet for many who are addicted to golf. While the choice of golf courses in Mallorca and Ibiza is relatively limited, here you have all the terrains. Not for nothing, the "Miami of Europe".
Experience Marbella from Cala de Mijas through the Golden Mile (Monte Paraíso), Nueva Andalucía, Benehavís, Estepona to Sontogrande.
The most popular are, of course:
Villa with pool
Villa by the sea, or at least
Villa with sea view
Due to the narrow coastline another advantage: the large part of the villas has sea view and with the warm temperatures here, almost always the swimming pool.
The key advantages at a glance:
Mediterranean to tropical climate
Rarely below 15° in winter, likes 35° in summer
High density of golf courses to Gibraltar
Only ~ 5 hours flight time
Where is Marbella? Location, Arrival and Welcome
Marbella is located in the southernmost corner of mainland Europe, in the south of Spain, immediately along the Mediterranean coast. The nearest airport in Málagais 40 minutes away by car. So to get to Marbella you need to bring a day of travel, unlike, for example, in Mallorca, with villa in Son Vida or in Ibiza, with villa in Sant Jesús.
Therefore, mostly a recommendation only for those who have either 1) personal connection to Marbella or 2) real golf fans who want to spend a lot of time on the green, even when wintering.
Extreme south-west of Europe
Near Gibraltar, on a good day you can see Africa's coastline
40 minutes from the nearest airport (Málaga)
Temperature and Climate: Cumbre Vieja
Cumbre Vieja is a large mountain at the foot of which Marbella stretches along the coastline. The Cumbre Vieja has something magical and keeps, so it seems, the clouds from the inland to move over Marbella. It protects the place from too high temperatures of the inland, from clouds, wind and weather.
Thanks to the Cumbre Vieja you have permanently nice weather here. As you can also see from the statistics.
Ø Low temperature / Ø High temperature ° C:
Winter (January): 9 ° / 16 °
Summer (August): 31 ° / 21 °
Directions from the airport: 30 minutes from Málaga
From the airport in Málaga, to the Old-Town of Marbella, you need about 30 minutes by car. The compensation: The road takes you along the coastline.
Travel time: 40 min
Route: 51.2 km via AP-7
You want to buy in Mallorca and are looking for a consultant for purchase (and upgrading)?
Just give me a call or write to me:
Villa Tour Marbella: The most expensive neighborhoods
Marbella is relatively small compared to other Spanish hotspots in the Mediterranean like Mallorca and Ibiza. After all, it is not an island, but a coastal strip. So your tour stretches for about 70 kilometers if you want to include all the relevant places from Cala de Mijas to Esetepona.
If you want to focus on Marbella city, you don't have to look at the outer areas. For those who are looking for seclusion instead of city life, however, you should once drive the entire region from Cala de Mijas to Esetepona.
On the way to Marbella you will first pass through Mijas.
Cala de Mijas: Remote, near airport
In Cala de Mijas I got to know one of the first villas in Marbella, from a friend. The area is located between Málaga and Marbella. As you can see from the map, it has the best beachfront location. Directly in Beachfront you will find less villas. As in all of Marbella, the villas are always slightly in the hillside, instead of directly on the beach.
Advantages of Cala de Mijas:
Away from the hustle and bustle of the city
Relatively quiet beaches (comparison Marbella)
Smaller community, faster connection
Proximity to the airport (only 20 minutes)
Villa, pool, view – what else?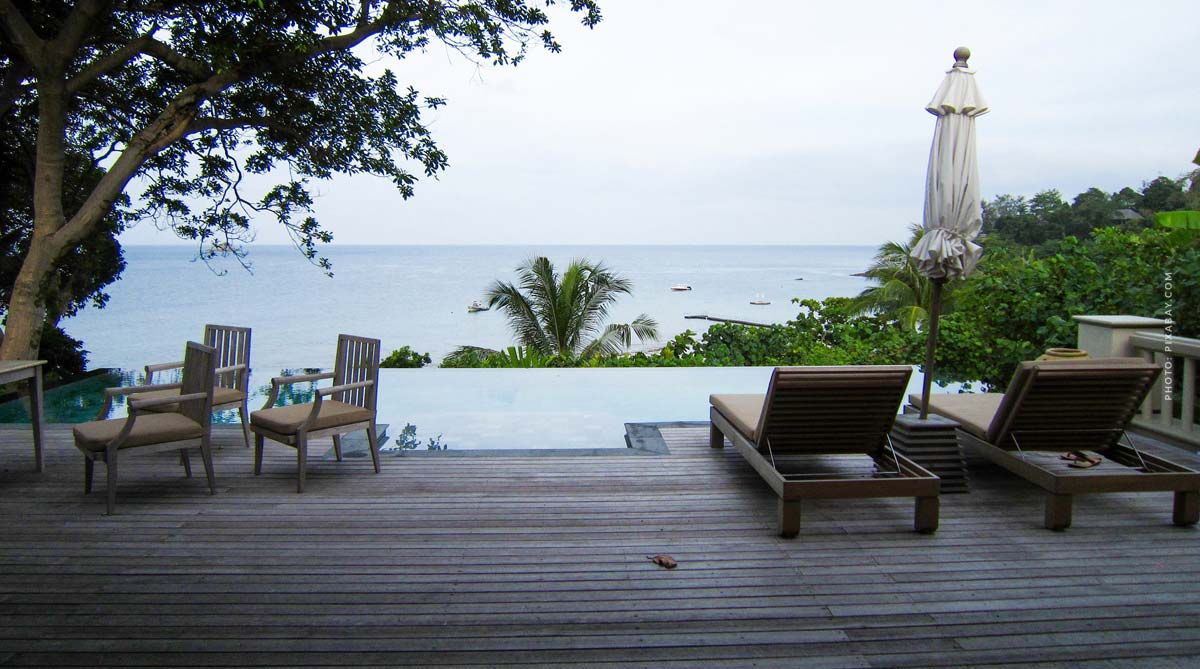 Marbella city
After Cala de Mijas you are in Marbella town. Before we look at the expensive villa districts, here is a tip for all visitors, the "Old-Town" of Marbella. Afterwards we drive to Monte Paraíso, the so called "Golden Mile" of Marbella and Nueva Andalucía, a district of Marbella, towards Estepona.
Old-Town for Welcome
Monte Paraíso: "Golden Mile
Nueva Andalucía
Old-Town
Not a place for villas, but for the old town romance of Marbella. Especially in the off-season (late fall, winter), you have many of the streets virtually to yourself and can enjoy the great restaurants, at 15 °, 20 °. From here you also come directly to the first hotspot of Marbella, to Monte Paraíso, the "Golden Mile".
In the background the Cumbre Vieja, protecting behind the stand (inland heat, storms, etc.)

Romantic downtown with a southern flair.

Monte Paraíso: The Golden Mile
Monte Paraíso: The "Golden Mile" is located in the middle of Marbella. The neighborhood is located at the foot of Cumbre Vieja (big mountain to the inland). Small streets wind their way up to the gated communities. Here the prices for villas are around 3 to 15 million, depending on location and architecture.
Advantages of Monte Paraíso:
Immediate proximity to the city
Unique view over Marbella
Exclusive neighborhood
Example from my villas in Marbella. that you already know from the cover picture. What I like especially about this villa? You see here a Night-House (left) and a Day-House (right). In the foreground with pool and artificial waterfall, in the background (not to be seen here) a more than 400 years old olive tree, which was specially brought here from Italy.
PS. You can buy this villa. See more of this villa and from Marbella here:
Villa in the Golden Mile: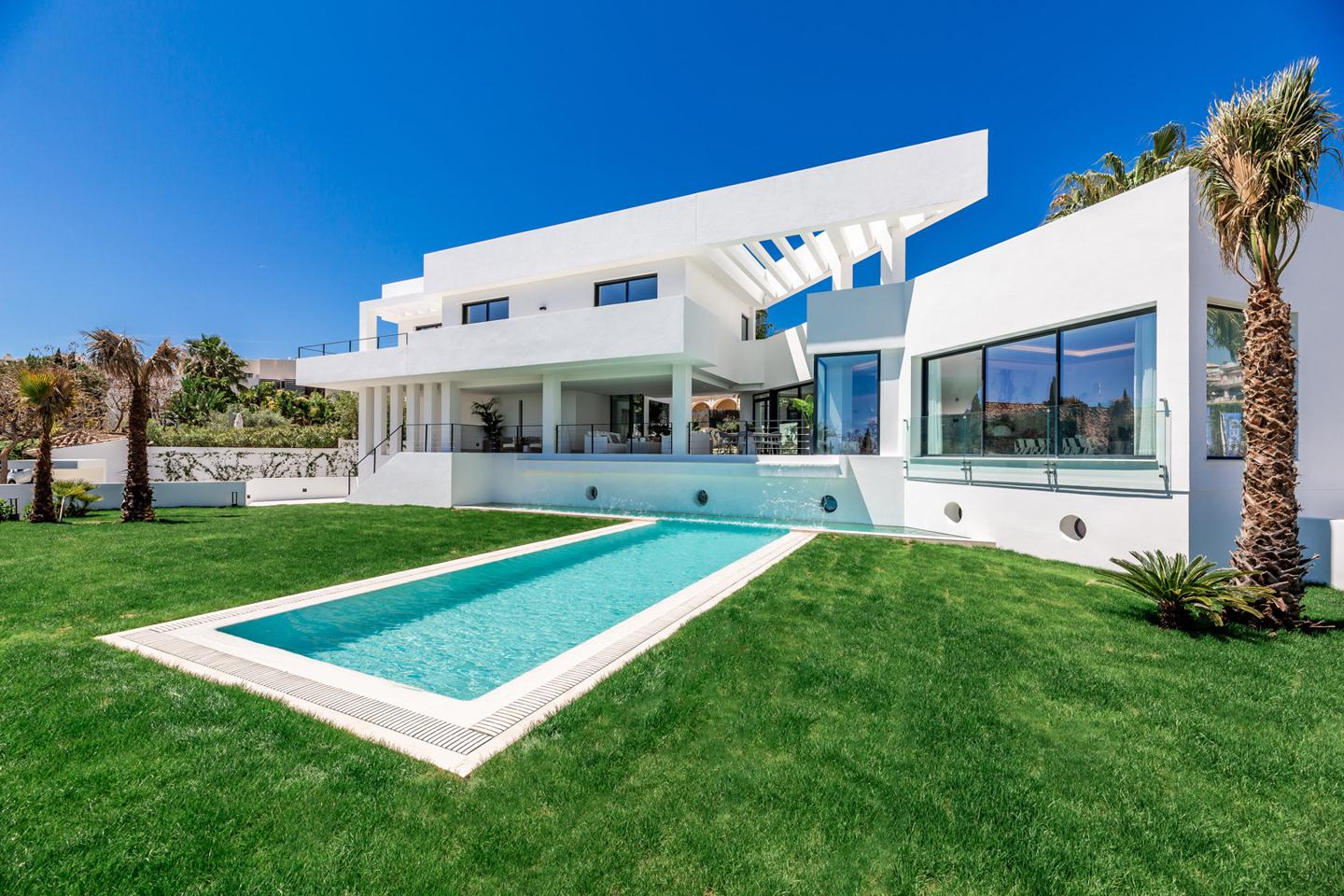 Nueva Andalucía: Golf Clubs and Marina
In Nueva Andalucía, besides all the advantages, you have one thing directly: many golf courses. I have already written about the Golf Club Los Naranjos in my magazine. In addition, Puerto Banús (marina) is located here in the district. There
Advantages of Nueva Andalucía:
Numerous good golf clubs
Puerto Banús marina
Directly at the center

Marina: Puerto Banús
Extra mention, the marina. No villas, but some nice penthouses and duplexes occasionally pop up on the market here. Ideal for boat owners, of course.
Tour of the Puerto Banús marina.
Benahavís: Villas in the "interior
You really want it quiet and secluded? Then you should not skip Benahavís on your sightseeing tour in Marbella. Benahavís is about 10 minutes inland, depending on how you drive. So it's really just a short hop from Nueva Andalucía.
Location in / near Marbella:
Estepona: 30 minutes from Marbella
If you don't want to buy directly in Marbella, Esetepona is a good option, only about 30 minutes by car, along the coast. The real estate offers here are somewhat more limited, accordingly, you may have to bring some time in the property search. In Marbella itself you will almost always find interesting offers, whether villa, historic finca or duplex in the city.
Travel time (from Marbella): 28 min
Route: 33.0 km, also via AP-7
Route: Marbella to Estepona.
Villa with pool in Estepona.

Sotogrande: More "Miami" does not go
My last tip is for those who seek tranquility, really tranquility and who like to play golf. Large courses to the left and right of the residence or even live directly on the golf course, with villa. All this is possible in Sotogrande, three quarters of an hour from Marbella.
Travel time (from Marbella): 44 min
Route: 58.5 km, also via AP-7
Own climate: winter / summer comparison
The 45 minutes driving time affect the climate, in winter the temperatures are already +1° / +2° higher, at 11° to 16°. At the same time, in midsummer, in August, it is a little cooler. Instead of 31 ° on average, only 28 ° and thus much more pleasant.
From Sontogrande you can already see the coast of Africa and you can be sure to live in a special place in Europe.
Route: Marbella to Sotogrande
Tip. Real estate in Marbella for golfers
Mallorca is a paradise for golfers. Get to know here the most beautiful golf courses in Mallorca.
You can also buy real estate directly on or even on individual golf courses. From very comfortable condominiums, to villas. All you need is a good real estate agent in Mallorca.
Golf courses, almost like Miami or Hawaii.

Buy villa on the Mediterranean Sea
Get to know more, Spanish hotspots of the Mediterranean here.
Mallorca: The largest Balearic island
Buy Villa Mallorca – Villa with pool, unique views of Palma, secluded coves or hotspots like Son Vida (suburb of Palma) and Port Andratx, in the west of the island. Mallorca is the buyer magnet in the Mediterranean when it comes to real estate. There are many hotspots, but only this island combines "the big city life" with beach, nature, sun and tranquility – in the secluded villa neighborhoods. Some have been visiting the island for 5 or 10 years and know exactly in which area of Mallorca they want to buy, others are still undecided about the right location in Mallorca.

Ibiza: island tour and villa district
Villa in Ibiza – You want to buy a villa in Ibiza? Villa with pool, close to the beach and / or airport, quiet near the bay or close to the city with all shopping hotspots. Here you will get to know the right and important parts of the island. In addition, at the beginning I have a few common questions from my customers. Which location is worth buying according to my experience? Which parts of the island do I recommend to customers? So that you have a quick overview in Ibiza, divided into A, B and C location. Maybe you already know our Lukinski Real Estate Rating, in which we rate cities in Germany with over 50,000 inhabitants, in 3 categories: From good A-locations to more affordable C-locations. From Eivissa and gated community in Es Cubells, to Cala Vadella, to Sant Antoni.

https://lukinski.com/wp-content/uploads/2021/07/villa-marbella-01-immobilie-view-ausblick-sea-meerblick-meer-mountains-berge-balkon-balcony.jpg
960
1440
L_kinski
https://lukinski.one/wp-content/uploads/2023/01/lukinski-logo-real-estate-investment-financing-1.svg
L_kinski
2022-02-19 12:20:43
2022-03-01 10:47:10
Buy Villa Marbella: Where to buy?! Buyer tips, villa neighborhood + real estate agent tour