New Google Search Console 2018 beta: Setup for websites, shops and WordPress
New look for Google Webmastertools! The most popular search engine optimization software from online operators for detailed queries of impressions, clicks and rankings has changed its appearance. The design has become more modern, with compatibility for the mobile web view. We wanted to take a look at the most important changes and give beginners and beginners an overview of the new design 2018 in the Google Search Console. Today on Sunday we take a look at the new user interface but also at the most important settings for Internet site operators and online shop owners. If you want to advance your own search engine optimization, you have to deal daily with your own rankings, i.e. in positioning in the search engine, but also with various topics such as content marketing, page structure and also with backlinks and internal links. We're looking at all the details today, so you'll have a complete overview of what's possible with Google Search Console.
After the new interface I have some more tips for you, among others about the international orientation of the Search Console.
What is Google Webmaster Tools and new Search Console?
Anyone who operates a website or wants to promote an online shop and this in the search engine, through better search engine positioning, must analyze and optimize his own page or the online shop. As one stands in the search engine there, that is with Google, shows a Google even in the internal software Google Search Console.
Impressions in the search engine
Here you can see e.g. how many impressions your own site has reached. Impressions, that is the number of views within search results. So if we are looking for "Immobilienmakler Berlin" and our site is in 8th place, the user first has to scroll down to this place to get an impression.
Clicks in the search engine
More important are the clicks. Every click that is made after an impression is registered and saved by Google. In the Google Search Console I can then view all the results and the resulting services.
From this I can draw conclusions in which pages I invest my time. Of course, a large project has hundreds, thousands or even tens of thousands of subpages. But often only "a few" are important, you have to put all your energy into them. Among other things, an ABC analysis helps here. Which page brings us the most impressions and which offers the most potential, e.g. because it is just before page 1 or just before place 1 in the search results.
Set up Google Search Console
Here you can find my detailed description how to set up Google Webmaster Tools respectively new Search Console.
Now we come to the new design or to the new interface of the Google Search Console.
User Interface 2018: New beta for webmasters
Chic, modern and less overloaded, so 2018! White turned into a discreet, dark grey. The new design of the Google user interface has adapted to the new important features, mobile first! While the Webmastertools were so far only perfectly callable from the Desktop, the new Search Console is clean and beautifully callable also from mobile terminals.
Overview – Performance, Index Coverage and Improvement
First: The overview. The most important results are shown in 3 clearly arranged diagrams, graded by priority. First the performance overview, with impressions and clicks. Directly behind it the index coverage with faulty pages and suggestions for improvement for the mobile view.
Service overview – search queries evaluation with clicks and impressions
What clicks and impressions are exactly, I had already explained in the introduction to the article. Each impression is a view in the search results and each click, thus a "click on this impression". Collecting clicks is the high good for any website and any online store. Because every click is a potential visitor and thus a buyer or prospective customer.

Many online shops spend huge sums on advertising agencies that improve search engine optimization. For many, however, one foundation stone is enough; it does not always have to be the expensive work of an advertising agency.
Below you can see the individual results, which can of course also be filtered.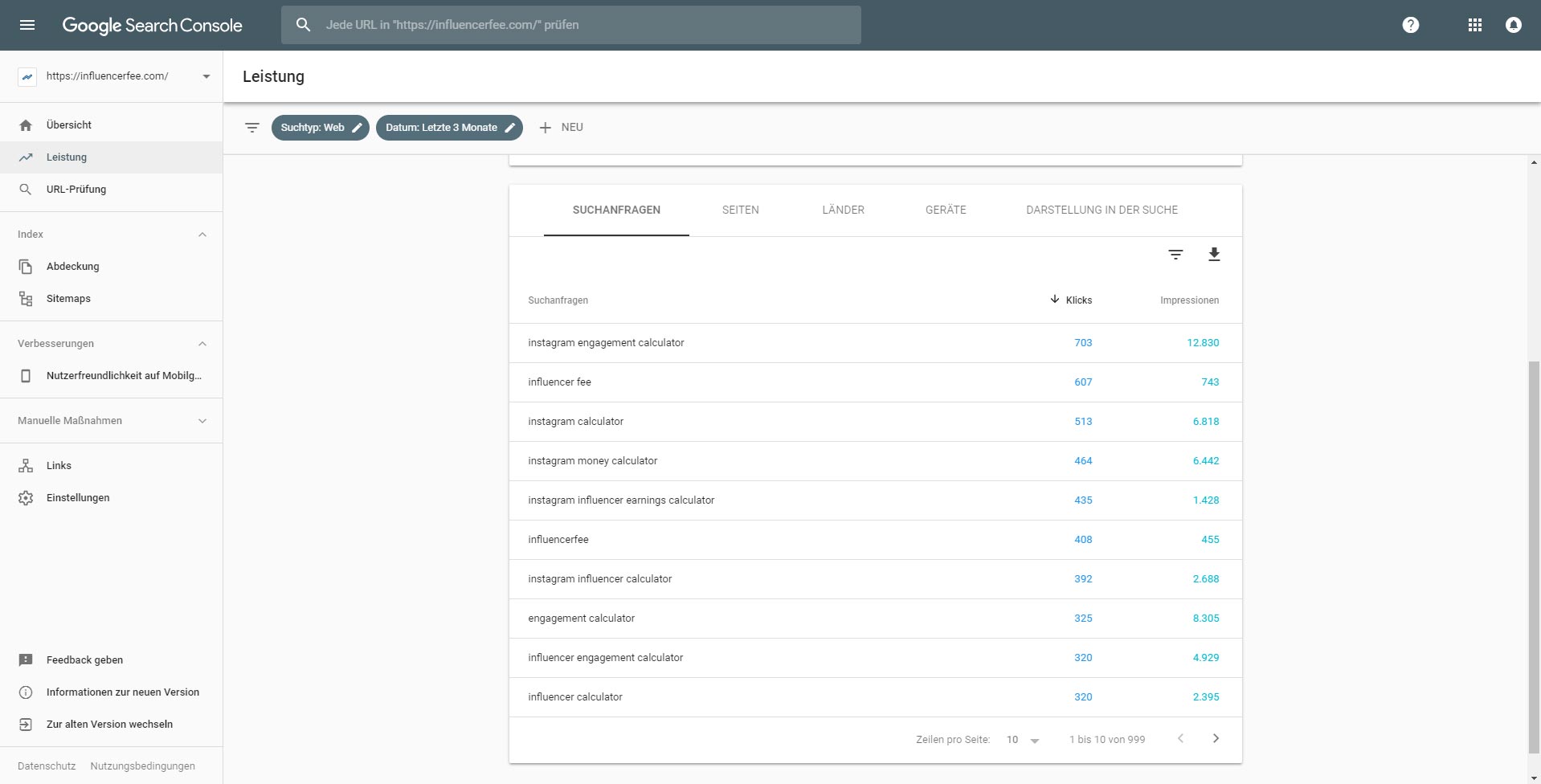 The standard view is 3 months. You can also change the settings to e.g. 28 days (the last 4 weeks).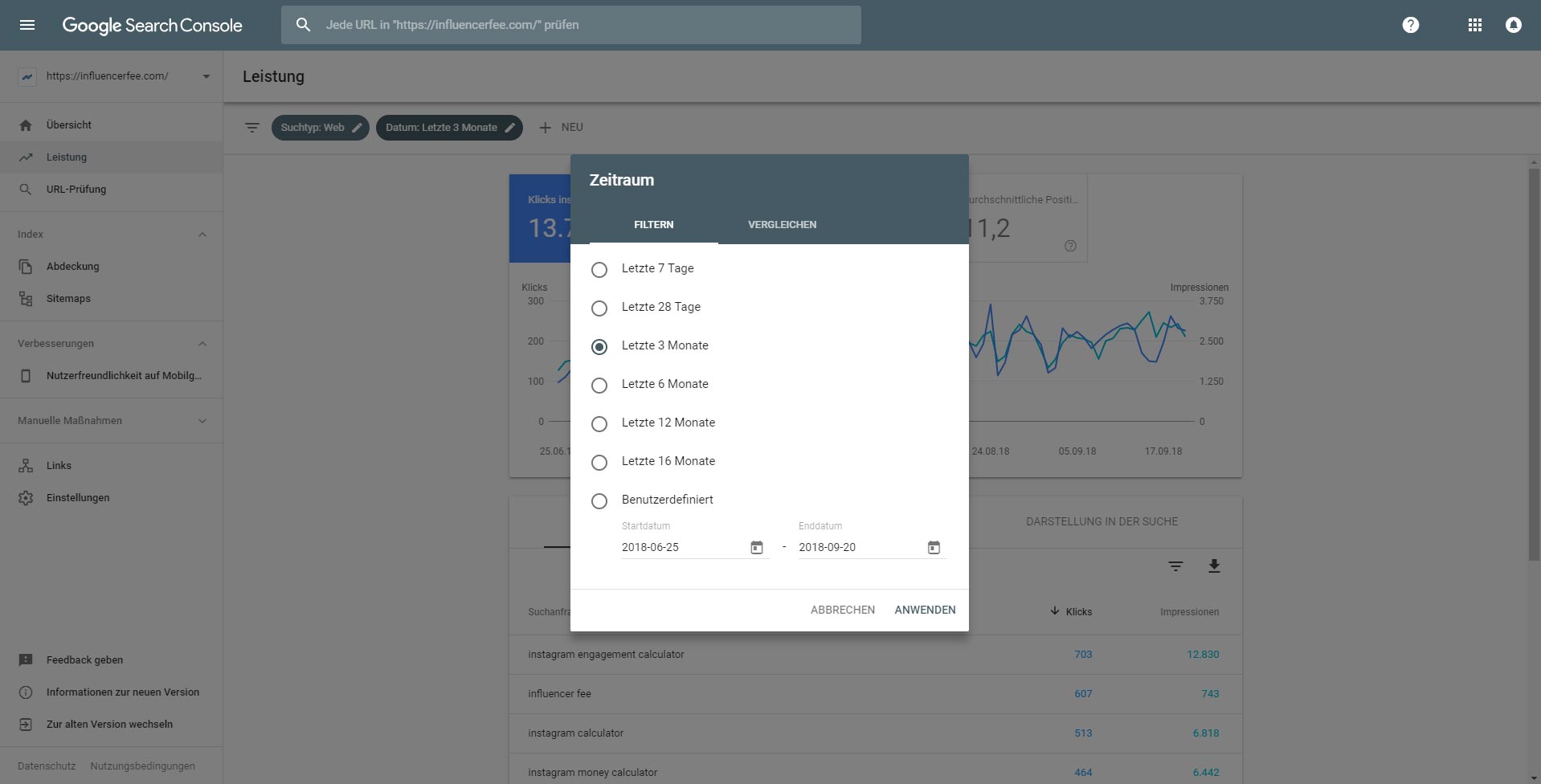 Index Coverage – Incorrect Pages
In the index coverage one of Google's faulty pages are displayed. Here you can look at its individual pages and make improvements. The fewer errors are displayed, the better.

There are many very good tutorials on the Internet for correcting the errors in the index coverage. For example, these are recommended for beginners and beginners.
Index sitemap – page structure and update
A sitemap is important for websites and online shops. The sitemap contains all pages that we consider "relevant". Each time we update a page or republish a page, it appears as an update or republication in the sitemap. This will actively alert Google, but also other search engines (if linked), that something has changed on our site. Through the permanent and regular updating of our site we can improve the search engine positioning. There are also many practical and simple solutions for the sitemap, e.g. for WordPress. For example, many use SEO Yoast (free) for sitemap.

Usability on mobile devices
Google has meanwhile switched the ad in the search results to "mobile first". As the site owner, you should therefore always remember to always think of the mobile view first. In the meantime, the user and search behavior has changed to such an extent that most people have mobile access to information. Even online shopping is made mobile today.
Google recognized this trend a long time ago and has informed all webmasters and site operators about it. Since September 2018, all search engine results have also been tailored to mobile pages. That's why Google Search Console places so much emphasis on this point as well. Therefore, when creating websites for your company, always remember to put the mobile view in the foreground. The tablet and desktop version can only be adjusted afterwards. If you work with your WordPress system directly in the desktop version, always try to imagine a simple mobile view. This helps with web design!

Links – internal linking and external backlinks
Backlinks are extremely important, but the internal link structure should also be taken into account. Here is a brief explanation of how internal and external links work.
Internal links and best practice: SPIEGEL ONLINE
The internal link structure helps users to stay longer on their own page (dwell time) by clicking on further information. The internal structure also helps search engines to recognize linked articles. As a good best practice example for the internal link setting you can e.g. take a page like SPIEGEL ONLINE (German). Here, different, more detailed information is linked on each new article. Users who are informed about a current message can thus quickly access further information. Themes are created for this and you can build up relevance for certain areas.
External links: Backlink Structure
It would be even better if your website or online shop received a backlink from SPIEGEL ONLINE. The more renowned the linking portal operator is, as here e.g. the renowned magazine SPIEGEL, the better the link. Firstly because the portal itself has many visitors who will click this link to find further information on your page, and secondly because the search engines also pay attention to which pages are linked by the renowned pages.
Compare the situation in the search engine with a large bar. Suddenly a prominent person comes into the room and this prominent person goes to an acquaintance. She talks to her and suddenly everyone wants to know who this other person is and why you don't know her even though she is here every day. Suddenly more and more people are interested in the "acquaintance", through the reputation of the prominent person. Likewise it is more search engine, the more people read this platform, the more renowned the platform is, the higher quality the link is. The more high quality links you collect, the better the rankings in the search engine.
Important is, the more high-quality links a project collects, the better the rankings in the search engine. It is important to pay attention to quality, not quantity. Links should always come from high-quality sites, many links from unimportant sites, do not help your site at all! Concentrate only on links from high-quality portfolios or renowned portals.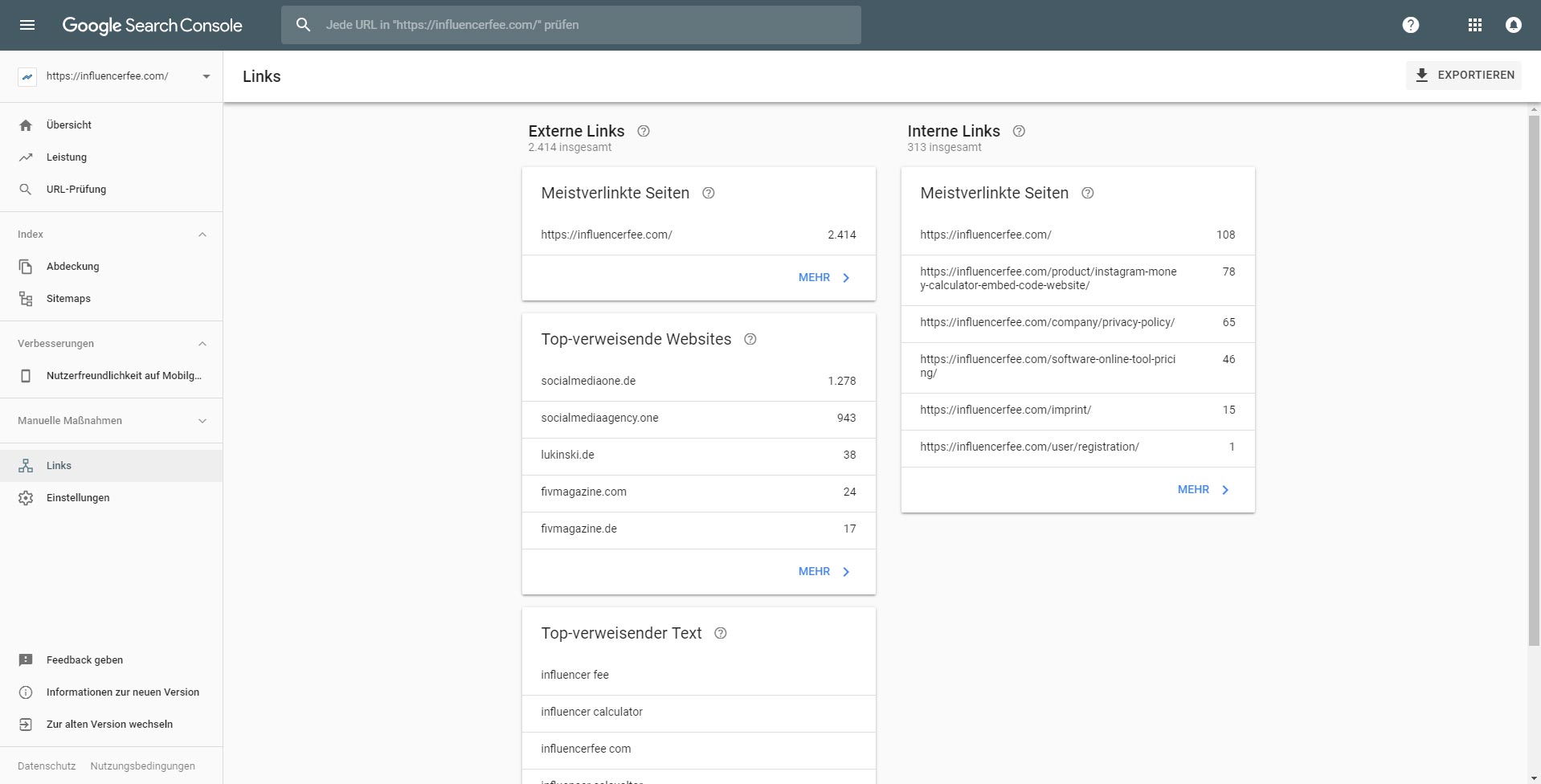 DSVGO: Data protection requires clear indication (EU)
The new data protection law of the European Union, DSVGO for short, has changed a lot for website operators and online shops operating in the European market. Therefore, you must also point out to users in the privacy pages that you use services from Google or Google Search Console. The clue must, as you may already know, be wrapped in a cookie bar. This cookie bar must be displayed to all users, whether desktop, tablet, smartphone or 4K TV. The user must be actively informed about the use of cookies and programs, he or she must have access to the data protection pages and must be able to confirm or reject them. Practical tools are available online for free, like the EU Cookie Bar for WordPress.
International alignment with Google Search Console
Who wants to orientate his website or his online shop internationally, should ideally fall back on different domains or on a more extensive analysis tool. If you are not mainly concerned with search engine optimization, the easiest way is to use different country domains. For the USA (.com), Great Britain (.co.uk), Italy (.it), Spain (.es), China (.cn) or France (.fr). The different URLs are registered individually in Google Webmastertools and thus one has separated the individual languages cleanly in individual accounts.
However, if you want to make your search engine optimization even more precise, you need tools that are subject to a fee. Free online tools for search engine analysis are no longer sufficient here. That's why you need annoying programs with more extensive data packages to analyze and optimize your own website.
Those were the most important innovations of the Google Search Console and the most important Tipps for beginners and a risers in the search machine optimization for Internet sides and Onlineshops. Everyone can teach themselves the skills, e.g. through good YouTube tutorials like this one!
What is Search Engine Optimization (SEO)? Explained in 3 minutes
What is Search Engine Optimization (SEO)? Explained in 60 minutes
Links and information about the Search Console
More background and background information about Google Search Console can be found on Wikipedia:
https://lukinski.com/wp-content/uploads/2018/09/werbeagentur-blog-experte-stephan-czaja-seo-google-search-console-einrichten-wordpress-suchmaschinenoptimierung.jpg
527
1200
Stephan
/wp-content/uploads/2023/09/lukinski-real-estates-immobilien-logo.svg
Stephan
2018-09-23 19:09:29
2022-04-03 08:03:23
New Google Search Console 2018 beta: Setup for websites, shops and WordPress