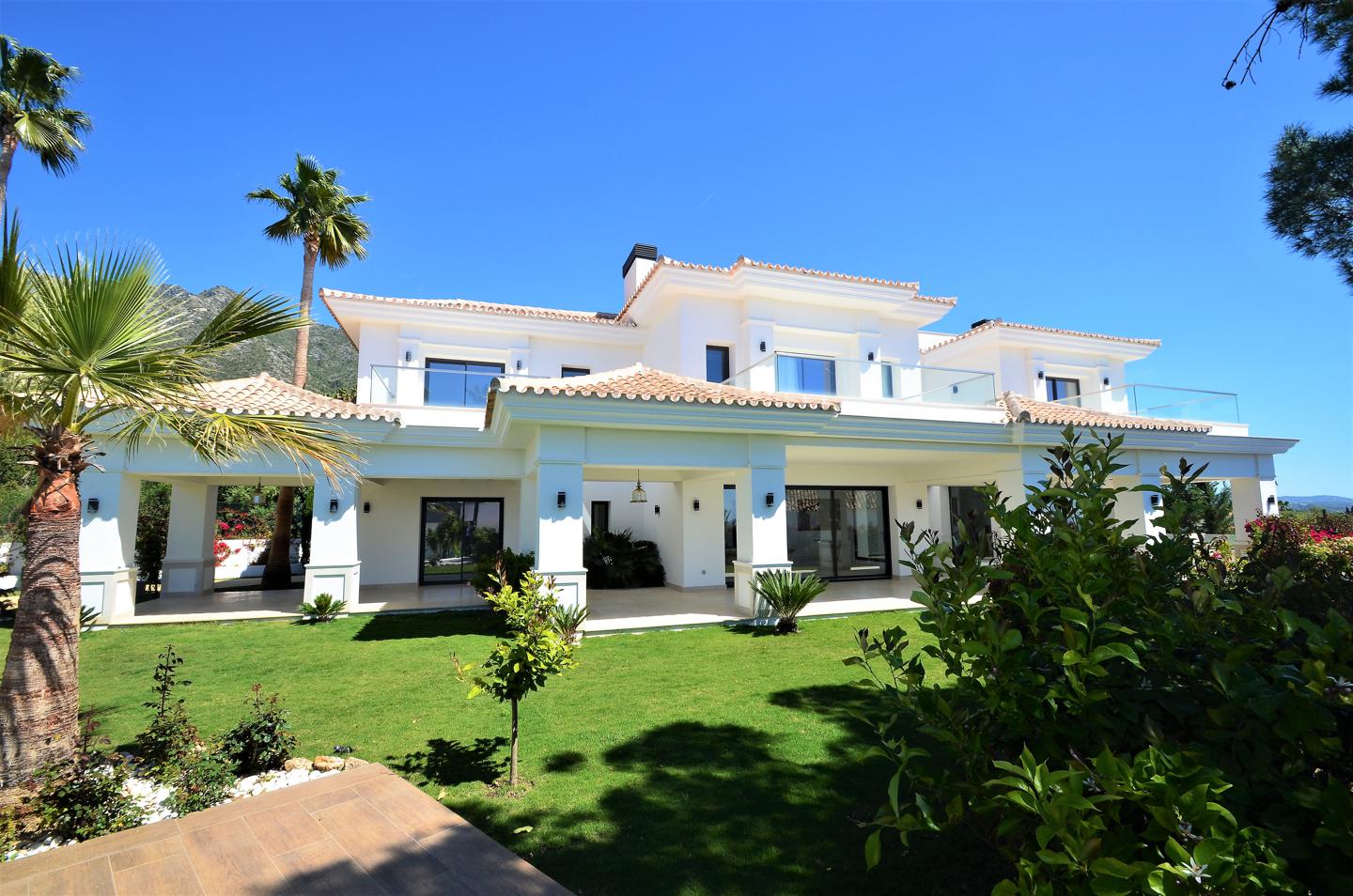 Villa in Marbella: House, plot, pool – living in the "Golden Mile" for 4.4 million euros
Villa in Marbella for 4,400,000 million euros – Welcome to this 4.4 million villa in Marbella! 1,530 m² of land, 767 m² of living space, today I take you to Marbella, one of the hotspots in Europe next to Mykonos (Greece), Mallorca and Ibiza. This villa is in the middle of the city of Marbella, in the most exclusive location overlooking the Mediterranean Sea. Click here to get to the villa, in Lukinski Home: 4.4m Villa Marbella.
Villa at a glance: Sierra Blanca
Villa – This villa is special from its layout and architecture! This villa is not "standard", because it was not designed for an anonymous buyer, but originally with personal reference. This can be seen during the viewing on a large scale, but also in the details of this exclusive 4.4 million villa, in the heart of Marbella.
Originally, the property was intended for a loved one. Exactly this attention to detail, you can see during the tour in every single room, from the individual bathroom design (more on this later), to the equally individual bedrooms, to ceiling elements, which in individual rooms remind you of "cottages", through extra inserted slopes, for even more sleeping comfort.
In addition, an extremely spacious terrace, the large swimming pool and of course the perfect location, in the middle of Marbella, with unobstructed views of the Mediterranean Sea.
Villa at a glance
First of all, the most important key figures of the villa at a glance:
Purchase price in dollars: $ 5,190,000
Purchase price in euros: € 4,400,000
Purchase price in pounds: £ 3,380,000
Purchase price in Swiss francs: CHF 1,080,000
Area in SqFt: 16,468
Area in m²: 1,530
Living space in SqFt: 8,255
Living space in m²: 767
Bedrooms: 5; Bathrooms: 6
Buy a villa: View listing
Are you interested in a villa in Marbella? Here you will find the exposé of the villa, in Lukinski Home:
Location in Marbella: Golden Mile
Location – If you want to be in the middle of Marbella, only 30, 40 minutes away from the airport (Malàga), only a few minutes away from the Mediterranean Sea, you should settle in the city, more precisely in the quarters above the Golden Mile. Also left and right of the city center, the "Old-Town" of Marbella.
So this extremely good location offers ultimate proximity to the city, the beach, the airport and also exclusivity and security; an important aspect for many buyers.
Situation at a glance:
Mediterranean Sea and first class climate
Only 40 minutes to the airport (Málaga)
Over 100 golf courses nearby
Marbella: location and map (macro)
Here's a quick look at the location of Marbella in the south of Spain, near Gibraltar, the southernmost point of mainland Europe.
Micro-perspective: City
At a closer look you can see the typical city construction, along the coast.
Interiors: living room, bedrooms and bathrooms
Living space – A quick overview of the property: The total living space of 767 m² is distributed over 5 bedrooms, 6 bathrooms and an extremely large living area, on the ground floor.
Living Area: Living Room Gallery and Dining Room
The living area is more or less a living room, gallery and dining room in one. Rarely found, more often the villas, here in Marbella and on the Costa del Sol, are rather divided into individual rooms instead of spacious areas. This is what makes this villa so special. The reception area and transition to the living area, are welcoming. Especially when living well in Marbella, with family and friends, a key aspect when buying.
The interior, as already briefly described, is very spacious, especially on the ground floor, in a large, open living area. Everything from noble materials, even the entertainment corner, exclusive marble. What I particularly liked about the property, in addition to the large, open spaces, the ground level windows, for extremely much light.
Upper floor: bedrooms and bathrooms
On the first floor you will also find three rooms each, each with a separate bathroom. The highlight, each one is individually designed and furnished. On the first floor are also, for each individual room, an equally separate outdoor area (terrace), of course in the direction of the Mediterranean Sea.
If you want to see even more interior design highlights, check out the gallery above!
Basement: Wellness, Fitness and Personal
Basement – In the basement is also a private spa or wellness area with sauna, mini-pool and you also have plenty of space for their own little gym. Furthermore, you will find here in the basement still an extra room, which can be inhabited / used for example by staff (nanny or similar).
Interior summarized:
Ground floor: Large living area plus kitchen
First floor: living, bedrooms and bathrooms
UG: Spa, fitness and staff room
Perfect for families who can spend their time separately, but also perfect for renting. Renting is a big issue in Marbella, because many people only spend a few months of the year here, for example the autumn and winter time. Then in the spring and summer it's back home. Rental, maintenance, take care of everything service is on site.
Further equipment
Here are a few more highlights of the villa:
Garage
Alert
High level
Air conditioning
Fireplace
Basement
Floor Air Conditioner
Equipped kitchen
South exposure
Swimming pool
Centralized heating
24-hour monitoring
Private urbanization
Sea view
Property: Terrace, Garden, Pool and Parking
Let's just get to the terrace, garden, pool and parking shortly.
Sea side: terrace, garden and pool
Plot – From the outside there is no view of the plot. At the same time you have an excellent view from the property, down to the beach and over the whole Mediterranean Sea. The villa itself is located a little further up, in the exclusive shops, here nothing blocks the beautiful view, day and night. In particular, the starry sky is beautiful always at yes, the few lights from the city there and no lights on the Mediterranean.
In the spacious garden you will also find the swimming pool, which not only provides cooling, but is actually suitable for swimming. Of course, it's south-facing, so the water temperature is always pleasant.
The garden is currently still relatively minimalist, but here, depending on your wishes, a real, colorful flower oasis could arise. After all, palm trees, banana trees, but also oranges grow in Marbella. By the way, the harvest time of the oranges starts in December, would you have expected that? That means, in the actually deepest winter, you can pick oranges in Marbella!
Front: Unobstructed view to sea, city centre
Back side: View of the mountains (Muschelberg)
Clear starry skies almost every day of the year
Mountain side: BBQ and 400 year old olive tree
Behind the villa is further space, for example for BBQ. Depending on the position of the sun and the season, this space is used especially in the hot summer months. Another highlight: a specially planted, 400 year old, impressive olive tree. Did you know? Olive trees can live for thousands of years.
Another highlight, a small waterfall, right next to the BBQ area.
At the side: 2 parking spaces (covered), private way
You reach your private parking space via a small, private road. Here you have space for 2 cars.
For golfers an equally attractive location, Marbella is the "Miami of Europe", there are over 100 golf courses nearby! By car you can reach several, very good golf courses in a few minutes (Tip: Golf courses in Marbella). E.g. also the golf club Los Naranjos. Translated, this means the orange trees.
Swimming pool and covered sunbathing area
Large terrace
Parking lot; access via private road
400 year old olive tree
Waterfall
First class climate, great restaurants, a lively city center, the location in one of the most exclusive areas, this 1,530 m² / 767 m² villa is a real highlight. Especially also due to the personal commitment of the builder, in the conception.
New in Marbella: Designer Villa
Designer villa in Marbella for 2,950,000m euros – I may present you today this exclusive villa! This villa is something very special, it is not just "only" built, it is planned, thought out! A house for the day, a house for the night, an inviting, large swimming pool and its own 10 meter waterfall. What more could you want? Today I take you to one of the most exclusive villas in Marbella City, with 1,320 m² at a price of almost 3 million euros. Welcome to Marbella!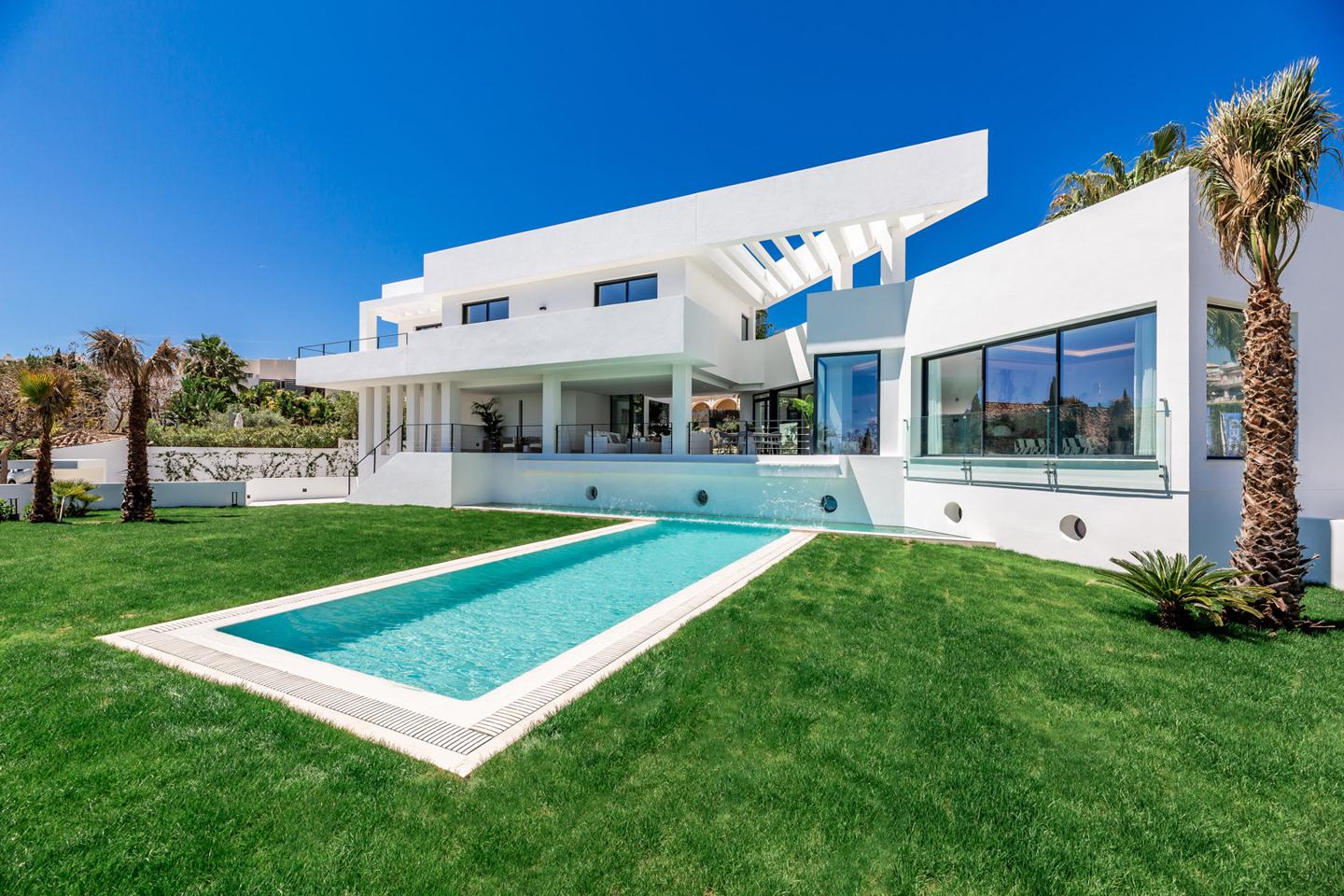 https://lukinski.com/wp-content/uploads/2021/07/villa-marbella-01-makler-villa-green-palms-garden.jpg
954
1440
L_kinski
/wp-content/uploads/2023/09/lukinski-real-estates-immobilien-logo.svg
L_kinski
2021-07-20 11:10:59
2022-03-01 10:45:11
Villa in Marbella: House, plot, pool – living in the "Golden Mile" for 4.4 million euros