Renovation of old buildings: costs, conditions, tips & laws + monument protection
Renovating old buildings – Old buildings are very popular because of their unique structure. Large rooms with high windows and old wooden doors, which may creak a little when opening and closing, represent a traditional way of life. Many of the buildings are more than one hundred years old. A renovation can give the apartments a new shine. If you are planning to sell an old building as a refurbishment property and would like more information, please click here to return to the overview: Construction, Refurbishment & Modernisation.
Resettlement of tenants in large construction projects
If extensive work is planned on both the façade and the interior, it is advisable to relocate the tenants in advance.
For a complete renovation, the departure of tenants is even mandatory
The same applies to owners who have agreed on a refurbishment with the support of the owners' association in a majority resolution. However, owners who have newly acquired a property also like to aim for an old building refurbishment with subsequent re-letting. There is a good chance in all regions of Germany that the refurbished apartments will enjoy great popularity and subsequently be let at short notice.
Optimal planning is important in order to be able to realise all renovation work and carry it out quickly. There are various things to consider and clarify in advance. Then you are protected from unpleasant surprises.

The requirements of monument protection
Before you start with the detailed planning of the renovation of the old building, it is important that you deal with the requirements of the protection of historical monuments.
These conditions are not always communicated directly when a property is sold, and there is a good reason for this. Sometimes the conditions prevent a planned renovation, or they are the cause of high costs.
Windows, doors and facade
Elements of concern for the protection of historical monuments are often located on the facade. Stucco may not be removed and changes to the wall openings for the windows and doors are prohibited.
There are requirements that windows must be made only of wood and not plastic. Their shape and design may also not be changed. Thus, it is sometimes not allowed to replace muntin windows with those that do not have muntins.
Also note that there are conditions according to which you are not allowed to install new windows at all, but must renovate the existing elements. The same applies to doors if they are part of the façade. Requirements that include the complete renovation of the façade in order to restore it to its original condition can be particularly cost-intensive.
Permits for the renovation of the old building
Even if the listed building authority has not imposed specific conditions on the building, you will still need permits for any remodelling. These mainly concern the exterior. Changes to the wall opening for windows and doors and a new colour scheme for the façade should be discussed with the authorities in advance.
It is advantageous to contact the authorities before buying the property. In this way you will find out whether there are any requirements and to what extent these requirements are relevant to your planning. If you wish, we will be happy to assist you in obtaining all important and relevant information.
Changes in the interior offer a lot of scope
In terms of interior renovation, you are much freer than when designing windows and facades. It is usually no problem to suspend large rooms with lower ceilings and in this way create storage space and save heating costs. Rooms can also be made smaller by integrating lightweight walls, for example.
The replacement of cables and pipes are also an important part of the renovation. However, make sure that this work is carried out by a professional.
Condominium in Berlin with fireplace.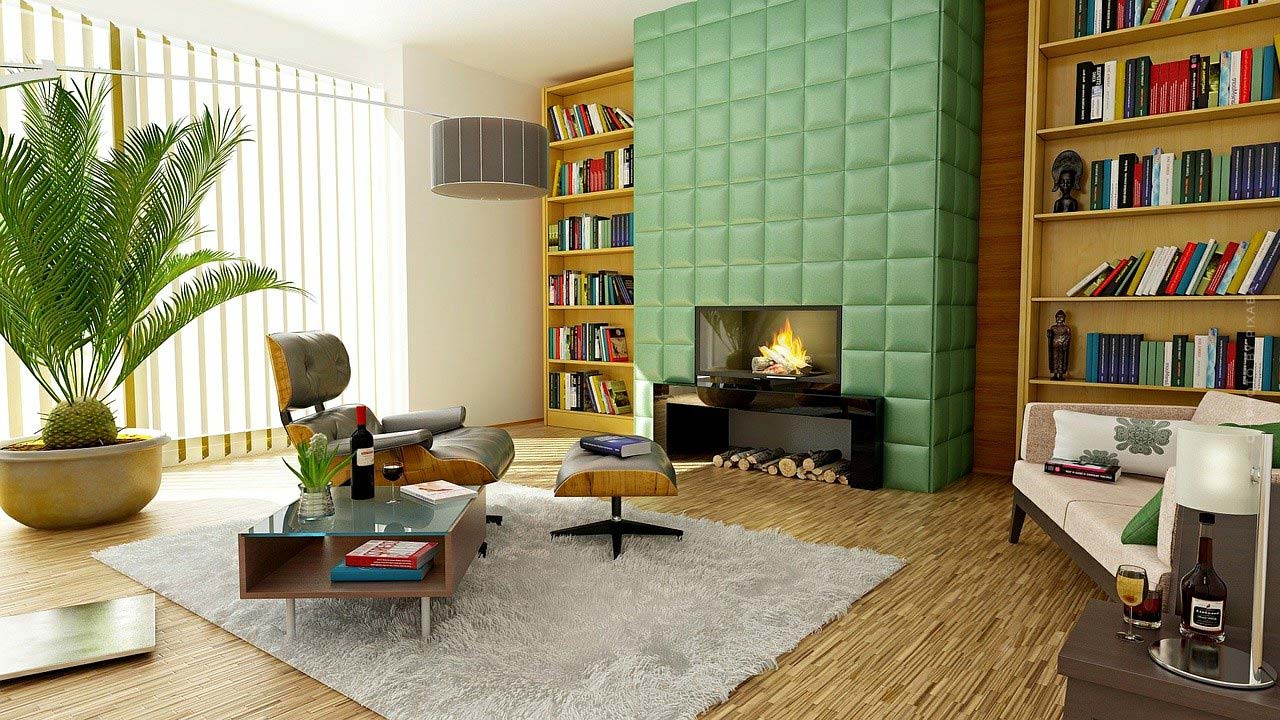 Costs for a comprehensive renovation of an old building
The costs for the renovation of old buildings are usually high. They are defined by the cost of modernization, the size of the rooms, but also the individual wishes of the owner play a role. In the case of a complete refurbishment of a larger old building complex, high six-figure sums are quickly reached. However, as very good prices can be achieved for high standard apartments in old buildings on the open housing market, the costs will quickly pay for themselves.
Refurbishment costs example
Let's assume a typical house that was built in the 80s. The floor space is about 80 square meters, the living space is 130 square meters, distributed over 5 rooms.
Renovation costs: roof & facade
With a service life of 20 to 40 years and a material/labour cost ratio in percent of approx. 20/80, the price per square metre starts at approx. 50 euros for interior insulation without cladding, above-rafter insulation up to approx. 200 euros.
Above-rafter insulation approx. 20,000 Euro incl. substructure
Value enhancement through refurbishment?
The refurbishment not only provides a modern look, it also saves energy and thus increases the value of the house. For economic reasons, renovation often makes sense. This also applies if you do not want to sell the house and hope for a higher sales price through the refurbishment. Because through the so-called energetic renovation you can significantly reduce your ancillary costs, so that the investment pays off in the long term.

Conclusion: Renovation of old buildings is worthwhile
The renovation of old buildings is always worthwhile. It is important that you deal with the requirements of the monument protection in advance. Such requirements can drive up the costs considerably. If you would like advice on the renovation and sale of old buildings, we are happy to offer our services as an experienced partner for the federal states of Hesse and Rhineland-Palatinate.
https://lukinski.com/wp-content/uploads/2018/09/planung-hausbau-bauplan-energie-zimmer-aufteilung-stockwerke-architekt-technische-zeichnung-hd-foto.jpg
854
1280
Laura
/wp-content/uploads/2023/09/lukinski-real-estates-immobilien-logo.svg
Laura
2019-02-19 12:00:59
2022-03-01 08:59:17
Renovation of old buildings: costs, conditions, tips & laws + monument protection